Welcome to this first Christmas Gift Guide for Foodies. I've gathered together the kinds of gifts that I know I would welcome as a keen cook and food lover, and I hope that this helps you with your gift choices too.
Christmas Gift Guide for Foodies – Kitchen Knives
Let's start with the most essential of kitchen tools, knives.
The futuristic design of these Precision knives have been created by London designer Christian Bird for Edge of Belgravia. Precision manifests the superb combination of futuristic bold design and the superb cutting ability of an easy-to-sharpen stainless steel blade. The hallmark handle design has won a slice of the prestigious D&AD product design award in competition with Apple's Ipad 2. Add a futuristic and unique floating knife block, reminiscent of the angles of a rough-cut diamond, with the style and beauty of contemporary art and you have the perfect gift. Tightly packed, the knife block can fit up to 11 knives, but will appear complete with just two.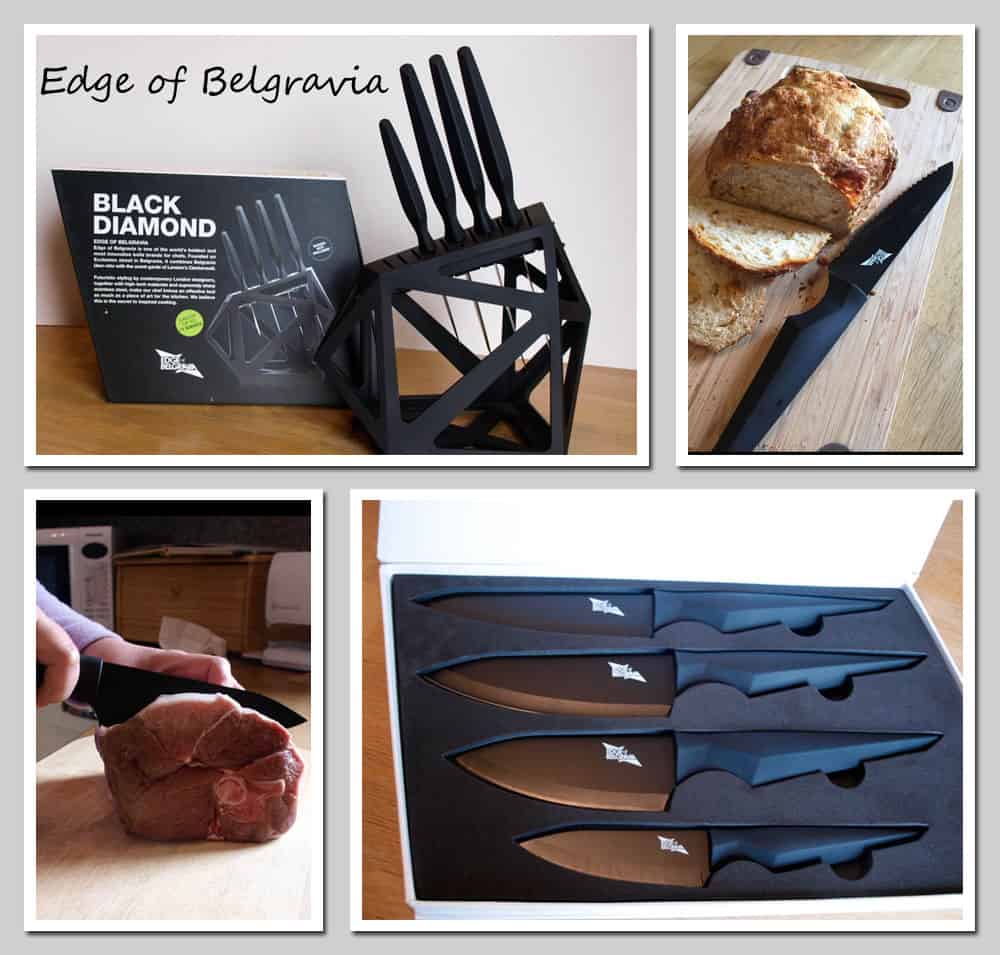 The complete Precision collection consists of the Bread, Chef's, Deba and Paring knife designed for precision in cooking RRP £69.90
The unique, angular float knife block designed by Christian Bird is a piece of art for the kitchen.
Clever use of weighting secures the knives in their blocks, just as slight angling allows for easy extraction. Designed for maximum flexibility it is suitable for most knives RRP £89.90
Christmas Gift Guide for Foodies – Chocolates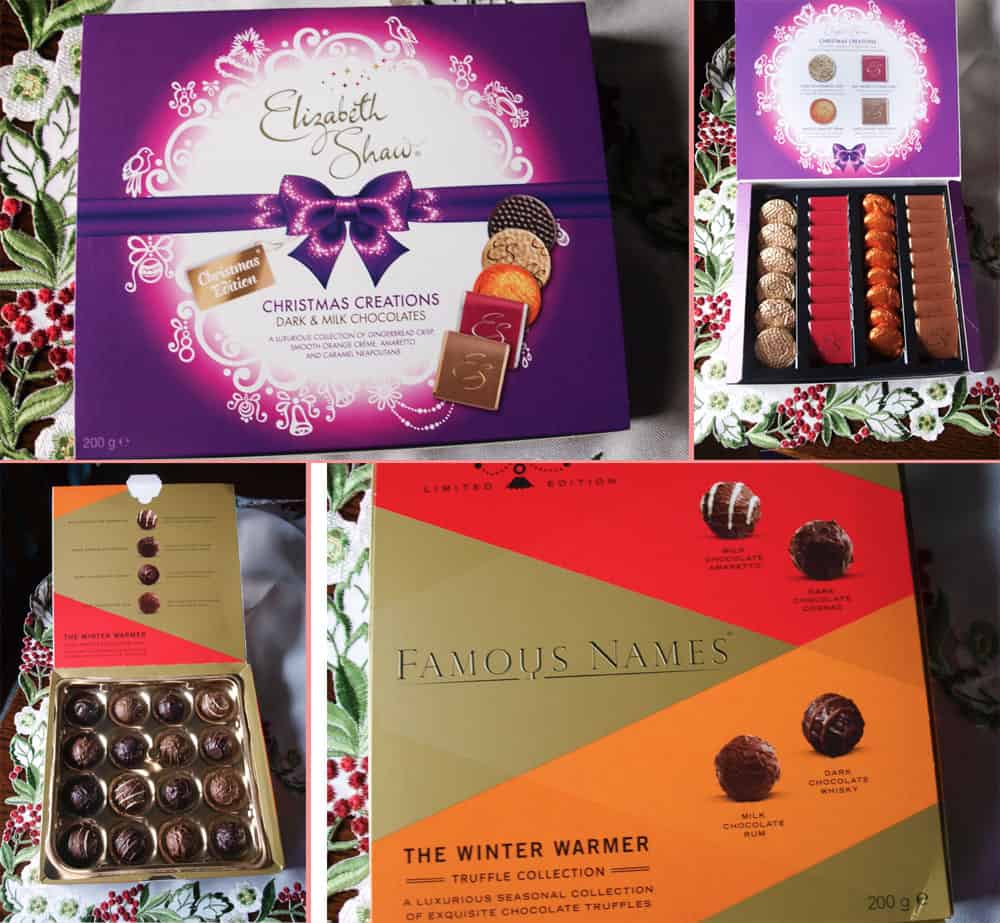 Chocolate is always popular and these two selections feature popular Christmas flavours making them ideal to give as gifts or offer to your house guests.
Elizabeth Shaw Christmas Creations RRP £5.00 includes:
Dark Gingerbread Crisp is a delicious gingerbread flavour dark chocolate with crisp honeycomb pieces.
Milk Amaretto Neapolitan, a smooth and silky Amaretto flavour milk chocolate square, there is a real taste of amaretto which I love.
Smooth Orange Creme combines rich dark chocolate with a fragrant orange infused fondant creme
Dark Caramel Neapolitan is a square of dark chocolate with a creamy caramel flavour
If you enjoy liqueur truffles, then you are in for a treat with Famous Names The Winter Warmer Truffle Collection RRP £5.00 We definitely enjoyed the smooth milk and rich dark chocolate which enrobes smooth and warming truffle centres, in 4 delicious seasonal flavours ; Amaretto, Cognac, Whisky and Rum, all presented in a contemporary gift box.
Christmas Gift Guide for Foodies – Liqueurs
You need a little tipple with your chocolates and what better gift than to choose three liqueurs from Demijohn, presented in a hand crafted presentation rack which is designed to fit 3 Apotheker 40ml bottles. Simply choose the contents for each of your 3 bottles to create your own unique tasting set.
Demijohn were exhibiting at the BBC Good Food Show, Scotland and I had a chance to taste a number of their liqueurs. I have to say that they were all superb and really taste exactly as described. The Seville Orange Gin tasted exactly like alcoholic marmalade, the Toffee Whisky Liqueur and the Chocolate Rum Liqueur would both be great with Christmas cakes and bakes.
Demijohn's products are unusual, varied and always delicious and make the perfect Christmas gifts. This autumn it has just launched two new products – Toffee Whisky Liqueur and the first ever British Chocolate Rum. Toffee Whisky Liqueur is a delicious new blend of butterscotch, caramel and whisky which appeals not just to hardened whisky drinkers but all lovers of fine drinks as the tinge of sweetness softens the strong whisky flavour – think of cosy nights in front of the fire and a warmth inside and you'll love this new drink. Chocolate Rum Liqueur combines cacao which has been infused with white Caribbean Rum and is less sweet than traditional liqueurs. With the taste of delicious rich chocolate and the kick of the rum it is just perfect to be drunk either as an aperitif or digestif as the spirit of Christmas in a bottle. These can be enjoyed in a new Mini Apotheker 40ml bottle rack which is a great affordable tasting present. A hand-crafted wooden presentation rack holds three Apotheker 40ml bottles (we recommend Toffee Whisky Liqueur coupled with Brammle Scotch Whisky Liqueur and Blended Whisky which is priced at just £19.) Or you can choose your own contents from the vast selection of Demijohn drinks, oils and vinegars and each can have its own personalised message added for free.
Demijohn's products come from all over the UK with the oils from Europe. But Demijohn is more than a deli – it is a whole new concept of selling. The staff are all knowledgeable about the products and passionate about their provenance, even to the extent the shops are closed on certain days so the staff can pick elderflowers or sloes from the hedgerows to ensure plentiful supplies of the raw ingredients. This makes it unique AND a great campaigner for great tasting, well sourced products.
The brainchild of Angus Ferguson, Demijohn began 11 years ago. Angus has thrown the idea of a deli on its head and has nothing but large glass demijohns lining the wooden shelves all containing the most delicious, quirky liquids that makes your mouth water just at the sight of them. Customers are encouraged to taste before buying which inevitably leads to them learning about the products, where they come from and how they can be used. From there the customer chooses the size and shape of bottle into which the liquid is poured, a personalised message added for free and then nicely gift wrapped. A mini rack costs around £22.79/£22.98 depending on the contents.
I have a £25.00 Gift Voucher to give away to one lucky winner, you can visit one of the Demijohn stores in Edinburgh, Glasgow, York and Oxford, or you can buy online from the Demijohn website. To enter this competition, you must be 18 years old and have a UK address. CLOSED