There is something about the
Random Recipes
challenge that brings out the worst in me! Perhaps it's something about losing control -eek! I'm not noted for being a hang loose, devil may care, kind of girl. However, I am fiercely competitive and a bit of a risk taker (only calculated risks, you understand) so I'm drawn to Random Recipes, just to see what it will throw at me.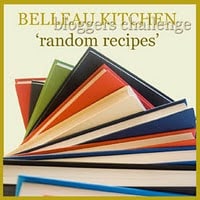 This month Dom has decided that we should look at our magazine collections and cuttings for our random recipes. I had to decide whether I went for my folders of cuttings or the mags. Having just given a year's worth of Good Food Mags to my younger son (also a bit of a foodie and a good cook) I couldn't go there. The folders would have been fine, but I felt it was too easy to cheat as the pages aren't numbered. So I turned to my collection of Bella Cookbooks. Sadly Bella Cookbook is now defunct but was a great little magazine full of everyday recipes that you wanted to cook.
So I spread the magazines out, there were 19, and used the Random number generator and came up with the number 6.
So this was magazine no. 6, March April 2001 – Last Minute Meals from almost nothing – that sounds good! Step by Step to Coq au Vin, Spring Dinner Party and Tasty veggie choices. Okay, looking promising.
Back to the random number generator to choose the page for the random recipe and it came up with no. 66…

OMG 6-66
See I told you Random Recipes brought out the worst in me… now I'm cooking with the devil lol!

So the recipe on page 66 was for Chicken Tikka Wraps, I think I like this devilish recipe, especially as I had some chicken breasts defrosting in the fridge – or so I thought! But I didn't have any wraps and I'd already been for my shopping. It's five miles to the nearest shop from where I live so I thought I'd have a go at making my own wraps.

I bought my Sunset Mexican Cookbook when I first went to California in 1980, it's a great little book. Definitely more tex-mex than genuine Mexican, but none the worse for that. And it has a recipe for Tortillas which is pretty easy.
Flour Tortillas
3 cups all-purpose flour, unsifted
2 teaspoons baking powder
3/4 teaspoon salt
About 1 cup of warm water
Stir together flour, baking powder and salt. Gradually stir in enough warm water to form a crumbly dough; then work dough with your hands until it holds together. Turn out onto a board and knead until smooth. Divide into 12 (I did 8 pieces) and shape each into a smooth ball. Cover lightly with plastic film and let rest about 15 minutes.
For each tortilla, flatten one ball into a 4 or 5 inch patty, then roll into about a 9 inch round, rolling from centre to edges. Turn tortilla often, stretching dough as you carefully peel it of board.
As each tortilla is shaped, place on a preheated, dry heavy girdle or frying pan over a medium high heat. Almost immediately, tiny blisters should appear. Turn tortilla and immediately start pressing a wide spatula directly on to of it – press gently but firmly all over the top. Blisters will form over most of surface as you press. Turn tortilla and press all over other side until blisters turn a golden brown' tortilla should remain soft. If tortillas stick or brown too quickly; reduce heat.
Stack tortillas as cooked inside a folded cloth towel within a plastic bag; close bag and let tortillas steam and soften until all are cooked.
Serve tortillas as soon as they are soft; or cook, remove from bag, wrap in foil, and refrigerate or freeze.

But that isn't the random recipe, just a means to an end, you see how distracted I have become!
When I went to get my 'chicken breasts' out of the fridge, I realised that although I had considered defrosting chicken the night before, in the end I had decided to defrost a couple of lamb steaks and then promptly forgot! However, I decided to carry on with the lamb anyway.
So Chicken Tikka Wraps become Lamb Tikka Wraps
2 tbsp tikka masala curry paste
1(200g) pot Greek natural yogurt
3 (150g/5oz) skinless chicken breasts or lamb steaks
3 tbsp fresh chopped mint
4 large soft flour tortillas, warmed
1 red onion, peeled and sliced
75g 3oz mixed salad leaves + extra to serve
1. Mix curry paste and 3 tbsp yogurt in a bowl. Add chicken; stir to coat. Leave to marinate for 10 minutes. Mix remaining yogurt with the mint; season. Chill.
2. Preheat grill to medium. Place chicken on a foil-lined grill pan; cook for 15 mins, turning once, until cooked through. Cool slightly; slice thinly.
3. Lay the tortillas on a baord. Scatter over the onion and salad leaves. Top each with chicken and 1 tbsp yogurt sauce. Roll up tortillas to enlose the filling. Cut in half; serve with salad and the remaining mint sauce.

So there we go, my 666 Lamb Tikka Wraps with homemade Tortillas. The lamb worked really well, it was tender and delicious. The tortillas were slightly more chewy than the one's you buy in the supermarket, but overall they were really good and I would definitely make my own again.