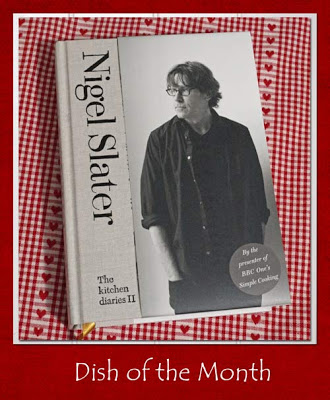 Dish of the Month is a monthly blog challenge dedicated to making the recipes of Nigel Slater.
If you would like to take part, then please:
Make a Dish of the Month from a recipe by Nigel Slater
Link to Farmersgirl Kitchen
Use the Dish of the Month logo in your post
If you use twitter, tweet your post with @serialcrafter and #DishoftheMonth and I will re-tweet it to my followers.
Rules:
If you own The kitchen diaries II please do not publish the recipes on your blog without permission, they are copyright.
If you are using recipes from the BBC Food website, please link to the recipe on BBC Food rather than publishing the recipe. Likewise recipes on the Guardian website.
One entry per blog.
Recipes must be added to the linky by the 28th of each month.
January 2013
January 2013 Round Up
February 2013
February Round Up
March 2013
March Round Up
April 2013
April Round Up
May 2013 is being hosted over at 'A Little Bit of Heaven on a Plate'
May 2013 Round Up
June 2013 is being hosted at 'A Little Bit of Heaven on a Plate'
July 2013 is being hosted at 'A Little Bit of Heaven on a Plate'
July 2013 Round Up
August 2013
August 2013 Round Up
September 2013
September 2013 Round Up
October 2013
October 2013 Round Up
November 2013 is being hosted at 'A Little Bit of Heaven on a Plate'