It's time to launch another month of Dish of the Month a blog event to celebrate the recipes of Nigel Slater. If you tweet your recipe @realnigelslater he might even reply to you some of last month's entrants found out.  Check it out in the February Dish of the Month round up. Some of us are cooking our way month by month
through The kitchen diaries II, however you can make any dish from any
of Nigel's books or use the on line recipes. The full rules are shown at the bottom of the post.
My Dish of the Month for is from March 16th in the Kitchen Diaries II. it's an adaptation of Nigel's Pork shoulder with ginger and anise.  I didn't have a pork shoulder, but I did have two huge and delicious Saddleback Pork Chops provided to me for review by Farmison it's a really simple slow cooked recipe packed with flavour.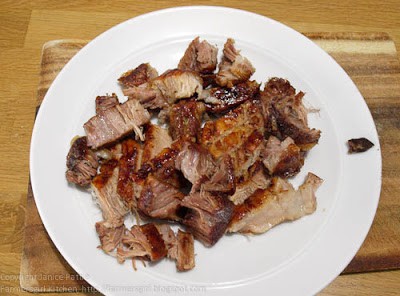 All the gorgeous meat I got from the two Saddleback Pork Chops
I managed to make the two chops stretch to feed three of us and the flavours of the ginger and anise were outstanding,  I would definitely make this again.  If you use the pork shoulder, the recipe is designed to provide leftovers for some further dishes which is great idea.
This month I am delighted to say that one entrant will win a 2.8L Stainless Steel Mixing Bowl and a Medium Silicone Spatula from the lovely people at OXO Good Grips.  Products from OXO Good Grips are of  the highest standards of design and manufacture, a delight to own and use.  The winner will be chosen by Random Number Generator when the Linky
closes on 28th March. The prize draw is for UK residents only but
anyone can join in and share their recipe on the Dish of the Month Linky.
If you would like to take part, then please:
Make a Dish of the Month from ANY recipe by Nigel Slater
Link to Farmersgirl Kitchen or A Little Bit of Heaven on a Plate
 Use the Dish of the Month logo in your post
If you use twitter, tweet your post with @serialcrafter or
@Heavenona_plate and #DishoftheMonth and we will re-tweet it to our
followers.
Rules:
If you own The kitchen diaries II please do not publish the recipes on your blog without permission, they are copyright.
If you are using recipes from the BBC Food website, please link to
the recipe on BBC Food rather than publishing the recipe.  Likewise
recipes on the Guardian Lifestyle website.
One entry per blog.
Recipes must be added to the linky by the 28th of each month.
The round up for Dish of the Month is now live over at A little bit of Heaven on a Plate
Add your Dish of the Month to the linky below:
document.write('