Once again it's round up time for Dish of the Month with more fabulous dishes made from recipes by Nigel Slater.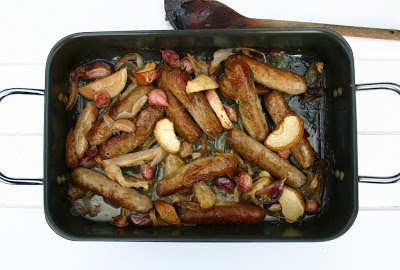 Dom from Belleau Kitchen chose one of those perfect recipes where you throw everything in a roasting tin, to create an easy but deliciously carmelised Summer Sausage Stew with cider and radishes.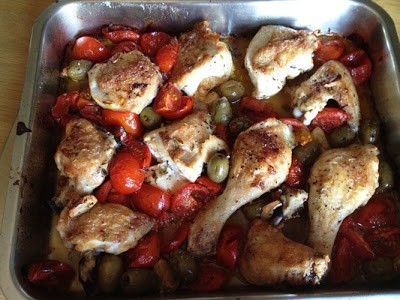 Feel like you are having a bit of deja vu? Nigel obviously has a penchant for throwing things into roasting tins and so do I! My Dish of the Month was Baked Chicken with tomatoes and olives from the Kitchen Diaries II.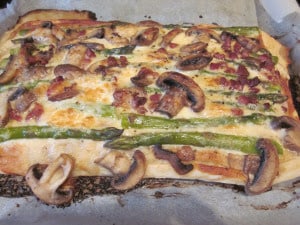 Welcome to Dish of the Month Newbie, Deon Van Schalkwyk of Sumptuous Delights who was somewhat daunted by the Kitchen Diaries II until (drumroll) she saw this blog event and realised just how fabulous and accessible KDII is, and made this Mushroom and Asparagus Tart with Pancetta pieces. Hope you will join us again Deon.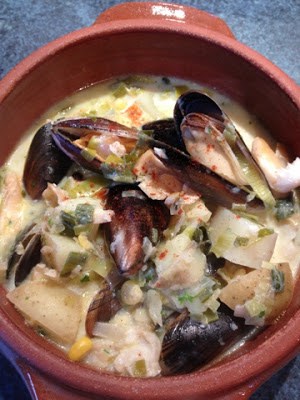 Claire from Foodiequine served up a fabulous Smoked Haddock with Leeks and Sweetcorn made from local produce with a dash of rapeseed oil 'as used by Nigel Slater'.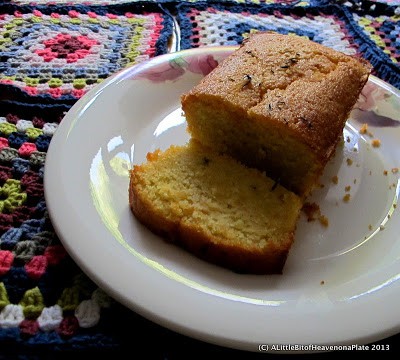 Sue, from A Little bit of heaven on a plate, crocheted this Lemon and Thyme cake along with her Afghan blanket – hee hee hee. It's another great recipe from the Kitchen Diaries II.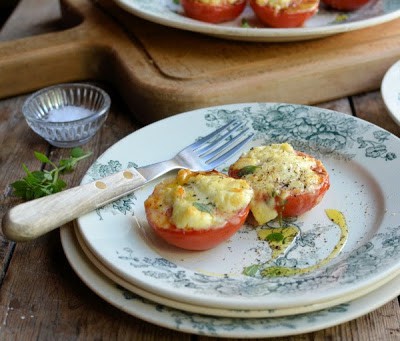 A beautiful photograph of a glorious dish from Karen at Lavender and Lovage, Saint Marcellin Cheese, tomatoes and basil from the first Kitchen Diaries book, read more about this creamy French cheese on Karen's blog.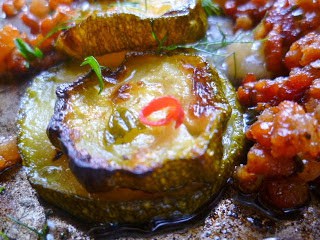 Rachel at Marmaduke Scarlet always comes up with an interesting dish for Dish of the Month and this month is no exception. Roasted Courgettes with Thai-style Minced Chilli and Lime Pork is a variation on Nigel's Baked Marrow with Minced Pork from Tender 1.
And the winner of a copy of Nigel Slater's Real Fast Food is
#4 Karen Burns Booth.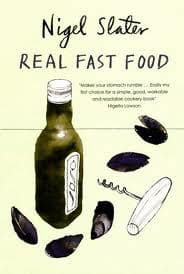 As hosts of this challenge Sue and I were excluded from the draw, which was carried out using the Random Number Generator.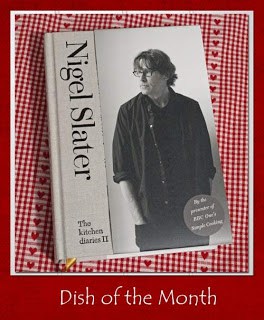 The September challenge will be posted on 1st September.