After our visit to sophisticated, metropolitan London, the Best of British Tour moves back to the country as we sample the food of Dorset.
Karen at Lavender and Lovage is the generous host for Five go mad in Best of British in Dorset. I have to say that I wasn't really aware of a particular cuisine for Dorset, but on further investigation I found that Dorset Apple Cake seemed to be a specialty.
Dorset Apple Cake
225 g butter, softened, plus extra for greasing
225 g caster sugar, plus extra for dredging
3 large eggs
225 g self-raising flour
2 tsp baking powder
25 g ground almonds
450 g cooking apples, peeled, cored and chopped and then tossed in juice of 1 lemon
Preheat the oven to 180C/Gas 4. Grease a deep 23-24cm springform cake tin and line with baking paper.
Cream together the butter and sugar in a bowl until pale and fluffy. Add the eggs one at a time until combined
Sift the remaining flour and the baking powder into the bowl and fold in
with the ground almonds. Add the chopped apple pieces and stir until
thoroughly mixed.
Spoon into the prepared cake tin, smooth over the top using the back of a
spoon. Bake in the oven for 1 hour or until well-risen, brown and a
skewer inserted into the centre of the cake comes out clean. If the cake
starts to look a little too brown, cover with a sheet of baking paper
after about 45 minutes.
Leave to cool in the tin. Serve the cake and dredge with extra caster
sugar. Cut the cake into generous wedges and serve with clotted cream.
I'm not sure if it was this particular recipe or the apples I used, but I found this cake rather bland. In future I would add some cinnamon or other spice to boost the flavour. Then again, I didn't have any clotted cream to serve it with, so maybe that would make the difference.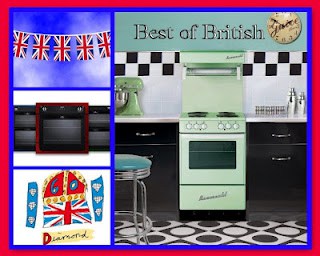 The Best of British Challenge has been organised by Karen Burns Booth of
Lavender and Lovage
and Fiona McLean of
London Unattached
. Many thanks to them both for all their hard work and to
New World Appliances
as proud BRITISH manufacturers
of kitchen appliances who are sponsoring this event for the first six
months.