Spring has definitely sprung now, after a beautiful sunny Easter weekend in Scotland, there can be now doubt about that. I'm afraid I don't have any lovely outdoors photos for you, although I did spend a couple of hours in the sun on Saturday, shifting logs for our neighbours before heading back inside for more painting duties.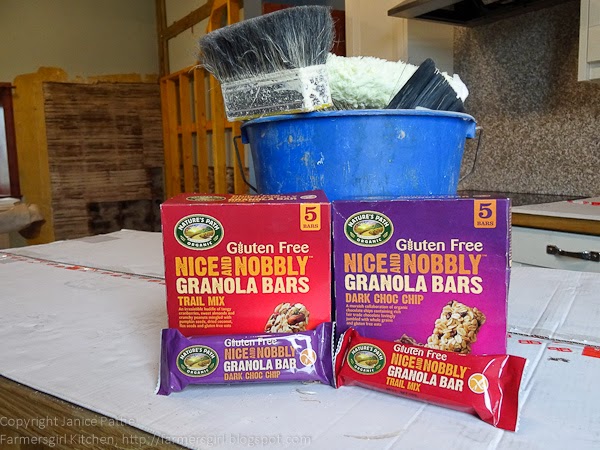 As you can see work continues around my Kitchen Table, in the background you can see the old laths awaiting a new coat of plaster. The worktops are protected by sheets of cardboard and there is much painting going on. What you need in these circumstances are some tasty snacks to keep you going.
First up are the Nice and Nobbly Organic, Gluten Free, Granola Bars from Nature's Path. They come in two flavours – Trail Mix and Dark Choc Chip – and are a
great alternative to the often taste-less and bland gluten-free products
on the market. They are very tasty, hold together well and I would definitely buy them. 9/10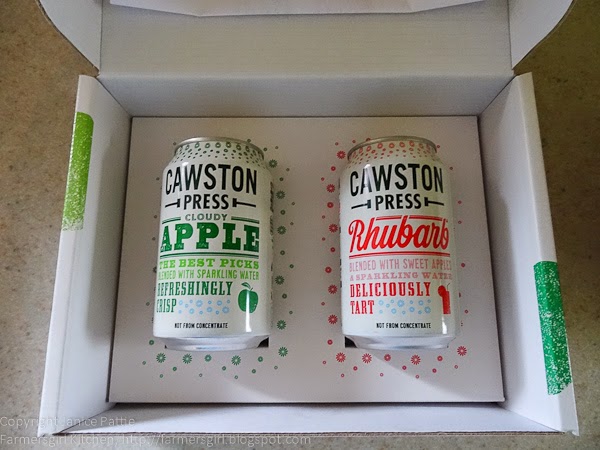 Cawston Press
, the premium soft drinks company, is now
launching sparkling drinks in cans, for the very first time. They come
in two flavours –
Rhubarb
and
Cloudy Apple
and are a welcome change to
the often additive-packed canned soft drinks on the market. I am not a huge fan of fizzy drinks and fortunately these weren't over-carbonated. I reviewed the sparking juices on my New Year Kitchen Table in bottle form, which I preferred, as I really find a whole can too much. The flavours were equally delicious and I guess cans can be useful when you are travelling around and don't want glass bottles. The fruit flavour comes through well, however I have to say that ultimately I prefer Cawston Press
'Picked and Pressed'
fruit juices which have a really intense fruity flavour that I love.
7/10
Not many people can resist Cadbury Dairy Milk Chocolate and now they have combined their delicious creamy chocolate with two different biscuits, the semi-sweet LU biscuit and the savoury Ritz Cracker.
I preferred the LU biscuits and my husband preferred the Ritz Crackers. What I liked about them was the way you were able to break the pack up into four individual biscuits, great for sharing. Cadbury Dairy Milk LU and Cadbury Dairy Milk Ritz are available in 35g bars, each with four mini segments (RRP £0.58) and in three bar
multipacks (RRP £1.49). 8/10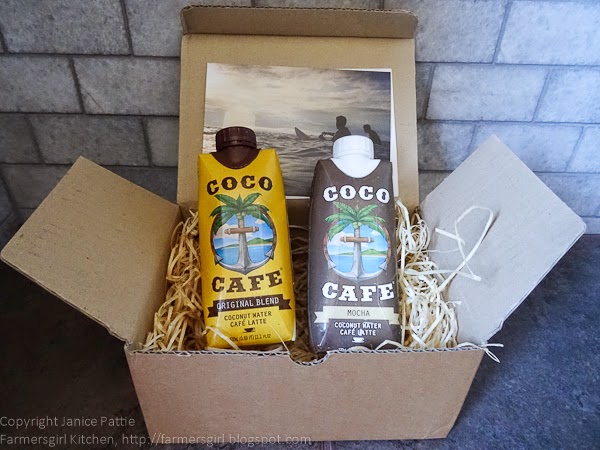 Something different now, from Vita Coco, currently Britain's biggest coconut water brand.
The newest additions to the Vita Coco Range, Coco Cafe,
provide a healthier way to get your caffeine fix! Combining the super
hydrating nature of coconut water with a shot of espresso, some
semi-skimmed milk, and even a little bit of chocolate for the Mocha
flavour, without all the artificial colourings, flavourings and sweeteners of traditional energy drink. They are definitely an improvement on some other energy drinks and I can see that they would be a great alternative to coffee on a warm summer's day.
The Coco Cafe Latte and Coco Cafe Mocha come in handy screw-top 330ml cartons and cost £1.99
7/10


I hope you've enjoyed reading about the products I've been reviewing on my kitchen table, back soon with more recipes and reviews.
I received samples of the products , I was not paid for these reviews and all opinions are my own.