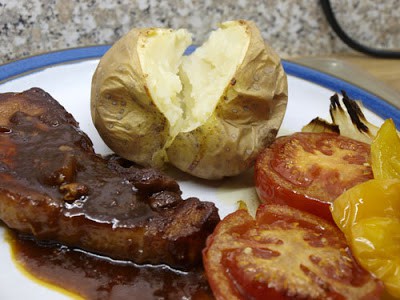 Long ago and far away, before home computers (let alone the internet!) and when my cookbook collection was counted in tens rather than hundreds, I used to borrow books from the library and hand write the recipes I liked into various notebooks. I was looking for a nice easy recipe for some pork chops and remembered this one, it is quick, easy and tastes fantastic.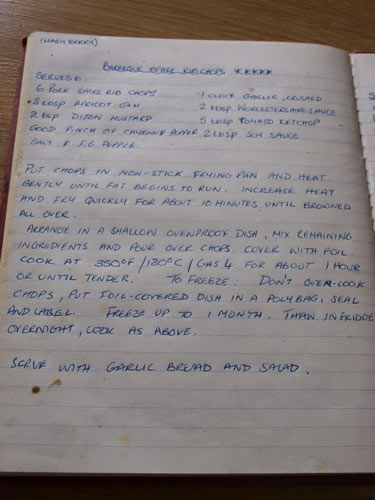 If you look carefully, you will see that it is a Mary Berry recipe, but unfortunately I haven't said which book it is from and as I probably wrote this out in about 1981 I certainly can't remember. You can always tell a good recipe from the splatters on the page and of course my own 'star' system where I award recipes up to five stars and this is definitely a Five Star Recipe.
Easy Barbeque Pork Chops without a BBQ!
Serve with Garlic Bread and Salad or with a baked potato and roasted vegetables
Ingredients
6 Pork Chops
3 tbsp apricot jam
1 clove, crushed garlic
2 tsp Dijon Mustard
good pinch cayenne pepper
2 tbsp Worcestershire sauce
5 tbsp Tomato ketchup
2 tbsp soy sauce
Instructions
1. Put Chops in a non-stick frying pan and heat gently until fat begins to run.2. Increase heat and fry quickly for about 10 minutes until browned all over.3. Arrange in a shallow ovenproof dish.4. Mix remaining ingredients and pour over chops, cover dish with foil.5. Cook at 350F/180C/Gas 4 for about 1 hour or until tender.
Details
Prep time: 10 mins Cook time: 1 hour Total time: 1 hour 10 mins Yield: Serves 6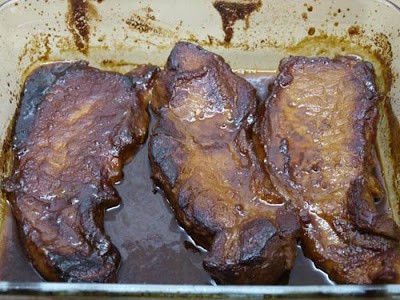 Here are the baked chops swimming in their delicious sauce.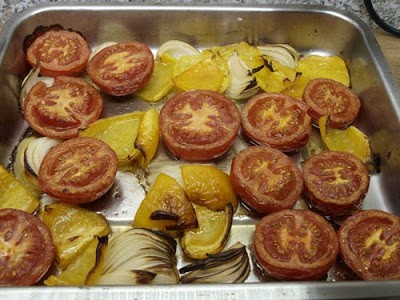 I notice that the book says to serve with garlic bread and salad which would be great, but I served it with baked potatoes and roasted vegetables which we certainly enjoyed.
I do love roasted vegetables and the fact that you just chop them up and throw them in a roasting tin, pour over some olive oil and bung in the oven at 200C for around 30 minutes or until they are soft and singed around the edges.