I entered the Rhubarb Millefeuille in the Great British Rhubarb Recipe Round Up Linky Party in April 2015. It proved to be a popular Linky, I'm not quite sure why we have such an affection for these acidic pink stems. I can only imagine that it is because they are the first 'fruit' of the year and a harbinger of spring.
There is a local rhubarb connection here in the south west of Scotland as James Mounsey, a Scot who had been the doctor to Tsar Peter III, fled for his life back to Dumfriesshire when the Tsar was assassinated. He brought rhubarb seeds with him and from these he successfully grew fields of high-quality rhubarb. The house he fled to is only about half a mile from where I live, so it is perhaps, not so surprising that our rhubarb is prolific and that our plants must be nearly 50 years old.
I thought a lot about the recipe I would make for The Great British Rhubarb Recipe Round-Up, I changed my mind several times. I wanted to make something impressive, that didn't need a huge amount of rhubarb and that was easy enough for anyone to make, which is how I came up with this Easy Rhubarb Millefeuille.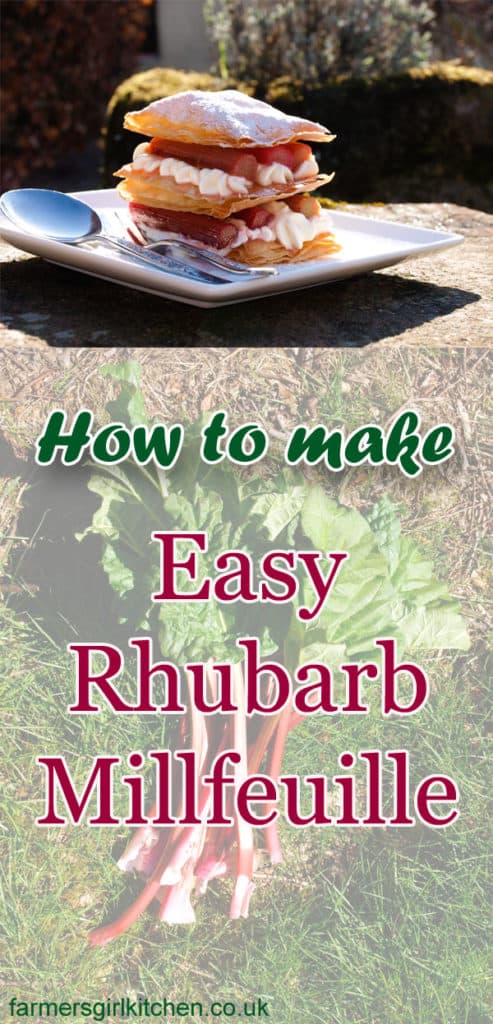 PIN ME FOR LATER
A pictorial guide for how to make Easy Rhubarb Millefeuille
I hope you will join me and Karen from Lavender and Lovage by sharing your rhubarb recipes and enjoying the inspiration of the great entries we have already received. The Link up is now closed but you can see all the recipes on our Pinterest Board: The Great British Rhubarb Recipe Round Up