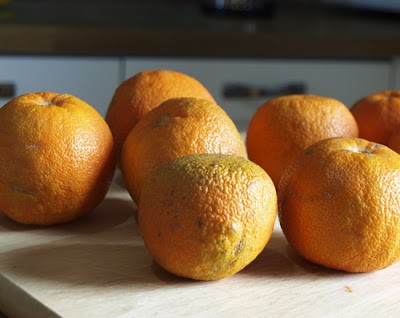 It's been some time since I made marmalade, two or three years at least. I used to make it every year and in bigger quantities than this too. However, I just fancied making some and got a bag of seville oranges and a lemon, some sugar and I was ready.
I've been using the same recipe since the early 1980s, it comes from 'Home and Freezer Digest' magazine which was one of the few foodie mags available in the UK at that time.
Seville Orange Marmalade
Makes 9lb (4kg)
2lb (900g) Seville Oranges
4 pt (2.3l ) water
1 lemon
4lb (1.80kg) sugar
1. Wipe and cut the oranges in half, squeeze out juice and pips. Put pips in a muslin or stockinette bag and tie. Put orange juice in pan with water and lemon juice.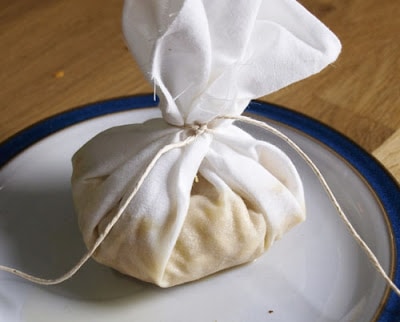 Now the recipe differs slightly from what I do next, life is too short to slice up all that peel. My mum used to put her's through a mincer (hand turned as well!) but I use the food processor.
3. The recipe says:
Slice peel thinly and add to pan with pips.
Farmersgirl says:
Chop peel into chunks and whizz in the food processor.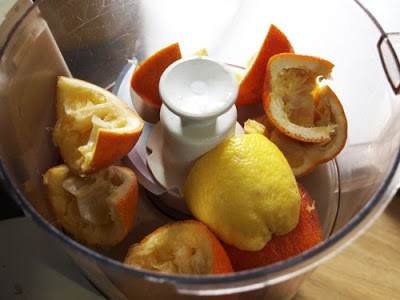 Simmer about one and a half hours until peel is soft and liquid reduced by half.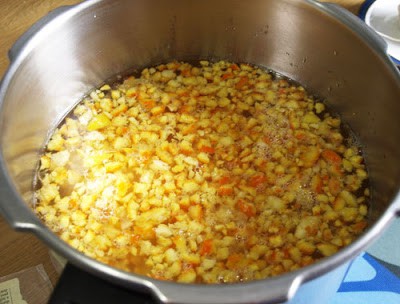 4. Take out bag of pips and squeeze out any liquid into pan. Stir in sugar over low heat until dissolved. Boil rapidly to seeting point (generally I give it at least 30 minutes rapid boiling before I start to test for set).
5. Cool for about 10 minutes in pan, stir well, pour into warm, clean jars, cover seal and label. Store in a cool, dry place.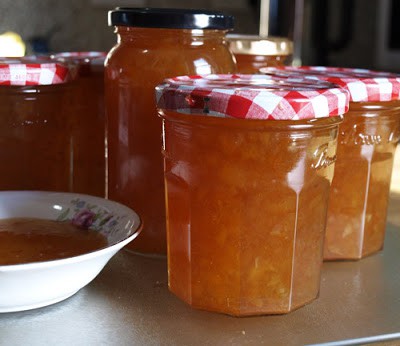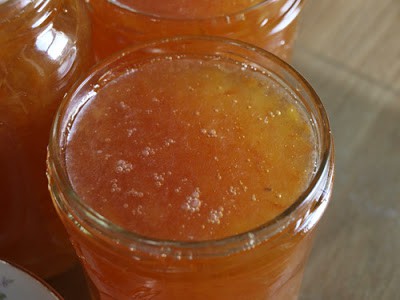 So why, I hear you ask, is it Exploding Marmalade? Remember I said, it had been a while since I made it? Well, I really thought that I had previously cooked the chopped up peel in the pressure cooker under pressure, so that's what I did.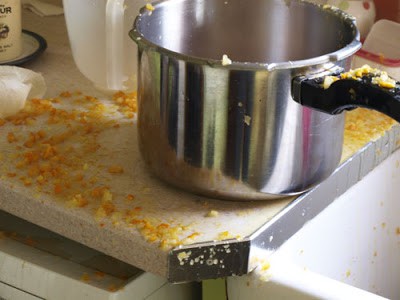 The peel must have risen up and blocked the steam valve, because even when I thought I'd got all the steam out, I hadn't so when I opened the handle, there was a minor explosion!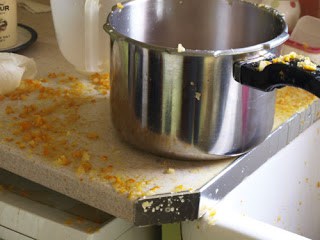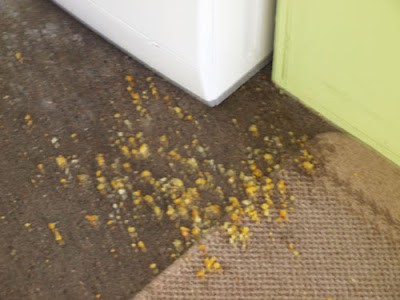 Oh yes, and all over the floor too! However you will have gathered that I didn't lose it all, there was still enough left in the pan to make 6lb of marmalade, it just doesn't have quite as much peel in it as usual!
PS I later realised that the recipe that I had previously made in the pressure cooker is one which uses whole frozen seville oranges and you chop them up afterwards – doh!
PPS I didn't get covered in any of this, I opened it at arms length as I could hear that it wasn't happy, and it didn't really take that long to clean up, the house smelled of oranges all day!