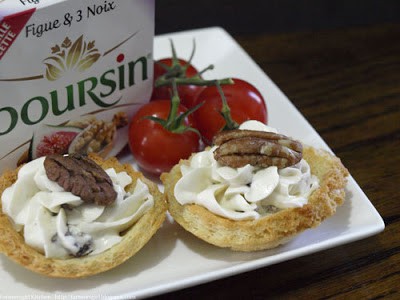 The world's first variety of Boursin was created in 1957 in
Normandy by Francois Boursin. Inspired by a long-standing traditional
dish, fromage frais (fresh cheese), in which guests mixed their own
seasoned cheese from a bowl of fine herbs, the expert cheese maker
introduced Boursin Garlic & Fine Herbs. His recipe quickly became
the first flavoured fresh cheese to be sold throughout France. Boursin was the height of sophistication in the 1970s and probably the first French cheese I tasted.
However, there is a new Boursin cheese which I have been asked to review: Boursin Fig and 3 Nuts or 'Figue et 3 Noix. This cheese is a combination of full tat soft cheese, fig nuggets, raisins, pecan nuts, walnuts and cashew nuts. It's not quite what I expected and took a little time and a few different tastings to work out whether I liked it or not. It's quite a sweet flavour, due to the figs and raisins, and I found it worked best on a sweetish wheaten cracker. It would also go well with a slice of apple.
As you may have gathered, if you are a regular reader of my blog, I tend to like to make something with items I'm sent to review and I've been pondering the best way to present this sweet cheese. In the end I went for quite a retro '70s style canape, the sort of thing my Mum would have served at a party, along with the cheese and pineapple on sticks! The crunchy bread croute was a great foil for the sweet cheese and I could just see them going down well with a glass of chilled fino sherry or a dry Sauvignon blanc.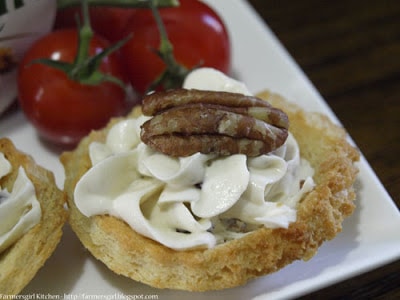 Boursin Croutes
The instructions for this recipe are not precise, much depends on the size you make your croutes and how much filling you want to add. Would also be nice to top with a slice of fresh fig, or sliced, red skinned apple dipped in lemon juice. The croutes will keep for a few days in an airtight tin or box.

For the Croutes
Slices of white bread
Butter
1. Heat the oven to 180C
2. Cut the crusts off the bread, roll each slice flat with a rolling pin and, using cookie cutters, cut out circles of bread.
3. Melt the butter and brush both sides of each circle generously with the butter
4. Push down into tart tin. If the bread seems to be popping back out of the tin, roll up a piece of tin foil into a ball and push it on top of the bread.
5. Bake in the oven for about 15 minutes until golden brown (timing will vary depending on the thickness of your bread). Leave to cool.
For the filling
For every two croutes you will need:
1 tbsp Boursin Fig and 3 Nuts Cheese
1 tbsp low fat cream cheese
1/2 tsp lemon juice
2 pecan nuts
1. Beat the cream cheese and lemon juice until soft, add the Boursin Fig and 3 Nuts and mix through.
2. Using a Wilton 1M (large star) nozzle, fill a piping bag and pipe into the croutes.
3. Top each croute with a whole pecan nut.
Giveaway

If you would like to try Boursin Fig and 3 Nuts along with some of the other varieties of Boursin Cheese, the nice people at Boursin have a cool bag full of Boursin Cheeses to giveaway. Just follow the instructions below to enter: