It's been a little while since I posted a food and drink review feature. I've had a few parcels of goodies arrive recently, so I think it's time to share my thoughts with you about what has been 'on my kitchen table'.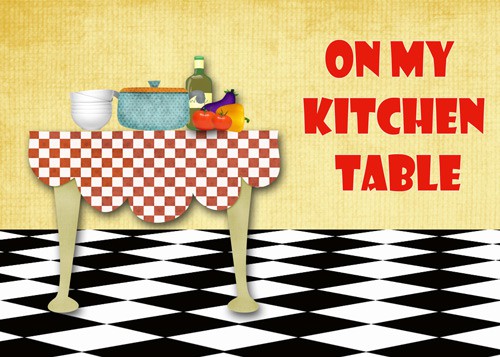 Supreme Sausages Review
First up for review are Supreme Sausages, a small family run business, who pride themselves in supplying the nation with the very finest Great British sausages, ranging from the award winning traditional sausage to the more gourmet variety.
Supreme Sausages has three generations of the family working to produce their Great British Bangers. After 20 years perfecting recipes they now have 10 varieties, using only quality British farmed pork, fresh herbs, spices, chilli, garlic, tomatoes, apples, mushrooms, honey, Stilton and also wine and cider to marinate. All of these ingredients are combined to produce a comprehensive range of the very finest Pork Sausages, which are filled into hog casings the old fashioned way.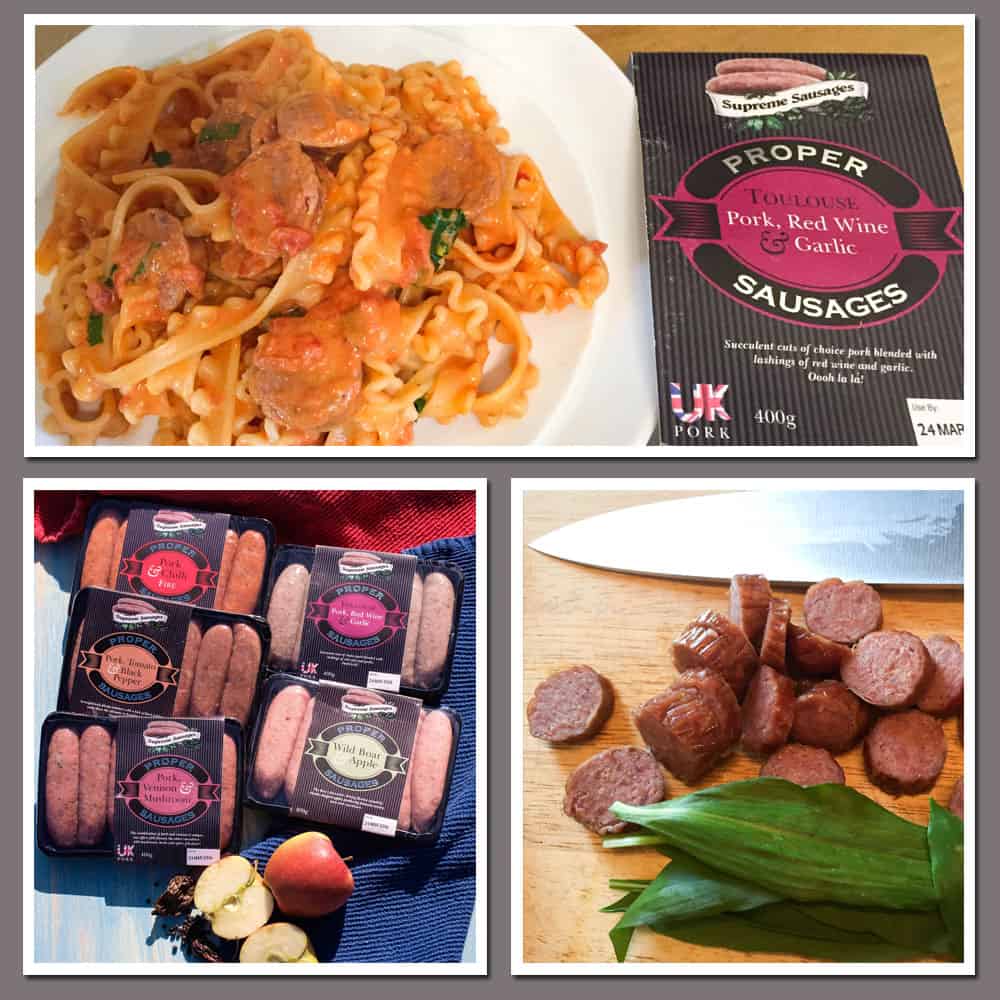 There are some lovely combinations of flavours, I had the chance to taste Pork & Chilli, Pork Venison & Mushroom, Pork Tomato & Black Pepper, Wild Boar & Apple and Pork, Red Wine & Garlic.
I made a Red Wine & Garlic Sausage Pasta adding some wild garlic, premium tinned tomatoes, red wine and a little cream to the pasta ribbons. It was delicious and, even within a rich sauce, you could still taste the flavour of the red wine and garlic in the sausages. Real grown up sausages packed with quality meat!
Supreme Sausages also run a Sausage Club, the Gold Membership offer includes 2 deliveries of 10 packs of sausages and much more for £66. Platinum Membership includes 2 deliveries of 15 packs of sausages for £90.
Individual packs of sausages contain 6 large sausages (400g) and cost between £4.20 – £5.20 depending on the variety, the range of sausages are also available gluten-free. I've eaten a few sausages in my time, and these were excellent. I love the different flavour combinations and would happily buy Supreme Sausages. Review Rating: 10/10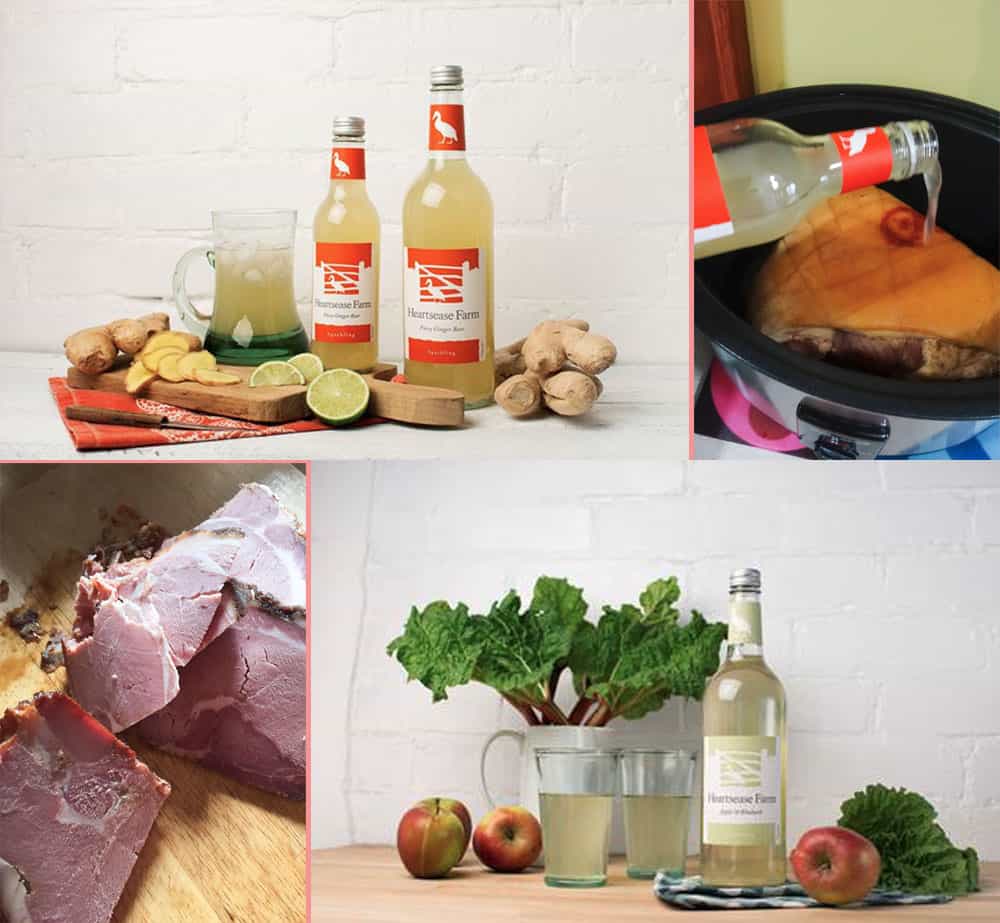 Heartsease Farm Review
Radnor Hills Ltd was founded by William Watkins in 1996 to produce soft drinks at his family farm in Mid Wales. The Watkins family have farmed at Heartsease since 1903. The Heartsease Farm range are a blend of the best available ingredients from the countryside blended with their own spring water and made to traditional British recipes.
Fiery Ginger Beer and Apple and Rhubarb flavours of Heartsease Farm Sparking Presse are now available from Sainsbury so much easier for everyone to enjoy. So what are they like?
Fiery Ginger Beer: this lightly sparkling ginger beer is nice and hot, it's not too sweet and has a good kick to it. You may be aware of the trend to cook ham in cola or other soft drinks, well I don't drink those soft drinks, but I decided to try the same technique with the Heartsease Ginger Beer. It was totally delicious, the ham had a glorious sweetness and there remained a little of sharp heat of the ginger in the ham I cooked in the Slow Cooker. A large 750ml table sized bottle is available for £2.00 from Sainsbury's
Apple & Rhubarb: This drink was light and refreshing, the sharp acidity of the rhubarb worked well with the sweetness of the apple and again the gentle sparkle was just enough and didn't overpower the subtle flavours.
Review Rating: 8/10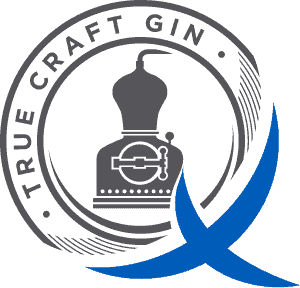 McQueen Handcrafted Gin
It's always fun to be in at the start of a new product launch and to try something that is not yet on the market. McQueen Gin will be launching their innovative and unique range of gins in early summer this year, adding something different to the fine range of Scottish Gins currently on the market. The launch flavours are Chocolate Mint, Sweet Citrus, Mocha and Smokey Chilli and, while they are not yet available to buy, I was fortunate to get the opportunity to taste some samples.
I was a little perplexed as to what to use as a mixer for the gins, but standard tonic water works perfectly well and allows the different flavours and the classic juniper notes to come through. My personal favourite was the Smokey Chilli which has a good kick to it and would be great with Mexican food. We drank the Sweet Citrus to accompany a simple risotto, which worked well, the fresh flavour would also be nice with a salad or fish.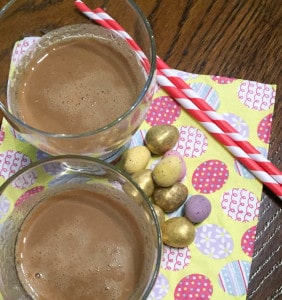 Plans are underway for an experienced senior mixologist to develop a signature range of cocktails using the gins, in the meantime I had a bit of fun with the Mocha flavour, mixing it with equal parts Tia Maria, topped up with some chocolate milk and chilled esspresso coffee, to make a Choca-Mocha Cocktail for Easter weekend. If you like sweeter flavours then you will enjoy the Mocha and Chocolate Mint gins, they do go particularly well with dessert.
There are also plans for McQueen Gin Club, with a monthly subscription for one bottle per month, members will feedback their preferences on new flavours and one flavour would be replaced each month.
If you are interested in finding out more details about the launch of McQueen Gin and when and where you can buy the gin, then the information will be available through Facebook and Twitter .
Rating: 8/10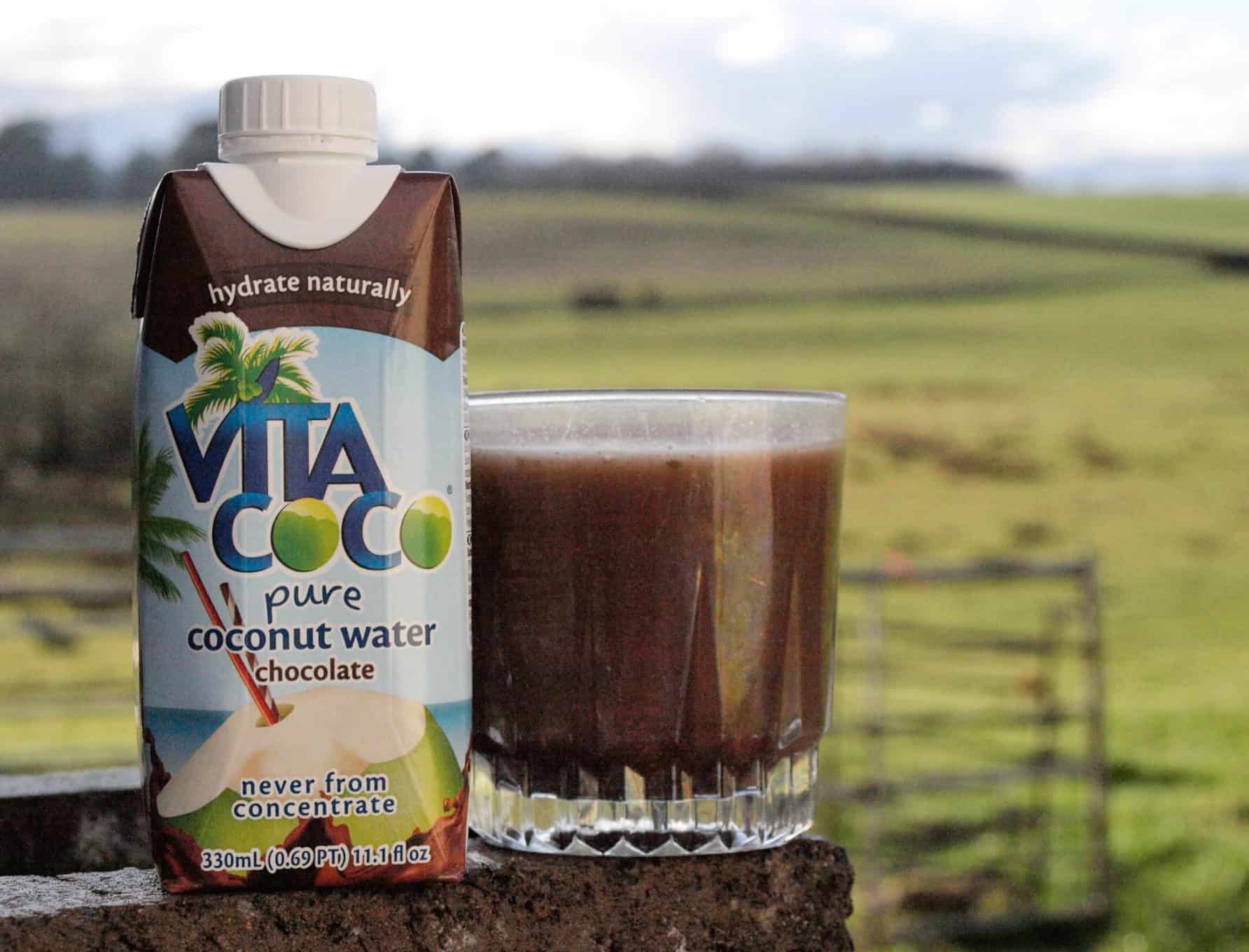 Vita Coco Review
Vita Coco Coconut Water Chocolate is coconut water with added cocoa powder. I'm not the biggest fan of coconut water, I find that water from the tap, we have particularly nice water where I live, is my preferred means of hydrating. However, I have to say that this chocolate version is a nice alternative to chocolate milk. It's definitely less sweet than the alternatives. I would advise that you shake it very thoroughly as it separates and I got a big lump of cocoa powder coming toward the end of pouring it into the glass. Vita Coco Coconut Water Chocolate costs around £1.70 for 330ml or £3.49 for 1 litre.
Review Rating: 7/10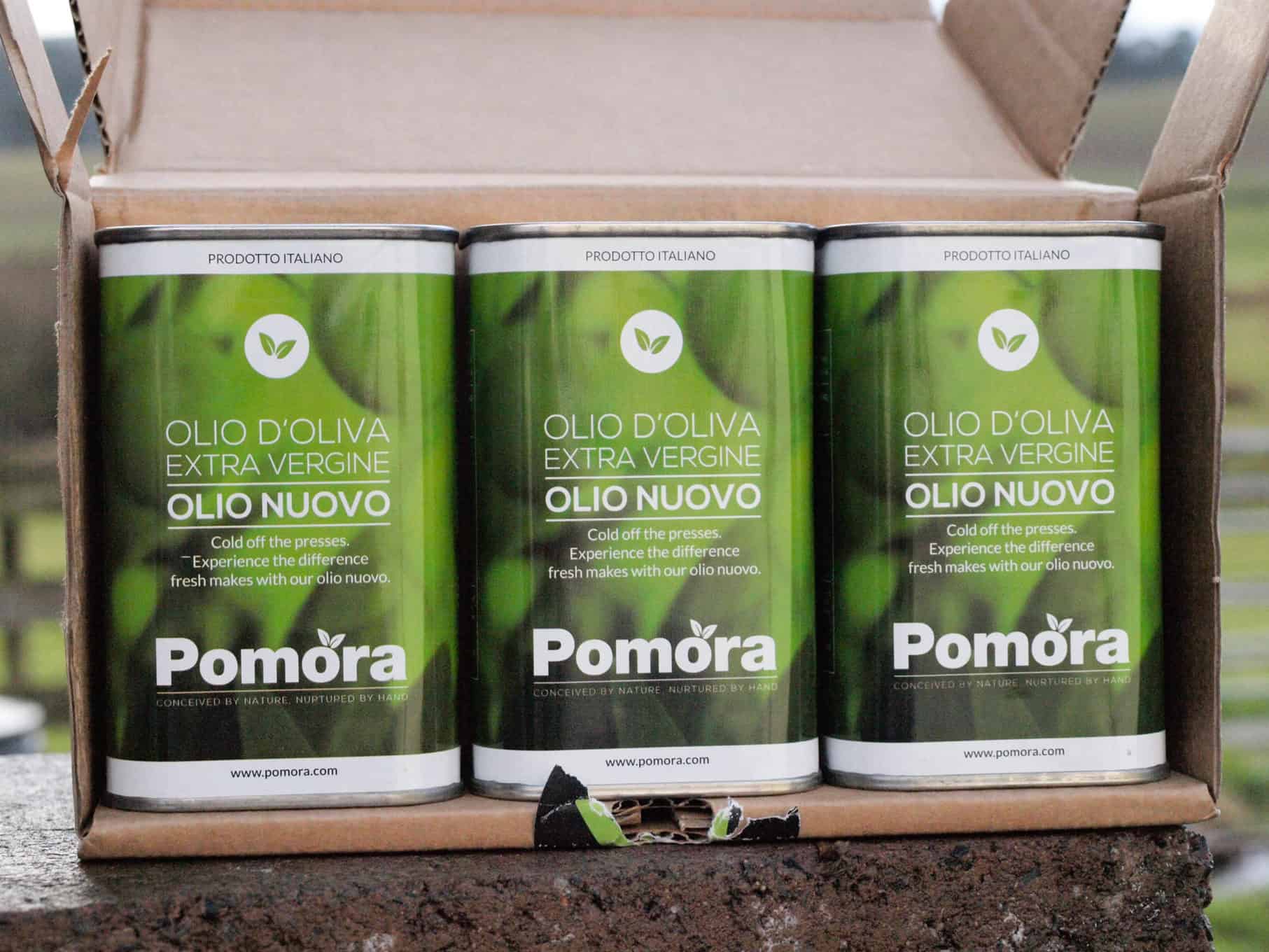 Pomora Olive Oil Subscription Review
I wrote about the Pomora Olive Oil subscription service in my Christmas Gift Guide well another quarter has pased and a new package of three tins of olive oil has arrived. I love the little tins of oil which are neatly packaged to drop through your letter box, I'm so impressed with the idea and the lovely oil that I thought I'd tell you about it again.
It's the perfect idea for a gift for anyone who loves to cook. Subscribers adopt an olive tree and receive regular updates on their tree from their producer throughout the year. Pomora subscriptions are flexible, there are several different payment options; adopt a tree for £29 per quarter and the recipient will continue to receive quarterly deliveries (until you cancel) or foster a tree from £39 per quarter for a fixed term. 10/10
Morinaga Japanese Tofu
We all know Tofu's ability to soak up flavours like a sponge, provide a low fat, high-protein, dairy and gluten-free addition to meals, whether you're a veggie, vegan or looking for a healthy and protein rich alternative.
So that makes Mori-Nu Firm Silken Tofu is a great standby to have in your cupboard, it lasts for 12 months, remaining as perfect in December as the day you bought it in January, with no fridge needed until it's opened. You won't find it in the chiller aisle, it will be found on-shelf alongside the other authentic Japanese ingredients. Yes, it may be shelved, but don't be fooled that what you gain in shelf life you lose in taste, because even being so low fat and low calorie, silken tofu still delivers effortless creaminess when blended into all manner of recipes. Tofu comes in different levels of firmness with each ideal for different kinds of cooking so, if you are no quite sure what to do with it, then there are a number of excellent recipes on the Morinaga website.
I'm not sure that I'm qualified to judge one make of Tofu with another, as I only cook with it occasionally, but the Morinaga Tofu came out of the box fresh and was easy to cut and use. I do like the idea of having a pack in the cupboard always ready to be turned into my next recipe idea. At around £1.59 for 349g it is also good value 8/10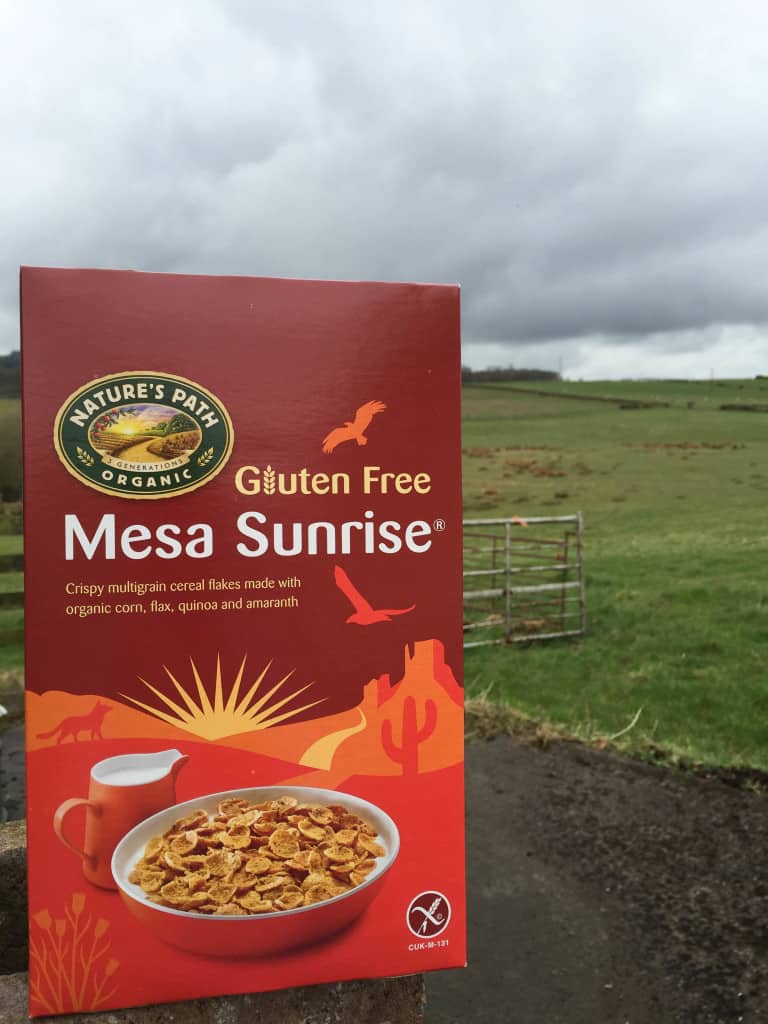 Nature's Path Mesa Sunrise Gluten Free Cereal
Nature's Path Mesa Sunrise, is organic and gluten free, it's a tasty and crispy multigrain cereal with flakes made with corn, buckwheat and flaxseed, plus the 'ancient grains' of quinoa and amaranth. The latter two are considered superfoods that have provided mankind with essential vitamins, nutrients and fibre for thousands of years.
Mesa Sunrise is now available in supermarkets and is being bought, not only by people who are gluten-intolerant, or who suffer from coeliac disease, but by those who want to embrace a healthy lifestyle and, of course, for the taste. At £3.00/355g, it's more expensive than many cereals and therefore not accessible to everyone. I also checked the sugars which were slightly higher than in the value pack of cornflakes that I had in the cupboard. The flakes are quite hard, although they do have a lot more taste than standard flakes. The rating reflects the price, it's such a shame that those with coeliac disease, and who are gluten intolerant, have to pay such a premium for a convenient cereal breakfast. 6/10
Thank you for reading my review round up, I hope you enjoyed reading about the different foods and drinks I've tried and perhaps are tempted to try some of them yourself.
I received these items to review, I was not paid and all opinions are my own.