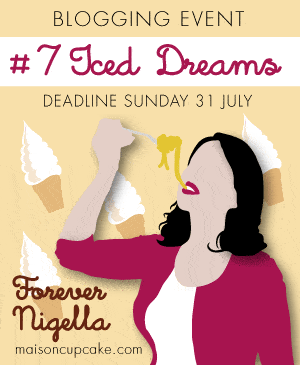 Update 26th July: Sometimes, I'm so ahead of myself I meet myself coming back – hee hee! The closing date for this challenge isn't until Sunday 31st, sorry for any confusion.
I'm cutting it quite fine with my entry for Forever Nigella, which is being hosted this month by
Soul Curry
. The closing date is tomorrow! I really struggled to find a recipe to make, mainly because I am not eating high fat and sugar foods, and Nigella is fond of all things creamy and sugary. I looked through my books and was not inspired, so had a look at the Nigella.com site to see if I could find something suitable there and came up with
Chopped Fruit Salad
it may not sound very inspiring, but the combination of fruits and yogurt made it perfect for my entry to the challenge.
I have to admit that I only used the recipe as a very loose guide as I have used Nectarines, raspberries and apricots rather than the strawberries, mango and blueberries that Nigella has chosen, but the principle is the same.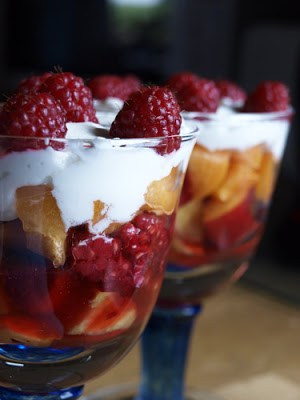 I gently crushed the raspberries that went in the middle layer and also added a tablespoon of Amaretto to each glass. I used 0% Greek Yogurt on the top and then added some lovely whole rasps rather than pomegranate seeds for a 'gloriously jewelled topping' just as Nigella ordered , the glasses then went into the fridge to allow the fruit juices to mix and the whole thing to be 'iced' as per the challenge.