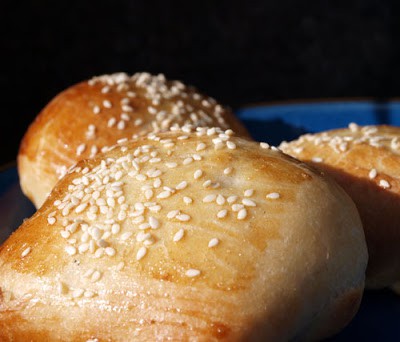 I've joined
'Fresh from the Oven'
an on-line baking community. Here is what the bakers say on the public blog:
"Welcome to Fresh from the oven. A bread baking community where we bake one loaf at a time. Challenges are announced on the group's private blog on the first of each month and then on the 28th of the month each member posts their bread on their blog."
For September, Ria of Ria's Collection challenged us to make 'Stuffed Buns' using a sweet bread dough and filling it with a mixture of chicken and spices.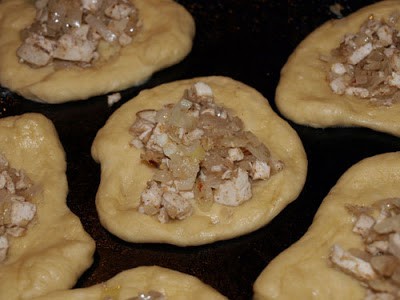 Here are the circles of dough with the filling in them ready to be pinched up into a bun.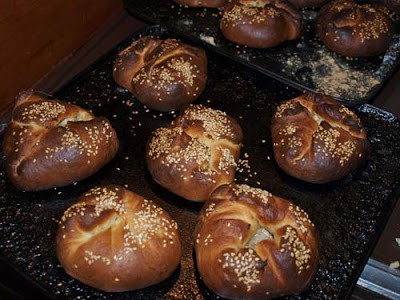 And here is what happened the first time I made the buns 🙁
My oven is quite hot and although I thought I had compensated enough, they were very burnt. The photo shows the tray of the buns that were edible, the other two that were on a higher shelf were totally inedible.
Nothing daunted, I decided to have another go and reduce the oven temperature to 160C and the time to 6 minutes.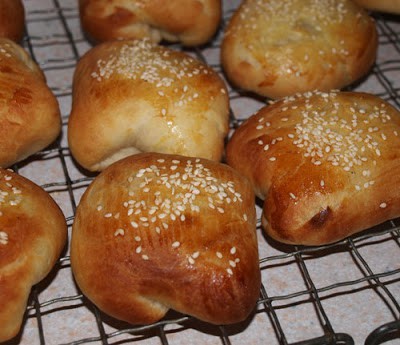 I also filled the buns with a mixture of onion, sweet potato and green pepper along with the ginger and garlic that was in the original chicken mixture, I think I preferred it to the chicken.
Here is the recipe:
Stuffed Bun
Yields 12 buns
For the dough:
Ingredients
Dry yeast-1 tbsp
Warm water-2tbsp
Milk-1/2 cup
Salt to taste
Oil-1/2 cup
All purpose flour-2 cups
Sugar-1/4 cup
Egg-1, beaten
Egg white-1,for egg wash
White sesame seeds for sprinkling
Method
Dissolve the yeast in warm water with 1/2tbsp sugar and 1/2 tbsp of all purpose flour. Leave aside for 10 minutes.
Boil the milk and allow to cool down till it is warm to touch. Add sugar, oil and salt.
Mix well with a wooden spoon till the sugar dissolves and add 1 cup flour and mix to a smooth paste.
Add the beaten egg, yeast and mix.Add the remaining flour and mix well till it forms a smooth dough.
Knead well for 10 mins.[We knead it using our hands]
Let it rest till it doubles in volume.
Punch down the dough lightly using your palm and divide them equally.
Flatten them into small discs and fill them with 1 tbsp of the filling. Re-shape them into a ball.Sprinkle the top with sesame seeds.
Let it prove for another 20 mins.
Bake them in a pre-heated oven at 200 degrees for 10 mins. When it starts to brown, give them an egg wash using 1 slightly beaten egg white.
Spicy Indian chicken filling
Ingredients
Boneless chicken-200g, boiled and shredded
Onions-4 big, finely chopped
Ginger garlic paste-1 tbsp
Chilli powder-1/2 -1tbsp [depending on your spice level]
Coriander powder-1/2 tbsp
Salt to taste
Oil-3 tbsp
Method
Heat oil, add the ginger garlic paste and saute till it gives out a nice aroma.
Add the onions. Saute them till soft and transparent.
Reduce the heat and add the powders and mix well for 2 mins.
Add the shredded chicken and mix well.
Keep it off the fire and let it cool.
Use it for filling the dough.