Gourmet Beef & Beetroot Burgers combine the sweet earthy taste of beetroot with the best minced (ground) steak to create a truly sensational gourmet burger.
Serve the Gourmet Burgers with a Luscious Beetroot Relish and you take them to a whole other level.
Burgers by Paul Gayler
The Gourmet Beetroot Burger comes from Burgers the new book from Paul Gayler MBE, hailed by James Martin as "the book I have been waiting for", which was sent to me for review.

About the Author
Paul Gayler was Executive Chef at The Lanesborough Hotel London, the five-star hotel on the edge of London's Hyde Park. He has 20 years' experience in some of the most respected kitchens and restaurants in Europe.
As well as having made many appearances on British TV, he is the author of over 20 cookery books. He has also won the Guild of Food Writers' Cookery Book of the Year and has been nominated for a prestigious André Simon Award.
Review of Burgers
This is a fun book, shaped like a burger loaded with all the usual accompaniments. Paul Gayler has chosen his favourite 25 burger recipes in this book. As well as the expected Ultimate burger with 'the works', there's a wealth of delicious and imaginative offerings.
Meat & Fish Burgers
There's an eclectic mix and not just beef: choose from
Caribbean pork burger
Smoked chicken cobb burger
Tandoori lamb burger
Turkey BLT burger stack
Jumbo prawn burger
Vegetarian Burgers
Feta club burger
Southwest red bean burger
Lebanese kibbeh burger
Sides
Simple Tomato Ketchup
Oven Cheese Fries
Moroccan-style Caponata
Calypso Mojo

Gourmet Beef & Beetroot Burgers
But back to the Beetroot Burger, which is made with minced (ground) beef, the beetroot adds a glorious sweet and sour flavour, but doesn't overpower the beef at all and provides only a slight pinkish tinge,
I made the smaller burgers as I felt that four burgers from this quantity of mince would make to large a portion for us. The smaller ones fit nicely on the muffin too!

The recipe for beetroot relish comes via Not Quite Nigella and is made to her recipe for Lazy, Luscious, Spiced Beetroot Relish.
I bought some beetroot at the Farmers Market and was planning to make the Beetroot Chutney I made last year. However, that particular recipe has a chunky texture which isn't very good for spreading on sandwiches. I was looking for more of a relish with a softer texture and found this super simple recipe.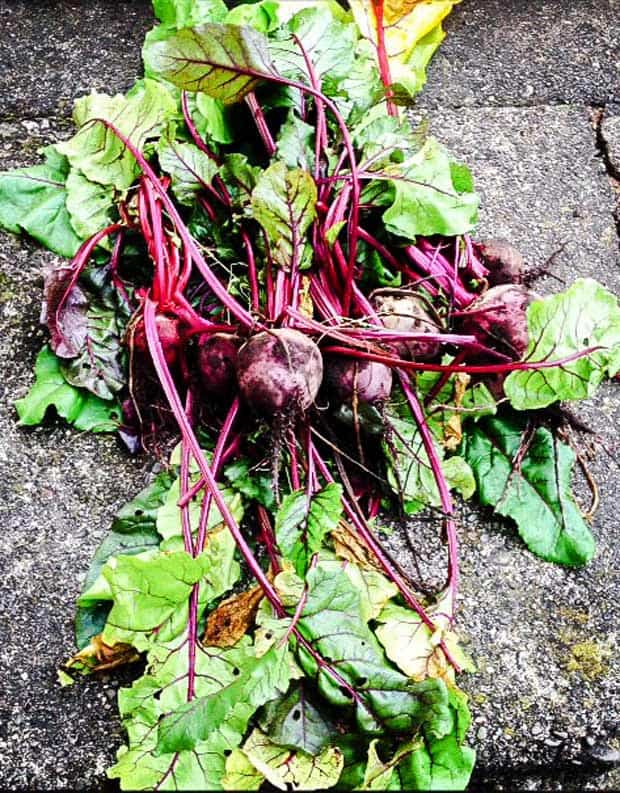 How to cook beetroot in your Slow Cooker
I cooked my beetroot in the Slow Cooker which has to be the easiest and least messy way to bake beetroot.
Simply wash the beetroot, place a piece of foil in the base of the slow cooker and put the beets on top.
Bake for 5-6 hours depending on the size of the beetroot.
Then, wearing a pair of rubber gloves, slip the skins off before preparing for the relish.

Luscious Beetroot Relish
I can't emphasise enough how good this relish is. It's sweet, spicy with just enough acid tang to counteract the sweetness, but no burn and no earthy taste.
it's just delicious and I plan to make another batch very soon. Thanks to 'Not Quite Nigella' for allowing me to link to her recipe.
More Beetroot Recipes from Farmersgirl Kitchen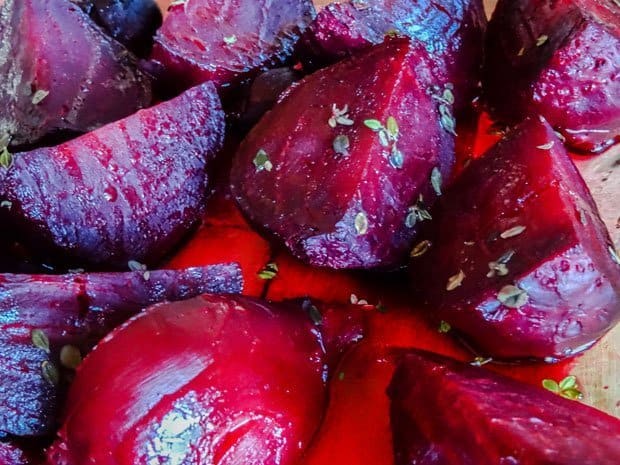 Baked Beetroot with Honey & Thyme – A simply cooked side dish dish using local ingredients.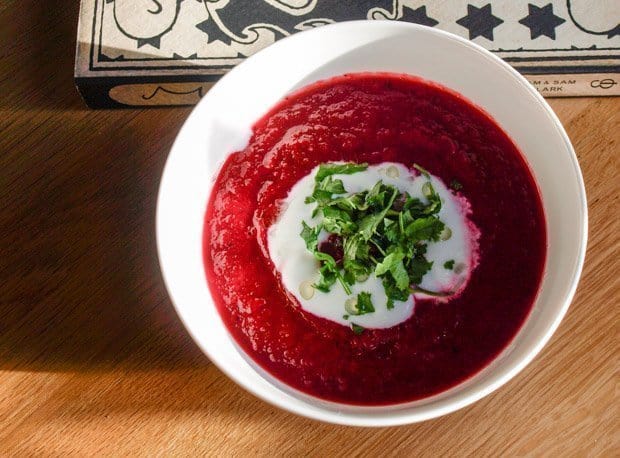 Beetroot & Black Cumin Soup rich in colour and flavour
More Burger Recipes
Beef, Roasted Red Pepper and Lime Burgers – Farmersgirl Kitchen
Minted Lamb Burgers – The Greedy Gourmet
Peri-Peri Chicken Burgers – Easy Peasy Foodie
Sweetcorn and Chickpea Veggie Burgers – Sneaky Veg

PIN FOR LATER
Let's connect!
Stay in touch with everything that's going on at Farmersgirl Kitchen.
Facebook Pinterest Instagram Twitter

Gourmet Beef & Beetroot Burgers
Ingredients
For the burgers
1

tbsp

unsalted butter

1

tbsp

olive oil

1

onion

finely chopped

500

g

minced beef

ground chuck chilled

2

egg yolks

1

tbsp

capers

rinsed and chopped

sea salt and freshly ground black pepper

3

tbsp

pickled beetroot

finely chopped (or 3 tbsp Beetroot Relish)

1

tbsp

pickled beetroot juice

omit if using relish

2

tsp

vegetable oil

for brushing and frying.
To serve
4

English Muffins

75

g

salad leaves

500

grams

new potatoes

4

tbsp

beetroot relish
Instructions
Heat the butter and oil in a frying pan (skillet).  Cook the onion slowly until pale and soft, then allow to cool

Combine the minced beef, egg yolks, capers, sea salt and pepper.

Add the onion and mix thoroughly together

Add the beetroot and juice (or relish), mix well.

With wet hands, shape the mixture into 4 large flat patties (the traditional shape, or 8 smaller taller patties.

Heat a chargrill or pan grill, oil it and the patties lightly and cook them on a medium heat for about 5 minutes each side (alternately heat a little oil in a frying pan and cook them that way).

Split and toast the muffins, serve the burgers in the toasted muffins with a little salad of tossed green leave or with  a little wilted spinach and boiled new potatoes. I added an extra spoonful of Beetroot Relish on top of the burger.
Notes
Serve on English Muffins with a salad of tossed green leaves or wilted spinach, and small boiled new potatoes.
Nutrition
Calories:
690
kcal
Carbohydrates:
58
g
Protein:
31
g
Fat:
37
g
Saturated Fat:
15
g
Cholesterol:
194
mg
Sodium:
566
mg
Potassium:
1074
mg
Fiber:
5
g
Sugar:
8
g
Vitamin A:
845
IU
Vitamin C:
30
mg
Calcium:
115
mg
Iron:
5
mg
Don't Miss My Latest Recipes
CLICK TO SUBSCRIBE NOW to join my newsletter list & receive a FREE 'How To Adapt Recipes For Your Slow Cooker' printable!
Share by Email