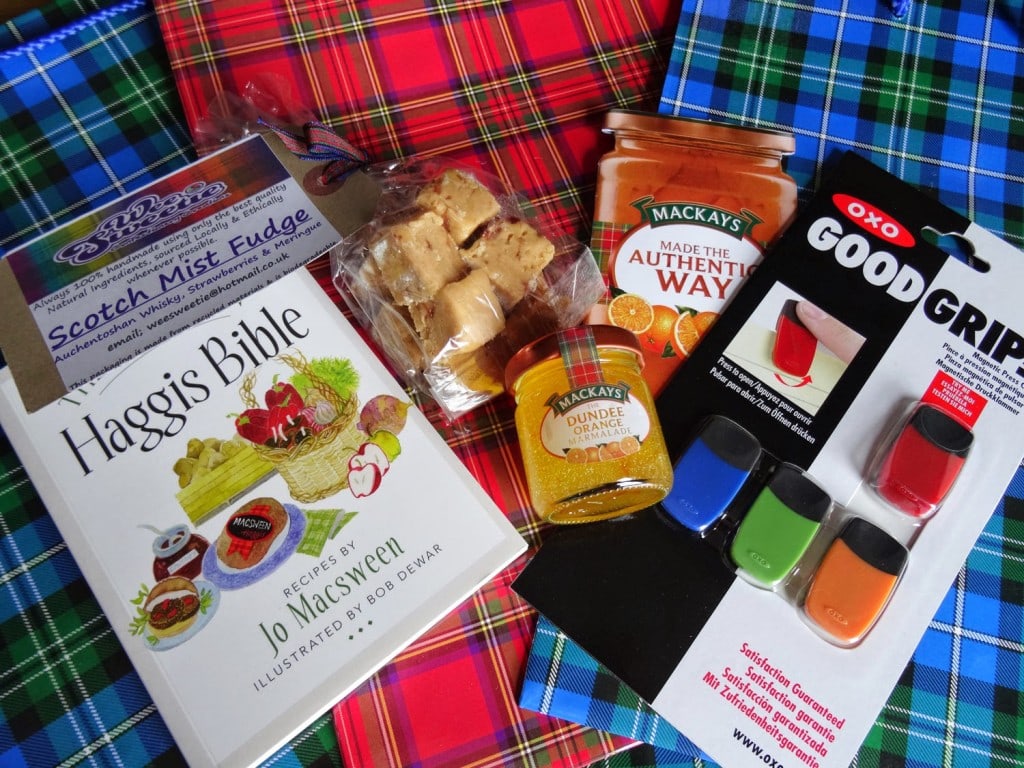 As soon as I knew I was going to Nova Scotia, I wanted to take some Scottish gifts to my hosts. I was delighted when Wee Sweetie agreed to create a very special Scottish 'sweetie' for me. You can read all about Wee Sweetie in my post: Wee Sweetie, homemade sweeties and candies. The result of this request was a delicious Scotch Mist Fudge featuring Auchentoshan Whisky, meringue made by local producer 'Dessert Me' and Scottish Strawberries, totally delicious.
I also contacted some producers of iconic Scottish products, Mackays for their fabulous marmalades and jams. I felt that Mackays Dundee Orange Marmalade was the most representative from the fantastic range of products that Mackays make in traditional ways in their factory just outside Dundee.
I also felt that Haggis just had to be represented and was delighted when Macsween agreed to provide me with some Haggis Bibles to take with me. These little books contain both traditional and modern recipes using haggis.
Finally, I contacted the delightful PRs for OXO Good Grips, not a company with a Scottish heritage but one producing the very best of kitchen gadgets, sure to be appreciated by dedicated foodies. They supplied me with some really useful kitchen magnets that double up as clips, ideal for securing shopping lists and scraps of paper on which you have written recipes.
I'd like to thank Wee Sweetie, Mackays, Macsween's and OXO Good Grips for their support. All the feedback I had from my hosts was positive and I was delighted to be able to give them something in return for the fantastic experience I had in Nova Scotia.