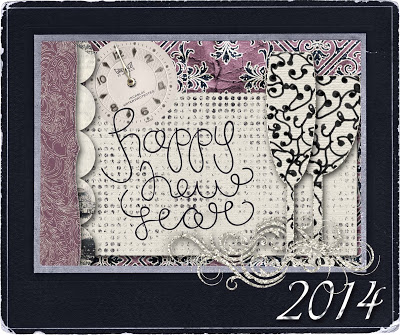 Digital Kit: Maya de Groot – Going out with a Bang
I wish all of you a very Happy New Year and hope that this year brings you everything that you wish for and more.
Here at Farmersgirl Kitchen, things are going to be a little different, particularly during February and March. Back in October we discovered that we have dry rot in our house, it's in the walls at the front of the house, mainly in the kitchen and the room above which is our bedroom. We are hoping that it will be confined to this area, but the treatment must go 1 metre either side of the affected area, so there may be more disruption.
We moved out of our bedroom into the spare room back in October but our builder was not able to start the work until the end of January. This is giving us time over Christmas and New Year to pack away as much as we can from two bedrooms and the kitchen, as once I am back at work I won't have much time. We have a lot of stuff, we've been here since 1985 so you can imagine how much we have accumulated. Some of the boxes will go into storage and the kitchen units will go into another room in the house.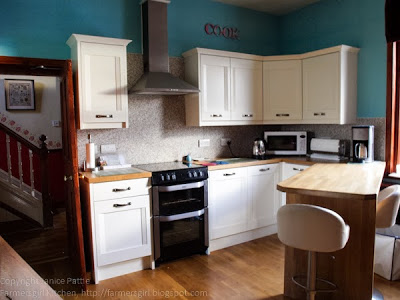 This is my lovely kitchen which will have to be removed and reinstated later. It's only been in place for 3 years but fortunately the joiner who fitted it will be taking it out and he will take good care of it.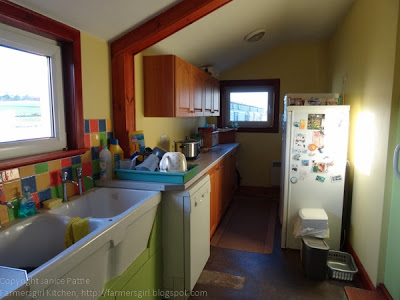 I am extremely fortunate that we have a 'back kitchen' or utility room where the fridge, freezer, dishwasher, washing machine, tumble drier and double belfast sink is located. I know it is bigger than many people's main kitchen. It also has plenty of cupboards but there will be no cooker (stove), just the microwave, my new Slow Cooker and a single electric ring which I bought so I can saute, fry and boil. The kitchen will be sealed off as the ceiling has to be taken down, we will have to go out the front door and in the back door to get to the back kitchen.
As you can imagine, cooking is going to be challenging, I hope to share my trials and tribulations with you and I will try to find a way to continue to create tasty and wholesome meals with my limited cooking applicances! If I can I will share what I make with you as usual, but I hope you will bear with me if there are fewer posts and the variety of makes and bakes are much more limited.