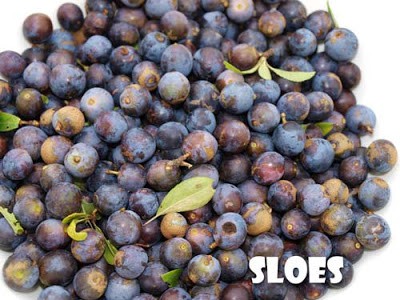 Now, it may not be immediately obvious from the contents of my blog, but I do actually live on a farm! One of the advantages of this is that we have an abundance of hedges and hedges mean hedgerows and hedgerows mean lots of lovely goodies in the autumn.
I usually pick loads of brambles (blackberries) but this year it has rained so much that they are not worth freezing. I might get a few for a crumble or pie, but it has been a disappointing year as far as brambling has been concerned. So I was very pleased when DH came in last night from digging about in the field, trying to find out where all the water was coming from and diverting it away from places he didn't want it to be, to say that he had seen some berries that he thought might be sloes in one of the hedges inside the field.
This morning there were a few little jobs that I had to help with, so as I was outside with my wellies, fleece and woolly hat on already (yes, it is really miserable here today) I went into the field and picked those sloes. This is not an easy job, I was stung by nettles, jagged by thistles and scratched by brambles as well as having to avoid the huge thorns on the Blackthorn bushes themselves.
So, I hear you ask yourself, what are you going to do with them? Good question, I dont' want to make sloe gin, I can't face making jelly, I've done dripping jelly bags before but that was before I had a wooden floor in my kitchen! So I've manage to find a chutney recipe which should be fairly straightforward and we eat more chutney and pickle than we do jam or jelly. I'll post up the results when it's made.