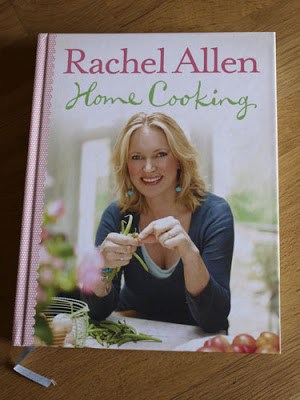 I know this isn't a new cook book, but it's one I didn't think I would ever buy. I'd read the blurb on Amazon and other reviews and it seemed to me that it was a book for families for children, people who were not experienced cooks and I didn't think I needed to know how to roast a chicken or make shepherd's pie.
I take it all back!
We get a mobile library van and normally my MIL gets my books but every now and then I'm home when it is due to come and last time, I saw Home Cooking on the shelves and thought: "I've nothing to lose". I had only had it in the house a couple of days when I decided that I had to own my own copy.
I made the sage and onion stuffing which I stuffed into a pork shoulder, it was superb. I've recently found a great farm shop with their own butchery and on Saturday past I stocked up on beef mince, cumberland sausages, a chicken, chicken breasts and a piece of brisket. I froze most of the meat but kept some mince back, I hadn't really thought about what I would make but as this book was on the table I flipped through and saw the recipe for Beefburgers with gherkin relish.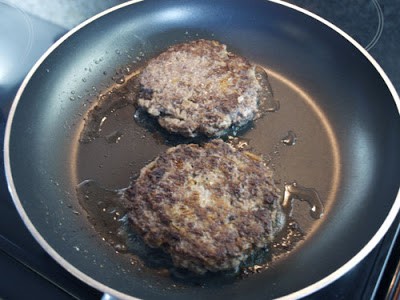 I didn't make the relish although I love gherkins, I will try it another time. Here is the Beefburger recipe:
4tbsp olive oil
1 medium-large onion, peeled and chopped
Salt and freshly ground black pepper
800g (1 3/4lb) minced beef
4 tbsp chopped mixed herbs, such as tarragon, chives, thyme and parsley
4 cloves of garlic, peeled and crushed or grated
1 large egg, beaten
50g (2oz) fresh white breadcrumbs
1. Pour half the olive oil into a saucepan on a low heat, add the onion, season with salt and pepper, cover and sweat on a low heat for 10 minutes or until completely cooked and very soft but not browned. Remove from the pan and allow to cool.
2. Put the cooled onion in a bowl and mix with the remaining ingredients. Season with salt and pepper. Shape the mixture into eight evenly sized burgers. The burgers can be made to this stage in advance and kept in the fridge for up to 24 hours or frozen and then defrosted until ready to use.
3. Pour the remaining olive oil into a large frying pan on a medium heat and fry the burgers( in batches if necessary) for 8-10 minutes on each side or until well browned and cooked through. Alternatively fry the burgers in an ovenproof pan for 304 minutes on each side until deep golden, then pop in the oven, preheated to 200C (400F) for 10 minutes until cooked.
Serve on a bun with mustard or relish and salad.
The burgers were just delicious, I will definitely make them like this again and the browning in the pan followed by finishing in the oven, meant the burgers were cooked properly all the way through without going hard on the outside.
More from Home Cooking coming soon…