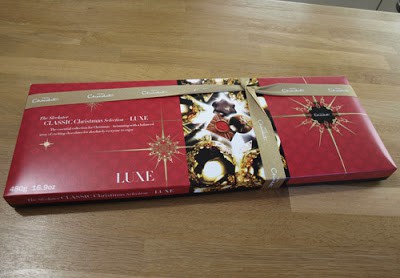 I was so excited to be chosen by Beth at Jam and Cream to review some lovely Hotel Chocolat goodies. I think Hotel Chocolat do Christmas so well and this Classic Sleekster Christmas Selection Luxe box of Chocolates epitomises just how good their chocs are and how beautifully they are presented.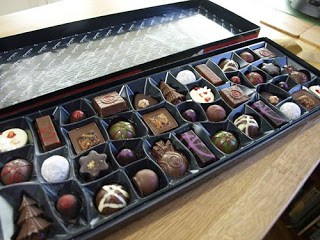 Forget your dodgy selection box, this is what you want to select to go in your Christmas Stocking. All this week Mr Farmer and I have been tasting these chocolates on your behalf…it's a hard job but somebody has got to do it! I've been making tasting notes and choosing my faves. Of course you may have different ideas, but there are so many delicious chocolates in here that you are bound to find quite a few that become your favourites too.

Lift the lid and let Christmas out! That's what it says on the 'menu', there are a total of 16 different types of chocolate in this selection.
Top choice for us was the Ginger Cheesecake with a thick layer of ginger conserve topped with creammy cheesecake topping all covered in thick milk chocolate.
A close second was the Chilli Truffle, a rich dark chocolate truffle with just the right amount of heat from the chilli hitting the back of your throat, I could have eaten a whole box of these.
There are a whole host of spicy Christmas flavours, gingerbread, florentine, mulled wine, cinnamon, star anise, marzipan and champagne, as well as some simpler chocolate truffles and pralines.
See the Hotel Chocolat Christmas Selection
HERE
See the Stocking Fillers from Hotel Chocolat
HERE
See the Christmas Hampers, Chocolate Hampers HERE