Do you like chocolate? Daft question, I know, most of us like chocolate a little too much but often I find that boxes of chocolates are a little disappointing. The chocolate is not always good quality and the centres are either very samey or sickly sweet. So I was delighted when I was approached by Cocoa Boutique to review their luxury artisan chocolate selection.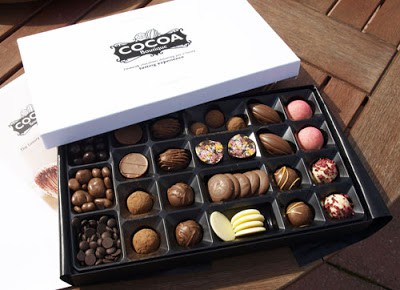 All of the chocolates are hand made by award winning Master Chocolatiers such as; Barry Colenso, Pierre Ledent and Claire Hicklin
to name but a few. Plus there's a few hidden gems in each box from up
and coming British chocolatiers to stretch your taste buds and give you a
truly artisan experience.
Here is what Cocoa Boutique promise:
No mass production – quality instead of quantity
Super fresh – handpicked within days of delivery
Fine ingredients – using high quality cocoa beans
Signature creations – from Master Chocolatiers
Handmade chocolates – in every single box
The Cocoa Boutique approach is to let world class chocolatiers create their own
delicious signature chocolates for you. Creating a truly unique
selection, not available anywhere else.
So what are the chocolates like?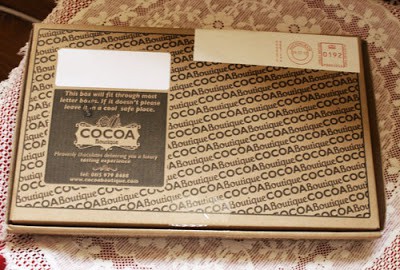 They arrive perfectly packaged in a distinctive sturdy cardboard box which pops through your letterbox, underneath the white box is revealed.
Here you see The Pink Champagne Truffle (with the little bits of raspberry on white chocolate), fresh and deliciously light, these truffles almost float into your mouth. Behind it is the White Strawberry Cream, another creamy morsel, I found it a little bland but if you like white chocolate mousse it is certainly beautifully made with no artificial strawberry taste. On the left is Raspberry with a Hint of Orange which bursts with zesty fruity flavours.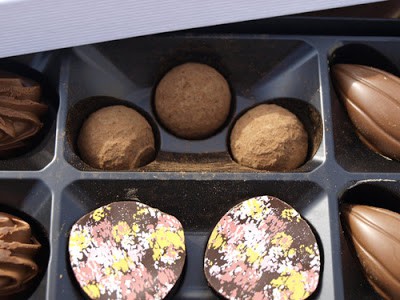 Salted caramel is very 'on trend' and this selection includes three Cocoa Dusted Dark Chocolate Salted Caramels, I found that they weren't too sweet although I think I would have liked a little more salt. The pretty coloured chocs are called 'Pamela' and this was one of my favourites, crisp dark chocolate filled with cassis-pear ganache, subtle and not too sweet. Possibly my favourite of all the chocolates was the Milk Chocolate Almond Praline. I'm not usually a big fan of milk chocolate, but the almond praline was outstanding, really full of flavour, you can see them on the right of the photo above.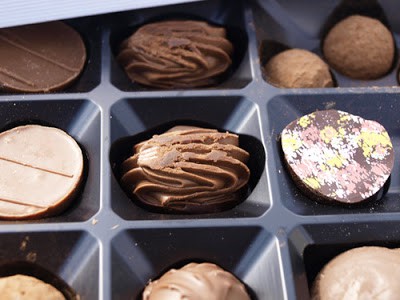 On the left is the Vanilla Irish Cream, pleasant but nothing to write home about. In the centre, the Rum Cafe Cream, another lovely choc which is a mixture of dark and milk chocolate with a rum flavour.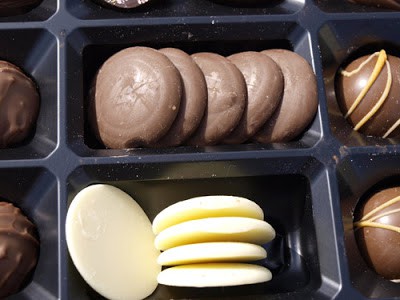 Something for all the family, my grandson enjoyed one of these giant chocolate buttons and they are ideal for anyone who doesn't like truffles or filled chocolate. The chocolate is good quality and melts in your mouth.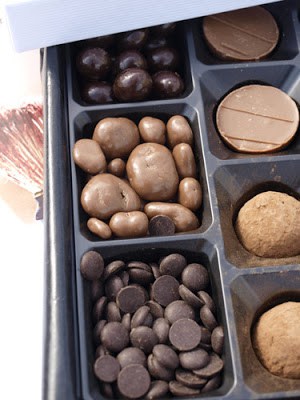 I liked the idea of these little nibbly treats. Top to bottom, Dark Chocolate Coffee Beans, I cannot tell a lie, these were my absolute favourites, really intense flavours of crunchy roasted coffee bean covered in the darkest chocolate, love them. In the centre, Milk Chocolate Honeycomb little nuggets of honeycomb covered in milk chocolate, very moreish. Finally a section filled with little 70% Equador Dark Chocolate Buttons. I've missed a couple of truffles, Dark Chocolate Brandy Truffles (on the right of the dark choc buttons) and Milk Chocolate Truffle both of which were lovely and creamy.
If you would like to taste Cocoa Boutique chocolates, they are offering the Best of the Best Introductory Selection for £34.95 with free postage and packaging. Definitely worthwhile for a special occasion.
Disclaimer: I was supplied with a Cocoa Boutique luxury artisan chocolate selection. I was not required to write a positive review and any opinion expressed is my own..