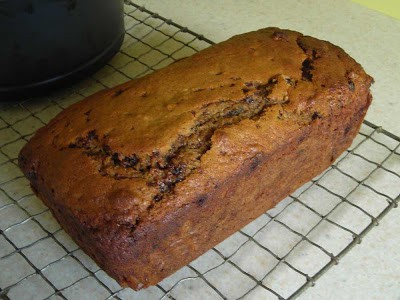 In 2008 when this loaf was first posted, I wasn't aware of many cooking and baking challenges, in fact I doubt if there were many. However since then they have multiplied to the stage where I struggle to get them all done! That and the fact that we still have a ton of baking left over from Christmas and are trying not to eat too much of it at once means that I know I'm not going to get anything made for Tea Time Treats this month so I'm resurrecting this post as my entry!
This month (January 2012) the theme is Sweet Pastries and Breads and it's being hosted by Karen at Lavender and Lovage


I'm afraid this recipe is all in imperial measurements but you can find a conversion table at Delia's website here
Banana & Raisin Loaf
4oz butter
4oz sugar (can use either white or brown or a mixture)
Beat these together
Add 2 eggs
Then add
3 or 4 ripe bananas (you could leave one for the end and mash it less)
Sift and fold in
8oz self-raising flour
1/2 tsp Bicarbonate of Soda
1 tsp ground cinnamon
5oz Raisins
Bake at 180C for 45 minutes
It's quite possibly the easiest recipe and it always turns out well, even people who don't like banana loaf tend to enjoy this one.
Original post
I made Carolyn's Banana and Raisin Loaf again. Yes, I had those three black bananas in the fruit bowl! This is a very forgiving recipe as it is supposed to be baked at 180C, however I was also making a cake for my mum's birthday and it needed to be in at 150C, so I just put the loaf at the top of the oven (still hotter even with the fan) and left it in for longer. I even managed not to burn it this time, so maybe longer at a lower temperature is better!