The letter K is a rather challenging one to bake. However, one of the main reasons I like to take part in blog challenges and events is to push myself to try recipes I wouldn't otherwise have made. I searched around for bakes starting in K and there were not very many at all, I toyed with making some Kiwi Fruit Muffins but in the end decided to attempt a Kugelhopf. Kugelhopf is a yeasted sweet bread usually baked in a fancy tube tin.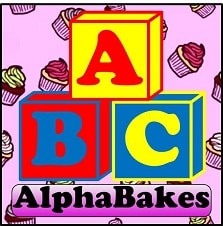 Alphabakes is a blogger baking challenge run by Ros at The more than occasional baker and Caroline at Caroline Makes who is hosting this month.


It was particularly fortuitous that I was contacted by The Craft Company to review some items from their website. The Craft Company specialises in cake decorations and cake decorating supplies including cake boards, cake boxes, cake decorating equipment, baking tins, ingredients and cake toppers, everything you might need for decorating cakes. When I browsed around their site I found this 'large tube ring silicone mould' which is perfect for a Kugelhopf. I also asked to review a bottle of PME Release-a-Cake which I felt might just be required for such an intricate mould. Delivery from the Craft Company was prompt and the items were well packaged, I couldn't fault them. Prices were also keen with the silicone mould costing £7.00 and the PME Release-a-Cake £2.85 for 236g. A range of delivery options are available.

Dough risen in the mould
The
Kugelhopf
recipe that I used is one with an excellent provenence. It is a recipe by
Dorie Greenspan
, a well known US author, and comes from her book
"Baking from my home to yours"
. I found the recipe on line at
Leite's Culinaria
I did make a slight change (regular readers will not be surprised by this!) I soaked the sultanas in a miniature of Poire William, a pear flavoured eau de vie (40% alcohol), that we brought back from holiday in France.

Poire William

Baked and ready to unmould
The dough is very similar to a brioche dough and is best made in a stand mixer, although it is possible to make it by hand. I don't have a dough hook for my vintage Kenwood Chef (something I'm planning on remedying very soon) so mixed the dough with the K beater which worked perfectly well – how very appropriate for this challenge! The process is not so much difficult and, while it takes a long time from start to finish, most of that doesn't involve you doing anything. I started making the dough on Saturday morning and the Kugelhopf was baked and complete by Sunday lunchtime.

Kugelhopf just before being brushed with melted butter
The Kugelhopf slid easily out of the mould which had been brushed generously with the PME Release-a-cake. The silicone mould was very well behaved, I supported it in an 20cm cake tin on a baking tray, mainly for ease of putting in and out of the oven, but it is quite a sturdy mould even without that.

The verdict? The Kugelhopf was a huge success, it was light, sweet and rich, the alcoholic sultanas don't overpower the soft bread. Everyone loved it and my mother-in-law said she preferred it to cake.

I was very impressed by this recipe and by the silicone mould and PME Release-a-cake from
The Craft Company
.
I chose products up to £10 from The Craft Company to review. I was not paid for this review and my opinions are my own.