I have always loved kedgeree. In our house, it was a way to use up leftover rice and combining it with cooked smoked haddock and hard-boiled eggs.
I remember my gran making it by simply sauteed an onion in butter then added the rice and fish and seasoned with pepper. There was no curry powder involved at all, so when I started cooking for myself, I was surprised to find that kedgeree was a spiced recipe.
This recipe comes from a cookbook called 'the flexible vegetarian' which I'm going to tell you about in fact…
I have two cookbooks to tell you about and I have two copies of each to GIVEAWAY!

the flexible vegetarian by Jo Pratt
Whether you're an occasional meat-eater, a vegetarian who needs to cook for meat-eaters, or even a dedicated veggie, you'll find this very flexible book filled with delicious and practical recipes for every lifestyle. Add a simple meat or fish option to the vegetarian recipe and you have a book that caters for both parties.
About the Author
A TV cook and author of five books, Jo Pratt is a regular contributor to BBC Good Food and Waitrose magazines and often appears on shows such as Channel 4 'What's Cooking?'.
She has worked with Marcus Waring, Gary Rhodes, and many more high-profile chefs and brands. She is also the executive chef of the award-winning restaurant The Gorgeous Kitchen.
Jo has come up with the clever concept of creating recipes you can cook with or without meat or fish and it's from this book that the Kedgeree recipes comes, but more of that later.
So what is a 'flexible vegetarian'?
It could be someone who wants to cut down on meat and fish, or perhaps for someone who wants to stop eating meat completely, but still, cater for meat-eating family and friends.
I'm not a vegetarian, but I do like to make and eat meals without meat, so I was excited to see what this book could offer.
The Recipes
The flexible vegetarian is broken down into chapters on breakfast/brunch; soups/broths; small plates; big plates; dips/bits and finally Perfectly cooked meat/fish. Here are some of the recipes that stood out for me:
Smoked bean and mushroom quesadillas
Kedgeree with crispy shallots
Carrot, coconut, and cardamom soup
Miso courgette noodle broth
Smashed bean, kale and tomato toast;
Pea and carrot pakoras
Sweet potato and chipotle bean tacos with chunky avocado salsa
Southern mac'n'cheese with frizzled leeks
Seasonal vegetable tarts
Smoky roots and brazil nut crumble
Tofu, miso and ginger dressing
Coriander, peanut and chilli pesto
.Spiced maple mustard pulled pork.
Who is it for?
Vegetarians and people who want to eat less meat. It's particularly good for creating meals that can be adapted for vegetarians and non-vegetarians.
So if you have one person in your household who is a vegetarian and others who eat meat, this book will provide a great solution for you.
The Verdict
What I really liked about this book is that Jo's recipes are not trying to recreate meat-based meals and they totally stand on their own.
What she has done is take those recipes and add suggestions as to how you could include meat or fish for non-vegetarians. I have a few more recipes bookmarked already, so it's a winner for me.
The Flexible Vegetarian: Flexitarian recipes to cook with or without meat and fish by Jo Pratt, published by Frances Lincoln RRP £20.00
Kedgeree with Crispy Shallots
This is one of the tastiest Kedgeree recipes I have eaten and as I do love kedgeree, I've tried quite a few. It certainly stands up on its own without fish,
However, although It's always been a bit of a challenge for me to get fresh fish here on the farm, a new fish, fruit and vegetable van has started to deliver to our farm on a Friday.
Everything is really high quality and it's such a pleasure to be able to get such great produce, that I decided to add the lovely undyed smoked haddock to the dish.
I didn't have any shallots, but I'm sure they would add a lovely additional texture to the recipe. Scroll down to the bottom of this post to get the recipe.

Soulful Baker by Julie Jones
I have rarely seen a more beautiful book than Soulful Baker. Featuring breathtakingly beautiful creations that look as stunning unbaked as they do baked – including irresistible celebration cakes and treats, delicious breads and yeasted dough, chocolate dishes, desserts and a range of brunch ideas.
Soulful Baker takes you on a step by step journey into a culinary wonderland. The finish on the bakes is outstanding, the styling of the photographs is simple and unfussy and the photographs themselves are also excellent (hats off to Lisa Linder for those).
About the Author
Aged 30, Julie re-trained as a chef and after spending just a few weeks in a Michelin-starred kitchen she realised how flavour could be taken to a whole new level.
After her mum was diagnosed with dementia she started to bake with her as a form of mutual therapy, taking photos of their baking days together and posting them on Instagram as a precious record….Soulful Baker was therefore born.
In the Introduction, Julie comes across as warm and genuine. Her connection to her mother's illness and how they both used baking as therapy is touching to read. There are lots of tips, techniques and how-tos to help you recreate the recipes. Soulful Baker is packed with drool-worthy recipes organised into Fruit Tarts & Pies, Cakes, Bakes & Treats; Bread & Yeasted Dough; Chocolate; Desserts; Weekend Breakfast & Brunch.

The Recipes
It was so difficult to choose favourites from Soulful Baker but here are the ones that made the shortlist:
Strawberry Firework Tart with Candied Pistachios & Chocolate Flowers (cover photo)
Deep Filled Apple Pie
Coffee & Walnut MIni Loaf Cakes
Blackcurrant Scones
Swedish Kanelbullar (Cinnamon Buns)
Caramel Bread; Salted Caramel & Chocolate Tart
White Chocolate Creme Brulee Tart
Plum and Oat Bars
Who is it for?
It's a book for ambitious bakers whatever the level of experience. Don't be put off by the immaculate presentation of the bakes, the recipes themselves are clearly explained and if you want a more relaxed presentation, then they will taste just the same. However, if you do want to get those 'oohs and ahs' when you present your cake, pie or dessert then Julie gives you the tools to create something truly spectacular.
The Verdict
This is one of those books I could flick through forever, It would make a lovely gift as it is so pretty, although I think you would find it hard to give it away!
Soulful Baker by Julie Jones, published by Jacqui Small, RRP £20
The Giveaway
I have two copies of 'the flexible vegetarian' and two copies of 'Soulful Baker' to giveaway. Follow the instructions on the Rafflecopter widget to enter, please comment to tell me if you have a preference for one book or the other, winners will be chosen at random and full terms and conditions are displayed within the Rafflecopter widget. Entrants must be 18 or over and have a UK postal address.
CLOSED

Another Kedgeree Recipe to Try

Smoked Mackerel Kedgeree is ready in 20 minutes and it tastes great!

PIN FOR LATER
Let's connect!
Stay in touch with everything that's going on at Farmersgirl Kitchen.
Facebook Pinterest Instagram Twitter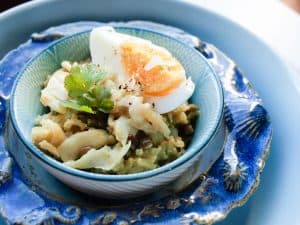 Kedgeree with Crispy Shallots
Perfect for breakfast, lunch or dinner, a really delicious kedgeree made with rice, lentils and coconut milk
Ingredients
60

g

puy lentils

200

g

basmati rice

50

g

butter

1

onion

finely chopped

1

green chilli

deseeded and finely chopped

2

cm

piece of fresh ginger

peeled and grated

1

tbsp

mustard seeds

1

tbsp

mild curry powder

400

ml

light coconut milk

2

shallots

1

tbsp

cornflour

1

tbsp

sunflower oil

for frying

4

eggs

1

tbsp

dill

chopped

1

tbsp

coriander/cilantro

chopped

1

lemon

juice

1

pinch

smoked flaked sea salt

standard sea salt is fine, if smoked is unavailable

fine ground black pepper

coriander leaves and dill fronds to serve
Instructions
Put the lentils ina pan of boiling water and cook until tender, according to the pack instructions. Drain,keep warm and set aside.

Wash the rice well under the cold tap to remove excess starch.

Heat a large frying pan over a low-medium heat and add the butter. Once hot, stir in the onion, chilli and ginger.

Cook for around 10 minutes until the onion is softened, then add the mustard seeds and curry powder.

Continue to cook for a minute or so, then add the rice stirring around to coat in the spiced butter..

Pour in the coconut milk and 200 ml/7 fl oz/scant 1 cup of water. Increase the heat, bring to the boil, cover with a lid, then reduce the heat.

Simmer for 12-15 minutes until all of the liquid is absorbed but the kedgeree has a loose creamy texture.

Slice the shallots into rings and lightly coat in the cornflour. Heat about 5 cm/2 inches of oil in a small saucepan, and heat until shimmering. fry the shallots for about 1-2 minutes to crisp up and become lightly golden. Drain on kitchen paper ans sprinkle with salt.

Bring a pan of water to the boil and add the eggs. Return to a simmer and cook for 7 minutes. Remove from the pan and when cool enough to handle, peel and cut into quarters.

Stir the cooked lentils, chopped herbs and lemon juice into the kedgeree. Season with salt and pepper. Spoon onto plates and top with the boiled eggs, herb leaves and fronds and scatter with the crispy shallots.
Notes
Traditionally, smoked haddock is poached in milk and that milk is then used to cook the kedgeree rice. By all means give that a go as it adds a smoky, flaky flavour throughout the dish. But i you want to include fish in individual portions of the kedgeree, rather than the whole lot, simply poach small fillets of smoked haddock (around 125 g/4 1/2 oz per person) in a separate pan of simmering diary milk (not the coconut milk used in this recipe)/ Poach for about 5 minutes until cooked through. For added flavour add black peppercorns and a bay leaf to the milk. Flake the poached haddock on top of individual bowls of kedgeree when serving and top with herbs, eggs and shallots.
Nutrition
Calories:
546
kcal
Carbohydrates:
62
g
Protein:
14
g
Fat:
25
g
Saturated Fat:
14
g
Cholesterol:
190
mg
Sodium:
290
mg
Potassium:
273
mg
Fiber:
6
g
Sugar:
3
g
Vitamin A:
565
IU
Vitamin C:
19.3
mg
Calcium:
80
mg
Iron:
3.3
mg
Don't Miss My Latest Recipes
CLICK TO SUBSCRIBE NOW to join my newsletter list & receive a FREE 'How To Adapt Recipes For Your Slow Cooker' printable!
Share by Email