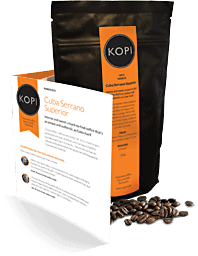 Kopi Coffee Club delivers the world's best coffees direct to you fresh each month. Food related 'clubs' seem to be very popular at the moment. There are all kinds of monthly schemes for chocolate, meat, vegetables, gourmet foods and now for coffee.
I was sent a sample of the January coffee, Java Jampit Estate UTZ Certified Arabica. This coffee is sustainably sourced and the blurb suggests that it is a perfect blend of the flavours of dark chocolate, lavender and liquorice.
We love our coffee and probably drink far too much of it at the weekends, it was clear that the Java Jampit Estate was high quality coffee and, while I could taste tones of chocolate, I couldn't detect lavender or liquorice. It was a very drinkable coffee and like the idea of a sending a three or six month subscription as a gift, however, I do think that £25.35 for three bags of coffee is excessive. A 250g pre-ground bag of coffee sells at £9.95 whereas my usual coffee is under £5.00.
I was sent a bag of Kopi coffee to review, I was not paid for this review and all opinions are my own.