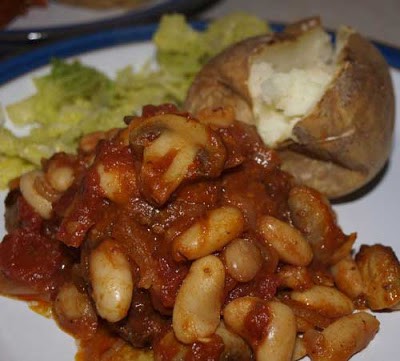 You know how I am waiting for my kitchen to be rebuilt and I'm living in amongst the new units? Well I can't get at most of my cookbooks and I hadn't realised how much I refer to them. There is a little bit of the shelf at the right hand side that is accessible and I managed to extract a little book called Let's Cook Simple Suppers by BBC Good Food (probably free with the Good Food Mag) and in it I found this recipe to use with my lamb chops. The recipe is actually for haricot beans but it does suggest cannellini or flageolet beans as an alternative.
2 onions, chopped
3 tbsp olive oil
2 garlic cloves, chopped
2 x 500g can haricot beans, drained (or use cannellini or flageolet beans instread)
1 tsp dreid oregano
150ml/1/4 pint vegetable stock
200g can chpped tomatoes
8 lamb chops or 4 lamb leg steaks
1. Preheat the oven to 200C/Gas 6/fan oven 180C. Fry the onions in 2 tablespoons of the oil for about 5 minutes. Add the garlic, beans and half the oregano, and stir briefly. Add the stock and tomatoes, season, then bring to the boil.
2. Tip and bean mixture into a large ovenproof dish. Lay the chops on top of a single layer.
3. Sprinkle with the remaining oregano, drizzle with the remaining oil and seaon. Cook in the oven for 30 minutes until the chops are tender and nicely browned.
You may notice in my photograph there are also mushrooms in my version, just a little bit of 'fridge-led' cookery 🙂