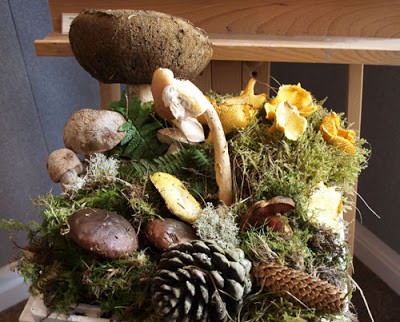 Mixed woodland mushrooms: chanterelle, cep, slippery jack
It's
Flavour Fortnight
in Dumfries & Galloway from 3rd – 18th September. I'm hoping to get to a few events although I'll only be able to do so at the weekends. The first thing that caught my eye was the Fungi Foray run by
Galloway Wild Foods
, it's on next Sunday 11th September. But when I looked closer it is quite far from home (Dumfries & Galloway is about 100 miles end to end), so instead I decided to go for the 'Art of Fungi' event today in Dumfries.
The Art of Fungi is a unique collaboration between Galloway Wild Foods,
Devorgilla Gallery
and leading Scottish and Dumfries & Galloway based artists. The paintings, prints and sculptures are inspired by mushrooms but there was also a talk by Mark Williams of
Galloway Wild Foods
.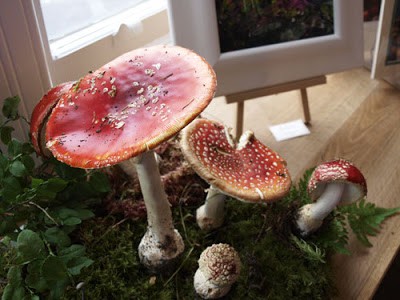 Fly Agaric
Mark was an entertaining speaker and told us about the mushrooms that could be found in the fields and woods in Scotland. He also cooked some chanterelle mushrooms in butter, added some sea beet (an ancient type of spinach found by the sea) and creme fraiche and served it to us on vol au vents.
He also cooked boiled the hallucinogenic Fly Agaric in water for 15 minutes, drained out the water and was able to eat the cooked mushroom without ill effect.
It was an excellent introduction to foraging and whetted my apeptite for more.