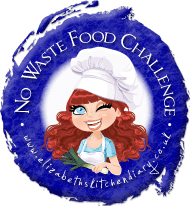 MAY 2014 – ROUND UP
Apologies for the lateness of the round-up. Those of you who follow me on social media, will know that I've
been away in Nova Scotia, Canada so am posting a little late. Thanks to Elizabeth for her patience and kindness.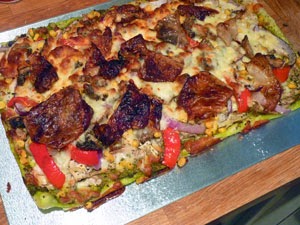 First up is Deon at Food Jam with a puff pastry based 'Cheats Pizza' topped with left over bits and pieces from her fridge, perfect No Waste Food Challenge recipe!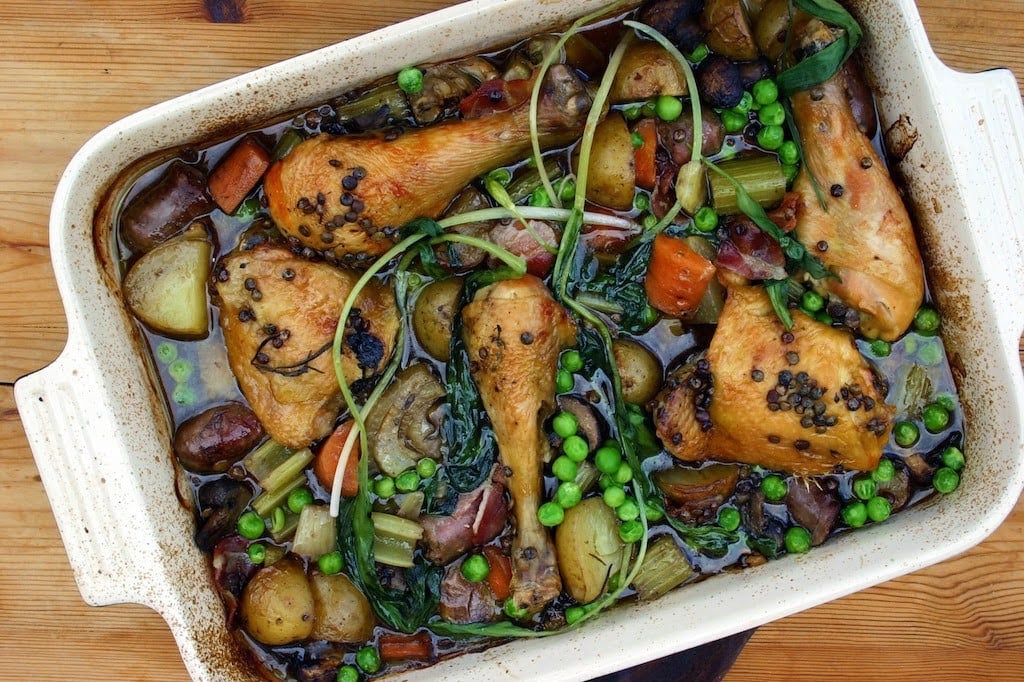 Dear Dom at Belleau Kitchen scavenged around in his fridge and freezer and guess what? He found some chicken thighs! This dish reminds me of the beautiful cottage garden at Belleau, and I'm sure it tasted just as good as it looks.
Matty B is a newish blogger at
Matty B Bake
s and he has embraced the art of food blogging with a vengeance! There are loads of recipes on his blog already including this
"Waste not, want not" Chicken Stock
which is his entry for the No Waste Food Challenge.
Helen at Food-Friends-Family brings us a pesto made from spinach from her organic veg box and some bits and pieces in her fridge and store cupboard, to come up with this beautiful green plateful of Spinach Artichoke Pesto and Spaghetti.
Sometimes lunch can be a bit boring, but not at Vohn's Vittles where the provided the ingredients for this Mangetout Blue Cheese and Hazelnut Toastie I don't think I've ever had mangetout on toast before, but it does look very good.
I wasn't the only one to use up bananas for the challenge this month. Anne at Anne's Kitchen used her over ripe banana to make Banana and Chocolate Chip Cookies and they proved to be a big success.
Jane at Onions and Paper was very 'punny' with her 'No Waste' Me-USE-li made by clearing out odds and ends from her baking cupboard. Great idea!
The Gluten-free Alchemist lived up to her name and created this spectacular Tarte au Framboise with an excess of raspberries in the freezer and a couple of lemons that had seen better days from the fridge. I love raspberries and will be coming back to this recipe very soon!
Ness at Jibber Jabber has baked a tasty looking Chocolate Malt Cake which is a super-frugal cake to make, costing only 95p and used up some Ovaltine which was in danger of being thrown out.
Another entry from Helen at Family-Friends-Food, this time a Nutella Bread and Butter Pudding. Looks very tasty.
The ripe banana is definitely the friend of the No Waste Food Challenger. Corina at Searching for Spice used hers to make Oaty Banana Bites small chewy clusters of oats, held together with sticky banana and raisins.
This looks like such a delicious tart, named the Three Allium Smoked Chilli Tart by Choclette at Chocolate Log Blog as it features onions, leeks and garlic as well as the courgettes you can see on top.
Spicy, Quirky, Serendipitous is a blog I haven't come across before, but I like the sound of it! We are back to our best friend THE BANANA, this time made into a pancake with finger millet or ragi flour, great for breakfast or tea time.
Leftover Lamb and Rosemary Patties, these could have been made for me. I often roast lamb and prefer it to pork, rosemary is also my favourite herb, so thanks to Annie at A Working Mum's Cookbook for this lovely recipe.
Thanks to everyone for your amazing entries, head over to
Utterly Scrummy
for the June No Waste Food Challenge.