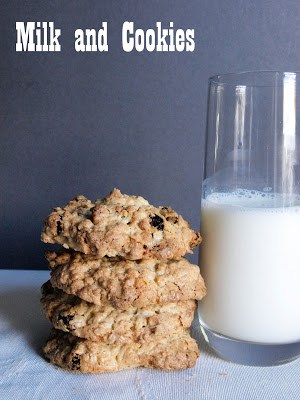 I didn't set out to make cookies. It happened like this, I had made far too much buttercream for the Vanilla and Coconut Cake, there it was in the bowl, really quite a lot of butter, icing sugar and vanilla extract. What was I going to do with it? I knew if I put it in the fridge or freezer for "another time" I would end up throwing it out in a month or so. Hmmm… (scratches head) butter, sugar, vanilla- Eureka! I could make cookies.
I headed to the bookshelf and picked out a few baking books, thinking "oats would work well with vanilla". Rachel Allen came up trumps with a simple Oatmeal and Raisin Cookie recipe. The recipe has caster and light brown sugar, rather than icing sugar, and I think this would make a crisper cookie than the ones I made, referred to by my husband as 'buns'!
I'm not going to post the recipe as it is copyright, I had a search online to see whether it had been published for one of Rachel's TV programmes, so I could link to it, it has not. However, if you search 'Rachel Allen Oatmeal and Raisin Cookies' you will find it has been published on some other blogs.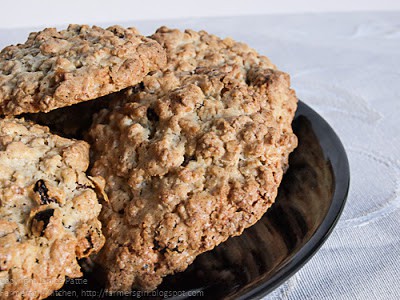 So if you are ever left with some extra buttercream, you will know what to do!