Mince and Cheese Pies are tasty and filling, full of minced beef, seasoned with lager, Marmite and cheese all surrounded by delicious butter puff pastry and baked to a crisp golden and bubbling pie.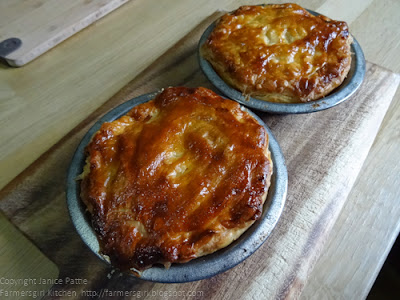 The pie is ubiquitous in every culture, whether it's sweet or savoury, large or small, open or closed, enclosing a filling with some kind of pastry or dough is a classic form of cooking and baking.
Dean Brettschneider has captured the joy of pies in this book dedicated to this ultimate convenience and comfort food.
About the Author
Dean Brettschneider is a professional baker, patissier and entrepreneur. Arguably one of the world's best bakers, Dean is a truly a global baker. He was based in Shanghai for several years and now resides in Denmark and New Zealand, where he heads up his global baking empire.


About the Book
The book starts with a History of the Humble Pie starting with pie pastry made with flour and water by the Greeks and ending up with the gourmet pies made by patisserie chefs.
The Ingredients section is a useful reference for later recipes and the section on equipment, usefully includes Your Hands beside mixing bowls and sieves!
The first recipe chapter is all about Meat Pies and it was the very first recipe (and the cover recipe) which I couldn't resist: Mince and Cheese Pies. I have also bookmarked Spanish Chicken Pie, Steak Caramelised Onion and Red Pepper Mustard Pies and Coriander Chicken and Yoghurt Curry Pie.
Seafood Pies includes a delicious sounding Fish Pie with Leek and Chorizo and Salmon, Wild Rocket and Orzo Pie.
There is a chapter on Vegetarian Pies standouts include Tomato and Thyme Tarte Tatin and Gooey Leek, Potato and Vintage Cheddar Pie.
What is a pie? The chapter Not-quite-a-pie stretches the boundaries of pie-dom to sausage rolls, empanadas and whoopie pies! This includes Cornish Pasties, Chunky Chicken and Apricot Spinach Pastry Plaits, Spicy Gingerbread, Cointreau and Choclate Eccles Cakes and the superb sounding Date, Apricot, Orange and Cardamom Flapjack Shortcake Tart.
Sweet Pies are a favourite with most of us, stretch your repertoire to include Pear and Fennel Tart Tatin , Dark Chocolate Banoffee Slab, Lemon Olive oil and Blueberry Tart and possibly my favourite sweet recipe in this book: Caramel Macadamia Oaty Tart.
The book ends with a chapter of Basic Recipes, so many different sweet and savoury pastry recipes to add pizazz to your pies. There are also a range of filling recipes and a section on Techniques such as lining a pie dish, tart tin or flan ring with pastry, baking blind and decorating.
Pros
There are some really interesting pie fillings and inspirational pastry recipes in this book. Every pie recipe has a full colour photograph and a few have step by step instructions e.g raised pork pies. The recipes are well laid out and I found them simple to follow. The pastry recipes in the basic recipes chapter are really original. I didn't have time to make my own puff pastry but I love the sound of Gingerbread Crust Sweet Pastry and Chilli Polenta Pie Crust.
Cons
About half the book is devoted to sweet pies, now I know they are pies, but I would have preferred more savoury pies and some of the 'pie' interpretations were rather wide e.g. Orange Blossom and White Chocolate Cheesecake 'Pie' and Gingernut Lemon Meringue Pie in a Glass!
The Verdict
Well if you love pies, then this is the book for you! If you even just like pies then it would be well worth owning a copy of this book, many of the recipes could be adapted to create new pies once you have mastered the basic techniques. This book has earned a place on my bookshelf anyway.

Mince and Cheese Pies
Makes 4 individual lunch sized pies
Pastry
1 quantity of Butter Puff Pastry (I used ready made butter puff pastry)
Filling
1 tbsp olive oil
1 tbsp butter
1 medium onion, finely chopped
2 cloves of garlic, peeled and crushed
500g lean beef mince
30g standard plain flour
175ml beef stock, ready-made is fine
125ml lager
2tbsp tomato puree
1 tbsp Marmite (optional)
1 tsp balsamic vinegar
1/4 ts dried mixed herbs
salt and peeper, to taste
200g tasty cheese or Cheddar, grated
1 egg beaten with 2 tbsp water for egg wash
2 tbsp black or white sesame seeds for the topping
1. Make the Butter Puff Pastry the day before and store wrapped in the refrigerator. Cut off a quarter of the pastry block and set it aside for the pie lids. On a lightly floured surface, roll out the larger piece of pastry to a square, approximately 4 mm think. Cut the square into quarters. Line each individual pie dish, ensuring the pastry is firmly presssed against he sides and leaving some hanging over the edge of the dishes. Roll out the smaller piece of pastry to a square into quarters, cover with clingfilm and set aside.
Heat the oil and butter in a large frying pan, then add the onion and garlic and cook until the onion is golden. Add the beef mince and cook until well browned, stirring occasionally to prevent large lumps of meat forming. Stir in the flour and cook for approximately 30 seconds. Gradually add the beef stock and beer, then bring to the boil. Add the tomato puree or paste and Marmite (if using), balsamic vinegar, mixed herbs and salt and pepper to taste. Lower the heat and simmer gently for 10 minutes, then remove from the heat and allow to cool.

I didn't have any Marmite and felt that the mince was rather anaemic looking without it, so added a tbsp of soy sauce, it was a triumph and the mince was delicious.
Fill each pastry lined dish almost up to the top with the mince filling then add a small handful of grated tasty cheese or Cheddar (I used Scottish Mature Cheddar).

Brush the edge of the pastry bases with water and place the lids on top. Seal edges and trim off any excess pastry with a sharp knife. Brush the tops o the pastry with egg wash and sprinkle with sesame seeds. Rest for 1-2 hours (or longer) before baking.

I didn't have any sesame seeds, the pies were fine without them.
Bake in a preheated 220C (gas 7) oven for 25-30 minutes or until pastry is crisp and golden-brown in colour. Allow to cool in the dishes for 10 minutes then remove from dishes and place on a cooling rack. Serve with your favourite tomato sauce and a crisp green salad or a bowl of French Fries.

I served my pies with grilled tomatoes and broccoli, they were super delicious, the tasty mince, crispy pastry and gooey cheese, what a flavour sensation!
Pie by Dean Brettschneider
Photographs by Aaron McLean
Published by Jacqui Small LLP
RRP £25
Many thanks to Aurum Publishing Group for supplying me with a copy of Pies by Dean Brettschneider, I was not paid for this review and all opinions are my own.