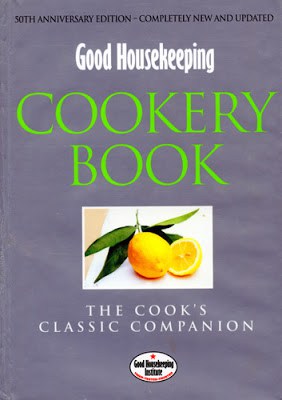 If you had 10 seconds to grab one book, which one would it be?
That's the challenge that Dom set for
Random Recipe Challenge #31
I stood in front of my cookery book shelves in the kitchen and panicked! Scanning along the books, I saw so many books that I love to cook and bake from, how could I choose only one? Then I saw it,
Good Housekeeping Cookery Book, The Cooks Classic Companion.
When I was growing up my Mum always referred to her Good Housekeeping Cookery Book and she still does. I can't remember when I got this book, it was published in 1998, so probably not that long after that. It has pretty much everything you would ever need in the way of recipes and is definitely my GO TO book.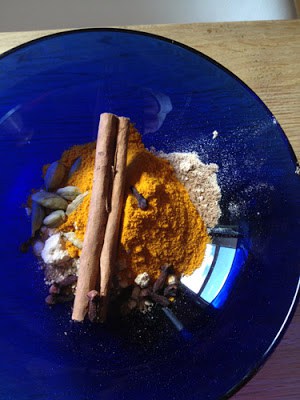 Now, I know we are supposed to randomly pick the recipe were going to cook, but in this case I had a lot of vegetables in the fridge so I picked randomly from the Vegetarian chapter and came up with 'Mixed Vegetable Curry' on page 228.

Mixed Vegetable Curry
Serves 4-6
1.4kg (3lb) mixed vegetables, including cauliflower, carrots, potato, parsnip and frozen peas
1 onion, peeled and chopped
2.5cm (1inch) piece fresh root ginger, peeled and chopped
1-2 garlic cloves
2 green chillies, halved and deseeded
30ml (2tbsp) ghee or vegetable oil
10ml (2tsp) turmeric
10ml (2 tsp) ground coriander
10ml (2 tsp) ground cumin
5ml (1 tsp) ground fenugreek
8 whole cloves
8 green cardamom pods
1 cinnamon stick
600ml (1 pint) canned coconut milk
300ml (1/2 pint) water
salt and pepper
coriander sprigs, to garnish
1. First prepare the vegetables. Divide the cauliflower into florets. Peel the carrots, potato and parsnip and cut into chunks.
2. Put the onion ginger, garlic and chillies in a blender or food processor and process until almost smooth.
3. Heat the ghee or oil in a large heavy-based saucepan, add the onion mixture and fry for 5 minutes, stirring constantly. Add all the spices and cook over a high heat for 3-4 minutes, stirring all the time.
4. Add the vegetables to the pan and stir to coat in the spice paste. Gradually stir in the coconut milk and water. Bring to the boil, then lower the heat, cover and simmer for 45-55 minutes or until the vegetables are just tender, depending on the varieties used. Season with the salt and pepper to taste.
5. Leave the curry to stand for 5 minutes to allow the flavours develop before serving. Garnish with coriander and serve with naan bread, pickles and plain rice.

As usual, Good Housekeeping came up trumps, this was a simple but tasty curry which created 8 good sized servings and got better with keeping. Watch out for the whole spices, crunching on a clove or cardamom pod is best avoided.

If you'd like to join in with the Random Recipe Challenge head over the
Belleau Kitchen
to find out more.