On Friday, I went to Newcastle on Tyne with a couple of friends. We dined at The Blackfriars Restaurant The food was delicious and the service was excellent. My friends preferred not to have their photographs displayed on my blog, but here I am in the restaurant.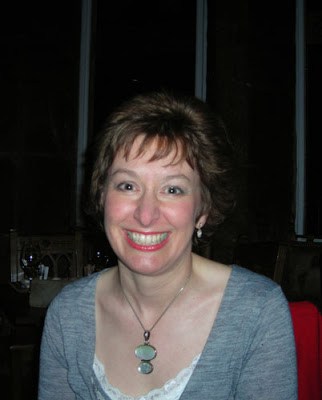 Apologies in advance for the rubbish photographs, I didn't want to take my DSLR with me, so took my little Nikon Coolpix L2. I'm only just realising now just what a difference my camera is making to my food photography. We started with a glass of bone-dry Mananilla Sherry from Andalucia.
An so to the Starters: This one is Confit of Cumbrian rabbit stew with Geordie rarebit. We didn't ask, but I assume the Geordie rarebit contains some 'Newky Broon' or Newcastle Brown Ale lol!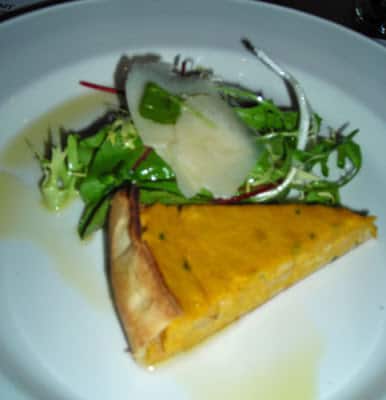 I was very impressed with the vegetarian options on the menu, those who follow this blog will know that I like my meat so these had to be really good to tempt me. The flan above is Pumpkin and Rose Petal Tart with Honey Vinaigrette. It was very tasty but I have say, I couldn't taste the rose petals.

And now to the MAINS! Again I was seduced by the Veggie option and I was not disappointed!

Here is what the menu said: Locally foraged mushroom, Yorkshire Blue & walnut Wellington with sage cream sauce.
Only two of us opted for dessert: above is the Vanilla Rice Pudding with Cherry & Brandy jam and below my option of Sticky Toffee Pudding with Banana Ice-cream and caramel sauce.
My friend were amused by my insistence on taking photographs of the food and were keen that I continued with our breakfast next day! I went for the Full English (above) a bargain at only £3.30 from a little cafe on Mosely Street which was 'established in 1978'. To add to the atmosphere 'Sounds of the Sixties' was playing on Radio 2 in the background lol!