I am rather partial to a small glass of good beer and I really enjoyed all of these Sharps Connoisseurs Choice. We took them with us on our holiday to the Isle of Mull and savoured each one.
6 Vintage Blend: Five beers of diverse styles and vintages – a Trappist Dubbel, a sweet barley wine, a Quadrupel fermented with yeast, a soured honey wheat beer and a US dry-hopped double IPA – aged for one month and blended with a base beer for truly unique results. 8/10
Honey Spice IPA: IPAs are exemplified by an abundance of flavour. Here, honey supports the hops while Malabar peppercorns cut through the sweetness. The beer is infused with whole cone hops in the boil and dry hopped with four US varieties, then spiced with pepper and sweetened with honey. 8/10
Dubbel Coffee Stout: Balancing the rich opulence of a dark ale with Sharp's trademark finesse for a blend of imperial stout and Belgian Dubbel. British malts and American hops are combined with Belgian yeast for a rich, roasted, fruity stout, enriched during the long maturation with coffee beans. 10/10
As I mentioned, we spent a week on the Isle of Mull just off the west coast of Scotland. We had a lot of great food when we were there, but one of the highlights was the Isle of Mull Cheese. This is an artisan cheese made at Sgriob-ruadh Farm, just outside Tobermory. We took the farm tour and saw how the cheese had been made in the past and how it was made now. We particularly enjoyed the Isle of Mull Blue and the Smoked Isle of Mull Cheese. 9/10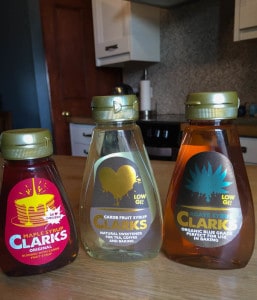 I've reviewed some of Clarks Syrups before and enjoyed using them. I love maple syrup, it's great with pancakes and I like to pour it over my porridge, it's delicious. Clarks have also brought out some syrups I hadn't tried before. There's been a lot of talk in the foodie world about Agave Syrup, but I haven't heard so much about Carob Syrup, although I am familiar with Carob as a chocolate substitute. Here's a little about the the different syrups:
Clarks Original Maple Carob Syrup has is a delicious blend of pure maple syrup from Quebec and Carob fruit syrup from the Mediterranean, which has 45% less sugar per 100g than white refined sugar. Carob Fruit Syrup is a low glycemic ingredient that has 41% less sugar per 100g than regular white sugar.
Clarks Agave Syrup is an all-natural, Agave Organic Certified verified sweetener extracted from the core of the Blue-Green Agave plant that offers a great tasting, multi-purpose alternative to processed sugars and artificial sweeteners. Clarks Organic Agave syrup is a low glycemic sweetener which means it doesn't cause a sudden rise in sugar levels when consumed, so, is better for you than regular white sugar and is perfect as a replacement to sugar in baking and cooking.
Carob Fruit Syrup originates from Spain, where a small team of farmers carefully collect the Carob pods from the Carob tree and take them to the factory to be broken down. There, the Carob pods are gently heated, broken down and passed through fine filters where it is processed until they are left with a sweet, natural, clear liquid that has a low glycemic index, which, gram per gram, has 41% less sugar than white refined sugar. So it's great for anyone who wants to control their sugar intake, even diabetics.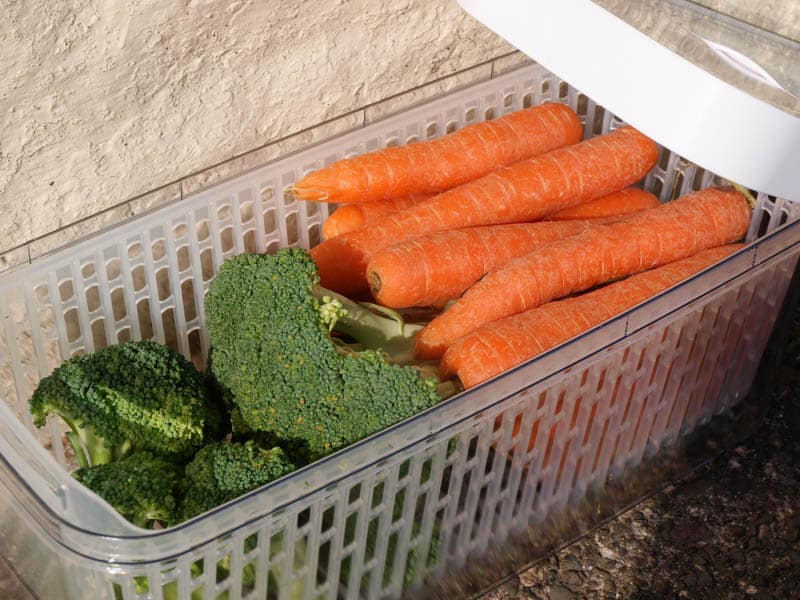 Reducing food waste is something I feel very strongly about. I hate waste and do my absolute best to plan my menus so I don't find wrinkly vegetables in the salad drawer of the fridge, even if I do they are likely to find themselves turned into a pot of soup! The clever people at OXO Good Grips have brought out a range of GreenSaver Produce Keepers, boxes that help you to prolong the life of fruit and vegetables and keep them in peak condition.
Three things cause produce to rot and spoil quickly: ethylene gas, improper airflow and uncontrolled humidity. The OXO GreenSaver system has the solution. GreenSaver Produce Keepers feature all-natural, non-toxic activated carbon filters filled with nooks and crannies that trap and absorb ethylene gas, slowing down spoilage and keeping fruits and vegetables fresh longer. They also have elevated, removable baskets that promote proper airflow and help prevent moisture buildup by lifting produce up and away from the bottom and sides ofthe container. These baskets can also be used as a colander to rinse fruits and veggies before enjoying. The vent on top of each Produce Keeper slides open and closed to maintain optimum humidity levels for different types of produce.These three factors work together to keep your produce fresh longer.
The Greensaver is easy to use and works just as it says it does, mine is currently full of apples so it's ideal when you have a glut of produce that you don't want to freeze or preserve. It costs £22 and the replacement carbon filters last 90 days and cost £12 for a pack of four replacement filters., however I have one to giveaway (UK only), simply follow the instructions on the Rafflecopter widget below:
CLOSED
a Rafflecopter giveaway