I've created this Air Fryer Cheese and Sals French Toast Sandwich to show the versatility of the Optimum HealthyFry Air Fryer.  Too often Air Fryers are only used to make lower fat chips, while they are great at doing that, there is a lot more you can make in an Air Fryer.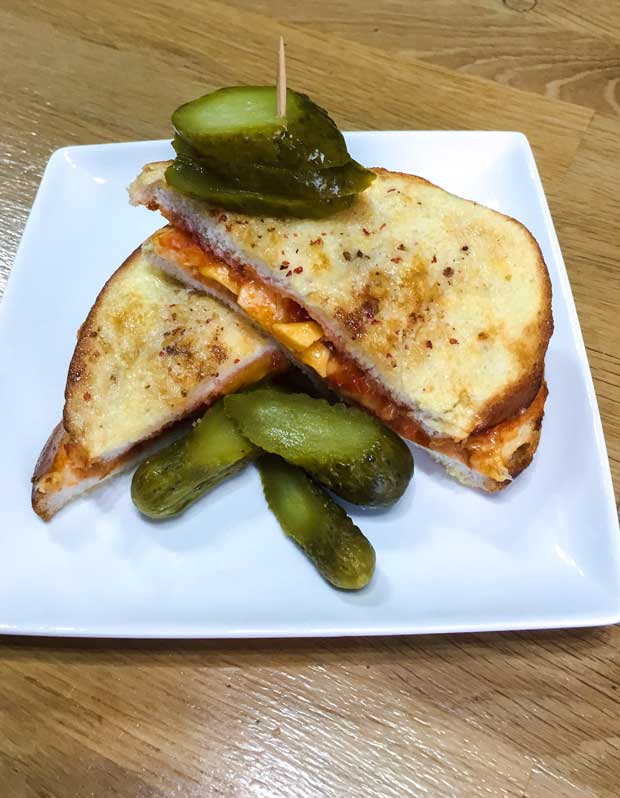 The Optimum HealthyFry Air Fryer features hot air circulation (Rapid Air), ingredients are heated evenly from all sides allowing you tsp prepare fried food with no oil, while still maintaining the taste and texture of conventional fried foods.
I found the Optimum HealthyFry really easy to use, you preheat the air fryer by holding the power button for 3 seconds, then press the Start/pause button, once the 3 minutes preheating is up, pull out the drawer and place the food in the basket. Close the drawer then you can either use the preset programs or set the temperature and time just as you would with the oven.
The Optimum HealthyFry Air Fryer is currently on SALE for £129 (Save £70) and as I'm a Froothie Ambassador and during #Jumpstart17  (January and February 2017) you get free delivery in the UK!  Just you use my ambassador link to order your HealthyFry Air Fryer simply type "3116" and "free ambassador delivery" in the comment section of the order. Delivery will be credited back to your card.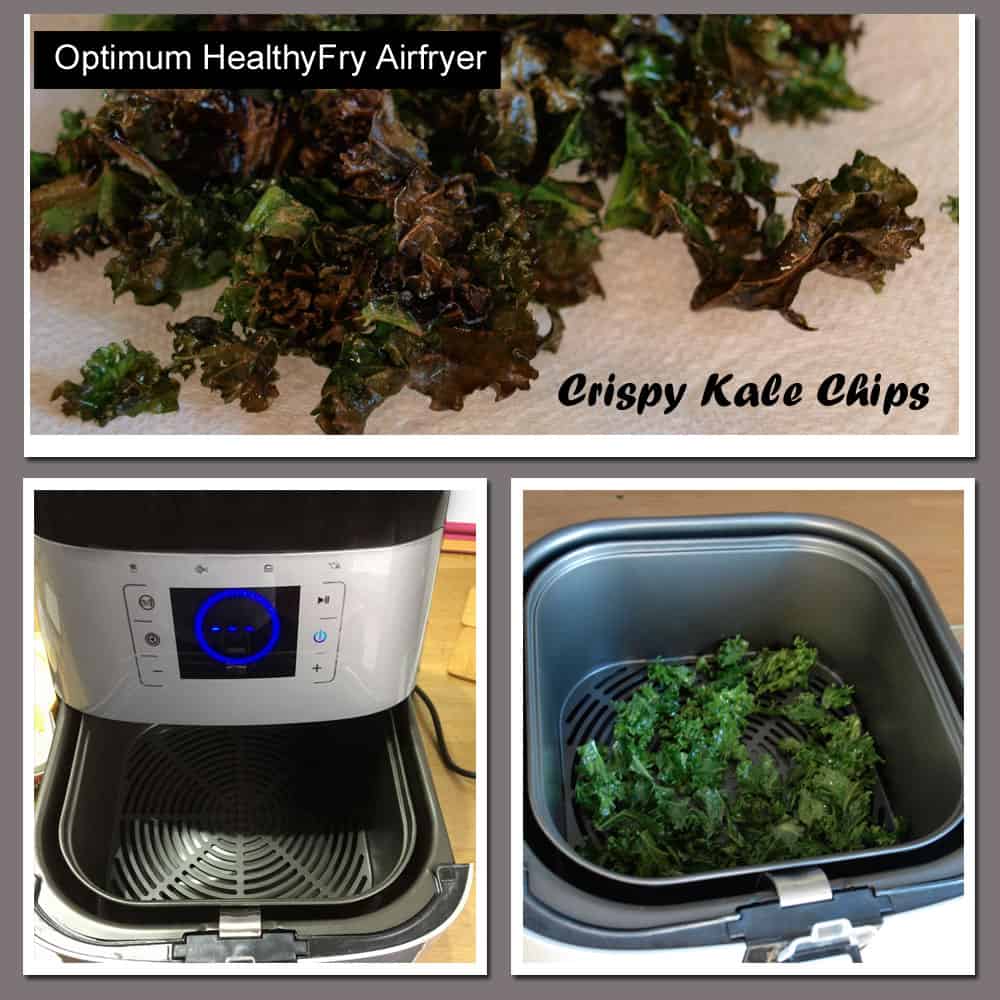 I don't know about you, but round about the end of January my motivation to eat healthily tends to waver. I long for something crisp, something fried. Well, this year you can have fried food with the Optimum HealthyFry Air Fryer,  it's a professional-quality Air Fryer which allows you to fry, roast and grill with no oil, you can even bake in it too!
Optimum Healthy Fry Trial 1
My first trial of the  Optimum HealthyFry Air Fryer was to make some kale chips.  You don't need much kale to make a bowl of kale chips for snacking or to include in a salad or to garnish a main meal.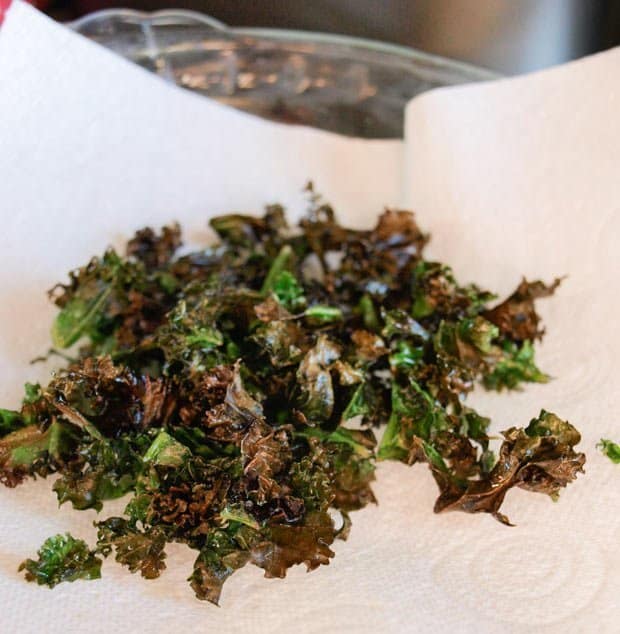 Crispy Kale Chips
Crisp savoury vegetable chips, cooked with minimal fat in the Optimum HealthyFry Airfryer
Instructions
Wash the kale well then dry it well (a salad spinner is ideal for this, but you can dry it on a tea towel or kitchen paper)

Preheat the Optimum HealthFry Air Fryer

Massage the oil into the kale with your fingers and sprinkle with salt and pepper

Once the preheating time has passed, open the drawer and add the kale to the basket.

Close the drawer and set the heat to 160C and cook for 4 minutes.

Open the drawer and toss the kale around then bake again for a further 3-4 minutes.

Once cooked, empty the kale chips from the basket onto kitchen paper to drain, then transfer to a bowl to serve.
Recipe Notes
You can open the drawer to check on what you are 'frying' without a problem, just press pause, then restart once you have checked on the cooking.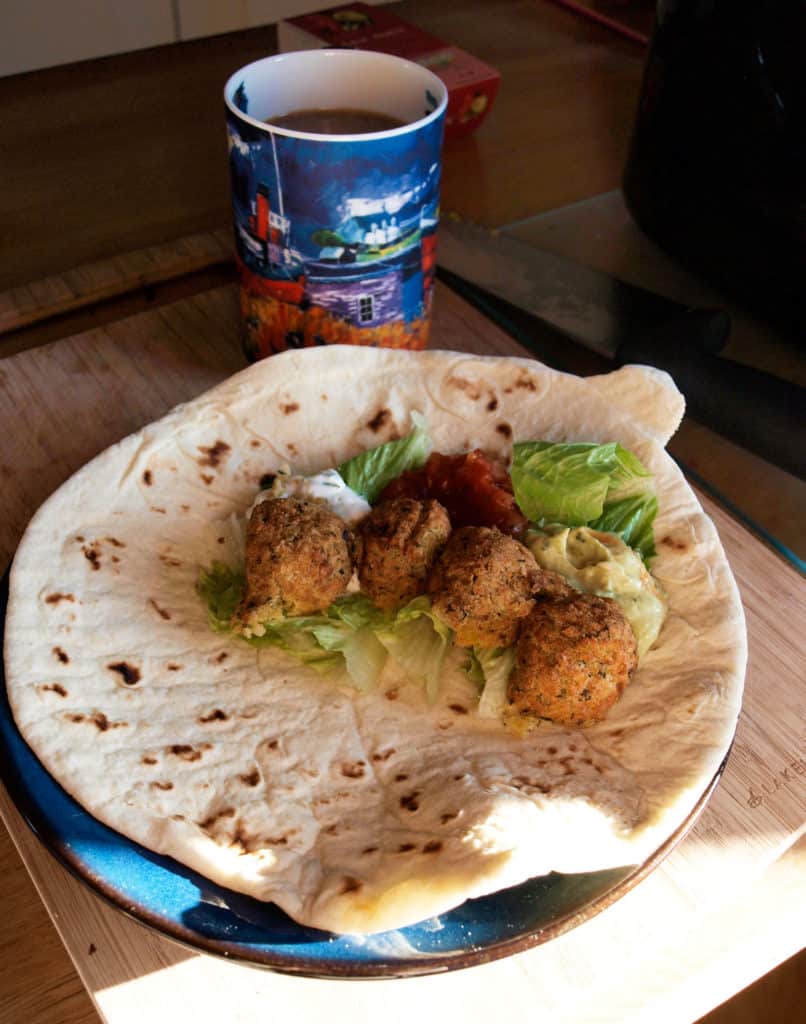 Optimum Healthy Fry Trial 2
My second trial involved some ready-made falafel bought in the supermarket.  I followed the directions on the packet, replicating the temperature and timing on the HealthyFry.  They turned out perfectly, piping hot and I didn't need to heat up the whole oven just for a few falafels for lunch. You could even heat the wraps in a minute in the HealthyFry.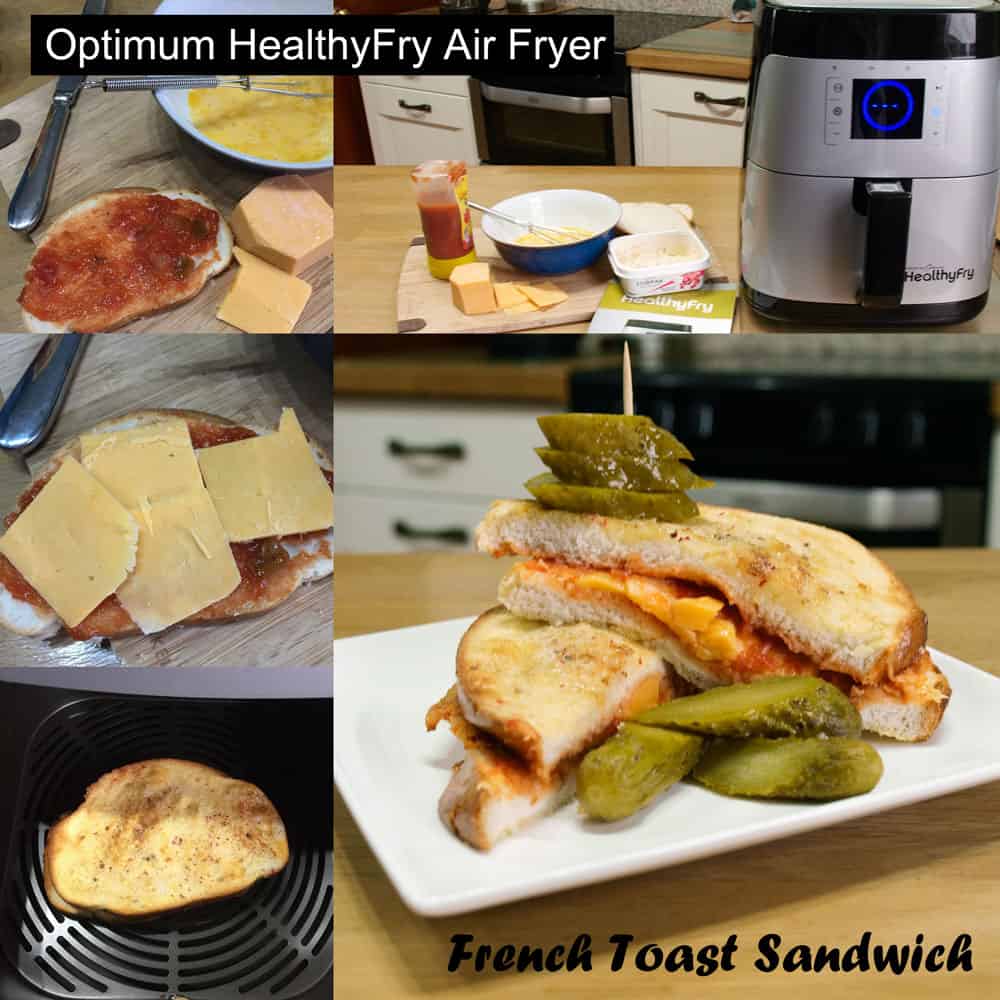 Optimum Healthy Fry Trial 3
Finally, I thought I'd try something which I would normally shallow fry, a French Toast Sandwich.  It's a combination of French Toast and a toasted sandwich all cooked in the Optimum HealthyFy Air Fryer.  I'm pleased to say that it worked really well with crispy eggy toast and a melted cheesy filling, I'd definitely make this again.
Cheese and Salsa French Toast Sandwich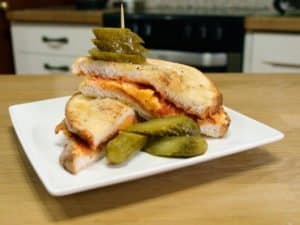 Cheese and Salsa French Toast Sandwich
A tasty French Toast Sandwich made in the Optimum HealthyFry Air fryer cooked without oil.
Ingredients
2

slices

of bread

I used a white bloomer

1

egg

beaten

1

tbsp

salsa

50

g

cheese sliced

3

gherkins

optional
Instructions
Spread salsa on both slices of bread

Lay cheese on one of the slices then lay the other slice on top

Place the beaten egg on a plate or flattish dish

Preheat the Optimum HealthyFry Air Fryer

Dip the sandwich into the egg, then turn and dip the other side

Wipe off the excess with kitchen paper open the drawer and place in the fryer basket

Cook at 350 C for 4 minutes.

Serve with gherkins if liked.
Nutrition
Calories:
421
kcal
Carbohydrates:
29
g
Protein:
24
g
Fat:
22
g
Saturated Fat:
12
g
Cholesterol:
216
mg
Sodium:
826
mg
Potassium:
262
mg
Fiber:
2
g
Sugar:
4
g
Vitamin A:
825
IU
Calcium:
462
mg
Iron:
3.1
mg
Don't Miss My Latest Recipes
CLICK TO SUBSCRIBE NOW to join my newsletter list & receive a FREE 'How To Adapt Recipes For Your Slow Cooker' printable!
Share by Email
More Healthy Fry Air Fryer Recipes at Farmersgirl Kitchen
How to make Wholemeal Irish Soda Bread
Golden Turmeric Fries with Coriander and Mint Dip
Here's a summary of the Functions and Benefits of the Optimum HealthyFry Air Fryer:
QUICK AND EASY-TO-USE
FRYING
ROASTING
GRILLING
BAKING
The Optimum HealthyFry Air Fryer is the ultimate appliance for preparing health-conscious meals. Its versatile functions allow you to fry, grill, roast or bake a variety of dishes with pressure-cooking technology, also known as Rapid Air.
The HealthyFry is simple to use and the benefits include a tasty, nutritious meal each and every time!
Less oil, same great taste
The HealthyFry Rapid Air pressure-cooking technology seals in the natural juices from the food, allowing you to use less oil to get that fried food taste without the fried calories.
Fast and efficient
The HealthyFry Air Fryer heats food from all sides providing more even heat distribution and speedier cooking. Your meals will be done quicker and tastier, saving you time and your kitchen's energy without compromising quality.
Safety first
Pressure frying food in the HealthyFry is safer than using a conventional deep fryer. The Rapid Air technology allows food to be fried evenly at a lower temperature.
The Optimum HealthyFry Air Fryer will save you ingredients, time and energy all while producing a high quality, healthier meal for you and your friends and family to enjoy.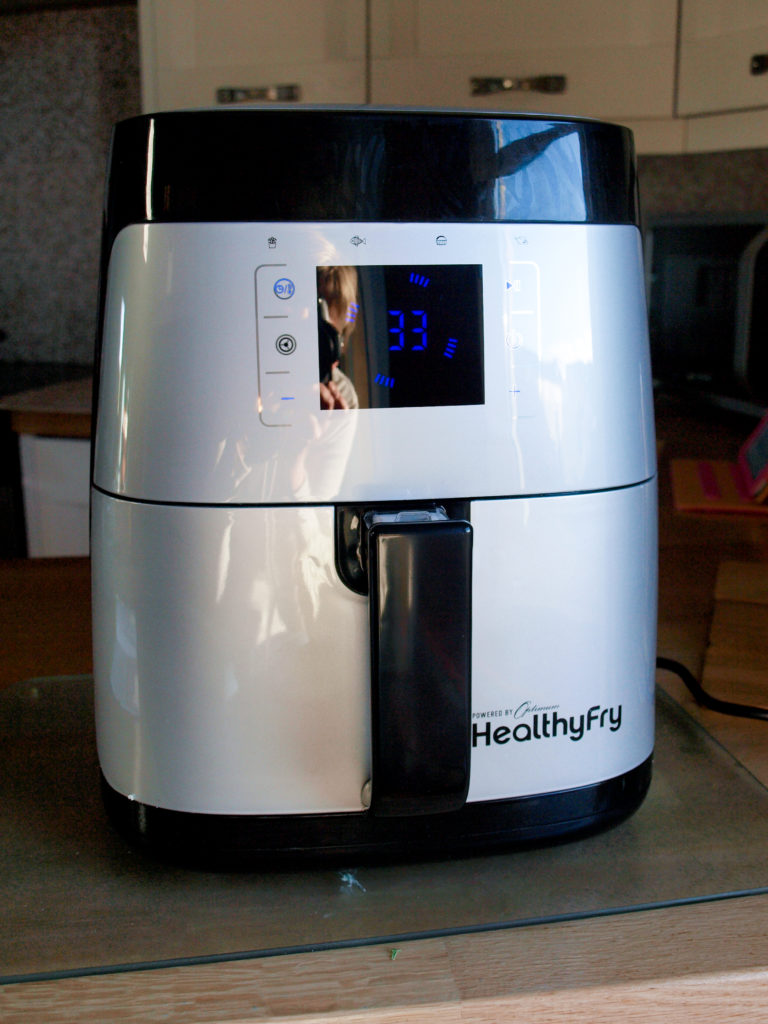 With apologies for the reflection! 
For more Froothie #Jumpstart17 reviews and recipes from Froothie Ambassadors:
Healthy Diet – Let's Lose Weight Together – A Glug of Oil
Chocolate Banashew aka Chocolate Banana Cashew Cake (Vegan) – Tin & Thyme
Cauliflower Soup with Cumin and Chilli – Planet Veggie
Chocolate Cherry Smoothie Bowl – Farmersgirl Kitchen
Health & Fitness Goals 2017 – From Plate to Pen
Creamy Tomato Soup – Farmersgirl Kitchen
Optimum G2.3 Induction Blender GIVEAWAY – Thinly Spread
Fry in the Sky with the Optimum HealthyFry Air Fryer – Tin & Thyme
Healthy Fish Finger Sandwich and the Optimum HealthyFry Air Fryer – My Fussy Eater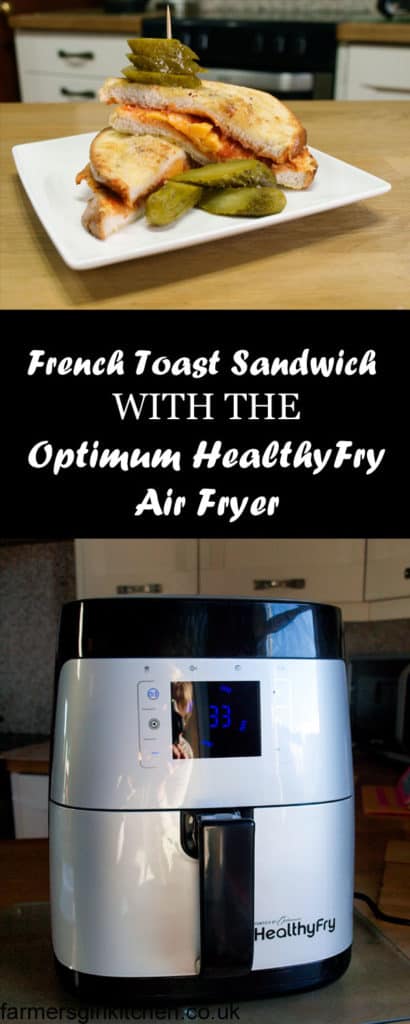 Pin for later
Disclosure: Froothie UK sent me the Optimum HealthyFry Air Fyer to use and review at home. I have not been paid for this post and was not required to give the HealthyFry a positive write-up.  All opinions are my own.  Affiliate links included in this post, buying through a link will not cost you any more, but I will get a small commission. This helps keep Farmersgirl Kitchen website online providing recipes and reviews for you.