I have a new toy to play with in the kitchen, it's a dehydrator made by those clever Froothie people. In this post I'm going to give you a 'warts and all' review of the Optimum P200 Dehydrator and recipes to make Sweet Potato Chips.
WHY USE A DEHYDRATOR?
Dehydrating is a method of preserving food which draws out the moisture and, when stored in airtight containers the dehydrated foodstuffs will keep without spoiling for a long time.  Different food stuffs will keep longer than others and like all dried food, think dried herbs, they will lose their flavour eventually.
Dehydrating is a healthy option, you don't need any salt or other preservatives as the dehydration process concentrates the flavours.
Dehydrated food is considered 'raw food', as it is preserved at low temperatures and does not lose the nutrients that some other methods of preserving require.
Dehydration results in only 3-5% loss in nutrients compared to freezing which results in a 40-60% decrease.  It's also a great way to preserve gluts of fruit and vegetables from your garden or the local markets.
The Optimum P200 Dehydrator has the following features: 
Available in 2 sizes : 6 trays or 10 Trays
Equipped with a 40-hour digital timer
Adjustable thermostat
3-or 5-year domestic and 12-month commercial warranty
Easy-to-clean non-stick and mesh sheets
Unique custom-made cleaning brush
Access to expert support team
30-day money back guarantee – Includes return postage!
Pros:
The Optimum P200 Dehydrator is really easy to use, you just load up the trays, leaving space around each piece of food, set the temperature and time and leave it to do it's stuff.
You can open the drawers to check how things are going with no ill effects.
It worked first time and, although the booklet that comes with it is a bit limited in information, the internet is full of dehydrator recipes and tips, I've collected some on a Dehydrator Recipes Pinterest Board, please feel free to follow.
You can use the Optimum Dehydrator to make yogurt and also to prove bread!
Cons: 
This is a big piece of kit.  I have a large kitchen and plenty of shelf space but still found it tended to dominate the space.  If you don't have a lot of space, you will need to find somewhere to store it when not in use. P200 Food Dehydrator 6 Tray Dimensions: L 38.5 cm x H 31cm x D 49 cm. Tray Dimensions: L 34.5cm x H 4.5cm x D 37cm
Drying times are generally quite long e.g. 10 hours or more.  I found I needed to leave the dehydrator on overnight and the fan does make a bit of noise.
As the drying times are long, I was concerned about the cost of running the dehydrator for all this time.
I have been told that it costs about 5p per hour to run, so I would recommend always running the machine full and thinking carefully about the value of the end product before dehydrating e.g. a full dehydrator of Sweet Potato Chips running for 10 hours would cost 50p plus the cost of the sweet potato, you can control the flavourings yourself but I'm not sure that a cost of 80p-90p is worth it.

The Verdict
The jury is still out on the Optimum P200 Dehydrator.  The results were good, however I am still weighing up whether I will use such a big piece of equipment often enough to make it worthwhile and whether the process is value for money.
I'm going to keep at it and will update you as spring moves into summer.  I think that drying summer fruits will be an interesting challenge.
I love the idea of making dried rapsberries and strawberries to add to bakes. I'm also keen to try making my own vegetable bouillon powder using pulverised dried vegetables.
More Sweet Potato Recipes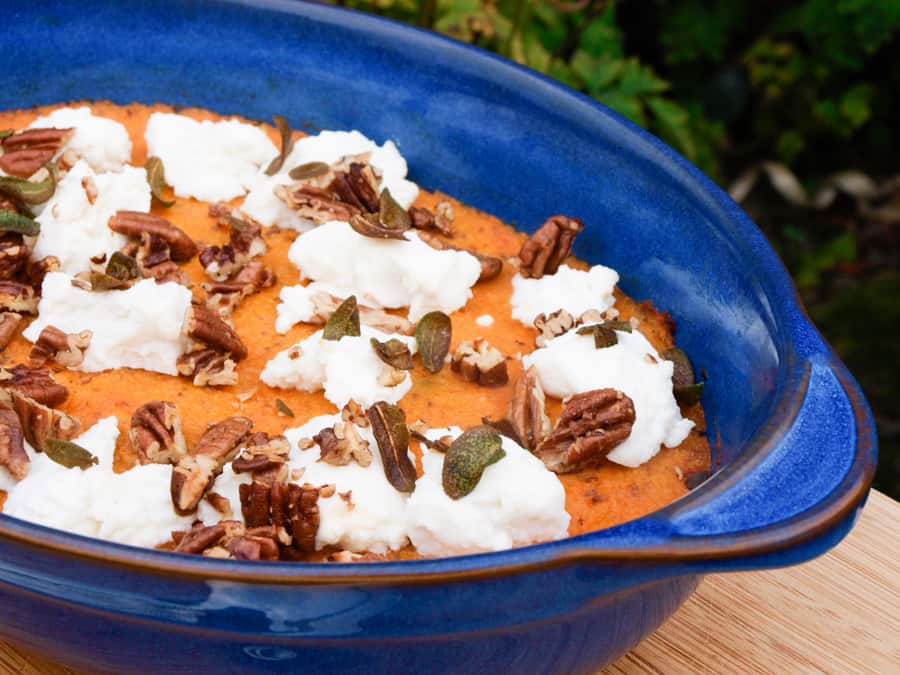 Sweet Potato Mash with Sage, Ricotta & Pecan Nuts


Sweet Potato Chips
Enjoy these delicious crisp Sweet Potato Chips as a snack or to accompany a sandwich.
Ingredients
1

large sweet potato

peeled

1

tbsp

olive oil

1/2

tsp

salt

1/4

tsp

freshly ground black pepper

optional
Instructions
Slice the sweet potato into thin uniform slices (these are best cut with a mandolin to get the thinnest and most even slices)

Combine the oil, salt and pepper in a bowl and add the slices.

Mix well so all the slices are coated.

Lay out the slices on the dehydrator trays.

Set the temperature to 60C and set the timer for 10 hours, or until crisp to the touch.
Notes
You can open the drawers of the Optimum P200 Dehydrator to check on the crispness of the slices.
Nutrition
Calories:
59
kcal
Carbohydrates:
6
g
Fat:
3
g
Sodium:
308
mg
Potassium:
109
mg
Sugar:
1
g
Vitamin A:
4610
IU
Vitamin C:
0.7
mg
Calcium:
10
mg
Iron:
0.2
mg
Don't Miss My Latest Recipes
CLICK TO SUBSCRIBE NOW to join my newsletter list & receive a FREE 'How To Adapt Recipes For Your Slow Cooker' printable!
Share by Email
Disclosure: Froothie UK sent me the Optimum P200 Dehyrator to use and review at home. I have not been paid for this post and was not required to give the Optimum P200 Dehydrator a positive write up.  All opinions are my own.  Affiliate links included in this post.