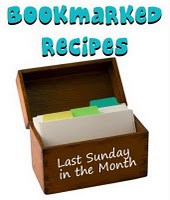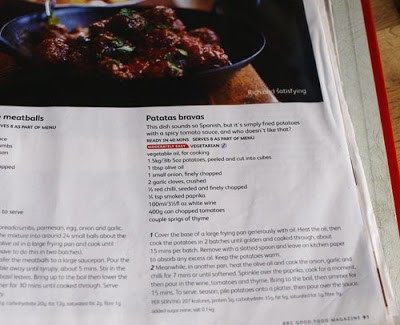 This is the bookmarked recipe, I am an inveterate collector of recipes, I have four A4 folders full of pages from magazines, many of which I haven't made yet! Every now and then I have a cull and throw out some that have been there too long without having been tried. I just don't want to fill any more folders, but there is a plastic wallet stuffed with even more cuttings, so I think it is time for another cull!
Tapas is incredibly popular all of a sudden, I was in Tesco today and saw a readymade tortilla – eek, why would you buy a potato omelette, cold and shrink-wrapped from a supermarket shelf when you could make it yourself for a fraction of the cost and I'll bet it would be five times as tasty!
Enough of my ranting and on to the recipe for Patatas Bravas. This recipe comes from the BBC Good Food Magazine, but when I looked online, this one didn't seem to feature and I fiddled about a bit with it, as per usual. I liked how Patatas Bravas was described:
"This dish sounds so Spanish, but it's simply fried potatoes with a spicy tomato sauce and who doesn't like that?"
Patatas Bravas
vegetable oil for cooking
1.5kg/3lb 5oz potatoes, cut into cubes
1 tbsp olive oil
1 small onion, finely chopped
2 garlic cloves, crushed
pinch of chilli flakes
1/4 – 1/2 tsp Pimenton, hot smoked paprika
100ml/3 and a half fl oz white wine
400g can chopped tomatoes
couple of spigs of thyme
Preheat the oven to 200C/400F
1. Put the chopped potato into a roasting tin and cover generously with oil. Roast the potato cubes for approx 20 minutes until soft inside and crispy brown on top. When cooked remove and drain on kitchen paper, keep the potatoes warm.
2. Meanwhile, in another pan, heat the olive oil and cook the onion, garlic and chilli for 7 mins or until softened. Sprinkle over the paprika, cook for a moment, then pour in th wine, tomatoes and thyme. Bring to the boil, then simmer for 15 mins.
3. To serve, season, pile potatoes onto a platter, then pour over the sauce.
The sauce

The potatoes

Patatas Bravas
I was slightly over generous with the Pimenton (smoked paprika) so it was pretty hot but not unbearably so and actually completely delicious. I had some left overs so reheated it in a frying pan added a beaten egg and made it into an omelette or 'tortilla' as they like to call it in Spain and Tescos, of course!