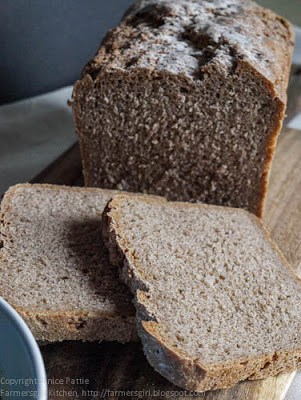 Paul Hollywood's Bread:
How to make great breads into even greater meals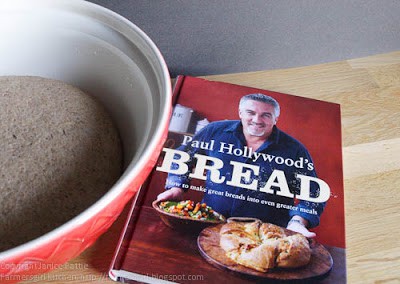 Paul Hollywood is the 'man of the moment' as far as baking bread is
concerned. I remember watching him on
Good Food Live, he was a natural performer, something which has been confirmed
by his popularity as co-host with Mary Berry on the
Great British BakeOff.
I reviewed Paul's first book '
How to Bake
'
in November 2012 and at the time was surprised at the range of recipes included
in the book. The same can be said of
'Bread'
,
not only does Paul teach you exactly how to make a variety of breads, but for
each one there is a spin off recipe which shows you how to make a fantastic
meal of it. The book also ties in with the forthcoming BBC2 television series so
you can also watch Paul make the recipes
and then make them yourself.
The book has six chapters, each with five bread recipes – plus the
spin-off recipes for main courses. What
sets this book apart from the other bread making books I own, is that each
recipe has a comprehensive step-by-step guide in photographs.
The Chapters
I've named some of the bread recipes and their plus one, the accompanying recipe
Classic Breads including:
Bloomer plus Grilled Vegetable Picnic Loaf, Rye; Ale and Oat Bread plus Kent plum and apple chutney; Rye and Spelt Bread plus Pork, chicken
and pistachio pate
Soda Breads including: Stout
Bread plus Smoked Salmon Pate; Cheddar and Rosemary Scones plus Beef Cobbler;
Soft Treacle Parkin plus Parkin Crumble.
Flatbreads including: Pitta
Breads plus Souvlaki and Cypriot salad; Maneesh plus Baba Ganoush; Corn Tortillas
plus Tortilla tower.
Continental Breads
including: Ciabata plus Panzanella; Pizza Base plus Parma Ham, Fig and
Gorgonzola pizza AND Tartiflette pizza; a trio of Biscotti plus Biscotti with Hot Mocha dipping sauce.
Sourdough: Sourdough
Starter, Basil and Coriander Sourdough plus Roasted Tomato and Fennel Soup;
White Chocolate and Raspberry Bread plus Summer Pudding with White Chocolate Cream.
Enriched Breads: Danish
Pastry Dough plus Emmenthal, Onion and Mushroom Pastries; Sicilian Lemon and
Orange Sweet Bread plus Limoncello trifle; Lardy Cake.
Who is it for?
This book is ideal for both beginning bakers who will appreciate the
step-by-step photographs and those who would like to expand their
repertoire. I've been baking bread for a
number of years but probably stick to the same recipes and reply too much on my
bread machine. When I have a little more
time I plan to try the sourdough and enriched bread recipes, I feel confident that
following Paul Hollywood's instructions I'll be able to make these more complex
recipes.
Pros
Step by Step photographs
A range of recipes at different levels of complexity
Recipes for meals to accompany the breads
Ties in with the BBC2 TV series
Cons
There are many more 'in depth' bread books
Ease of use
Very easy to use with clear instructions and added value with
photographs
Paul Hollywood's Bread is published by Bloomsbury on 14th February 2013
RRP £20
Online store price £12
Rye and Spelt Bread
I made the Rye and Spelt Bread which uses the 'sponge' technique where you make a little bit of dough and leave it to rise overnight, then add the rest of the ingredients the next day. I've never done that before and was a bit trepidatious, however it worked perfectly well.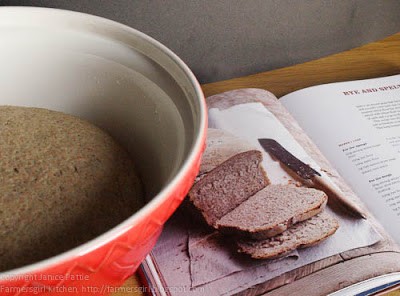 The dough was left to rise again after kneading for 10 minutes. Once it had doubled in size, it was folded and then rolled and placed in the tin, then left to rise again.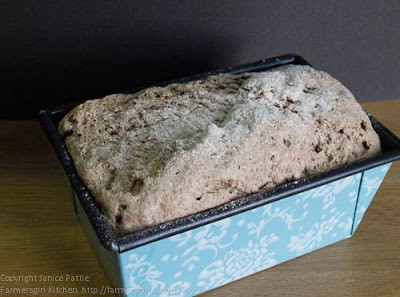 I used the one of the delightful Vintage Collection tins from George Wilkinson Great British Bakeware
it is made in Lancashire and this premium range has an innovative &
exclusive long life coating. GlideX is bonded directly onto your
ovenware to ensure it keeps performing like new every time. It is
scratch resistant, flake-resistant and virtually
indestructible. Tested rigorously by Wilkinsons, GlideX outperforms all
other non-stick brands.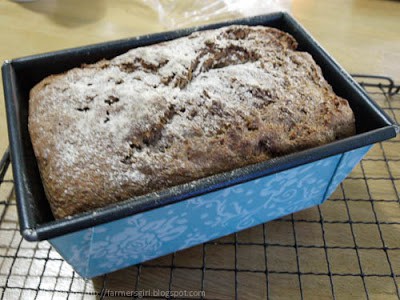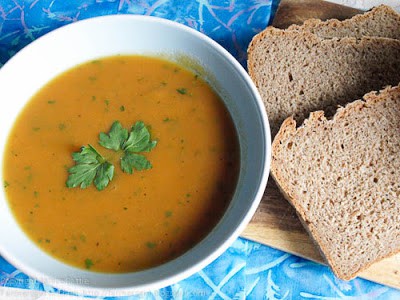 I served the
Rye and Spelt Bread
with Carrot and Coriander Soup. I do think the bread dough recipe could probably have done with a little more liquid, it is quite a tight, dense loaf. However, that may just be the rye flour. I will certainly make it again as it has a great taste and is good on it's own or with a little butter, and it makes very good toast.