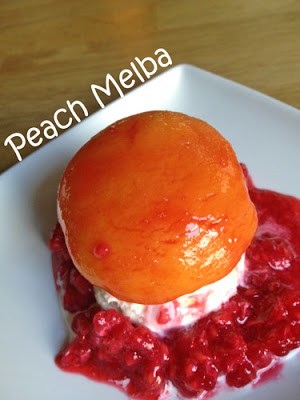 Peach Melba is a simple dish of fresh peach served on icecream with a raspberry sauce. But famous French Chef, Auguste Escoffier knew what he was doing when he created this dish for Australian Opera Singer Dame Nellie Melba, because the ingredients complement each other perfectly.
I halved the peaches and took out the stones, then poached them gently in a sugar syrup (2 parts sugar to 1 part water) for about 5 minutes on a low heat, slip off the skin and chill. If you have really fresh peaches you can just pour boiling water over and slip off the skin.
I always feel it's a bit of a shame to push the fresh raspberries through a sieve, I don't mind the seeds and like the fleshy pulp, so I just crushed my rasps with a fork and added a teaspoon of icing sugar.
Serve the peaches on a scoop of vanilla ice cream and spoon over the raspberry crush or sauce.
I'm entering this for Tea Time Treats, the challenge run by Kate of What Kate Baked and Karen at Lavender and Lovage. This month's theme is Ice Creams, Jellies and Chilled Desserts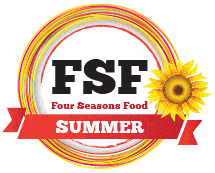 This dessert also fits the theme of Summer Puds for Four Season Food run by Anneli at Delicieux and Louisa at Chez Foti