I spent Sunday afternoon in the kitchen making Peanut Butter and Chocolate Scones. It's not unusual for me to spend a lot of time in the kitchen , but I hadn't been able to use my oven for a couple of weeks due to the installation of a wooden floor. Regular readers will know that over the last 18 months or so, we have had dry rot treatment and the rebuilding of half our farm house. We are on the home stretch now and the kitchen floor is the final major disruption.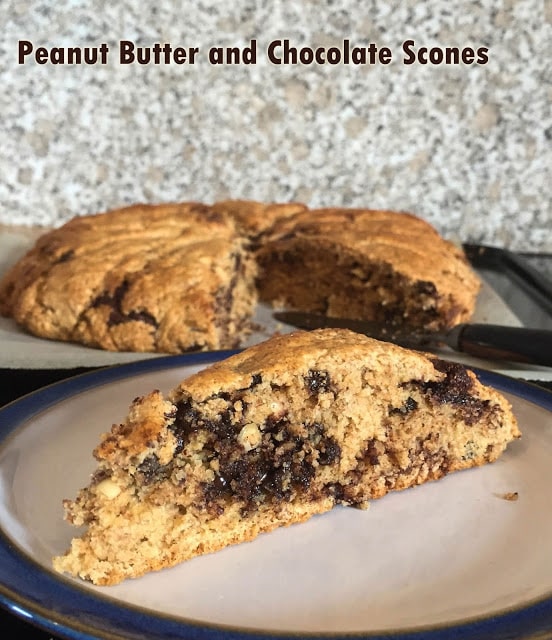 Anyway, back to the baking, I wanted to make something relatively quick and easy but also satisfying, so scones were what came to mind. I'm always looking to fit in my kitchen exploits with one or other of the linky challenges run on other food blogs. I haven't entered We Should Cocoa for far too long and for August, Choclette at Tin and Thyme has given us free rein with an 'Anything Goes' theme, so throw in a bit of chocolate and voila!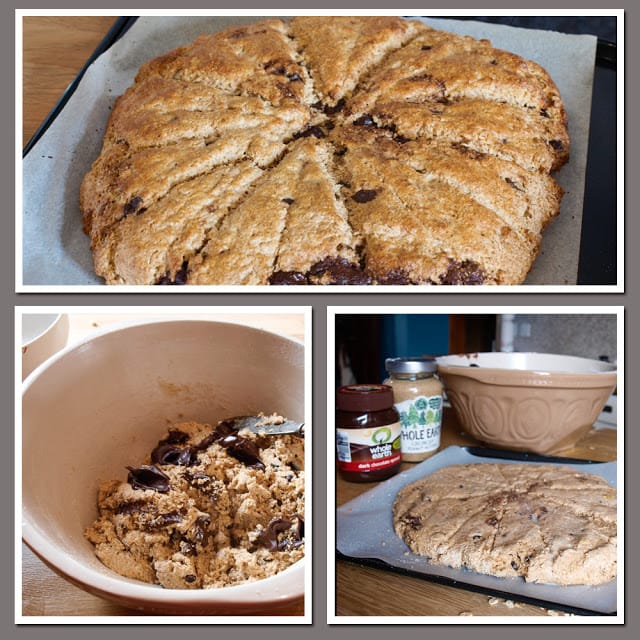 Peanut Butter and Chocolate Scones
Makes 12-16 scones depending on how you cut them
400g spelt or wholemeal flour
100g oatbran (if you don't have any, then substitute flour)
4 level tsp baking powder
100g soft butter
3 tbsp crunchy peanut butter
50g soft brown sugar
100g dark chocolate chips
2 eggs, beaten
milk
2 tbsp dark chocolate spread
Heat the oven to 200C
Place the flour, oatbran and baking powder in a large bowl and mix together
Rub in the butter and peanut butter until you have fine breadcrumbs. Stir in the chocolate chips.
Stir in the eggs and enough milk to make a soft dough, reserving a little milk to glaze.
Add the chocolate spread in teaspoonfuls and swirl through the dough with a knife, do not overwork or your scones will be tough.
Line a baking tray with parchment paper.
Press the dough onto the tray in a rough circle about 1.25cm thick, mark lightly into wedges with a knife. Brush with milk.
Bake for 15-20 minutes until golden brown, leave to cool slightly then slide onto a cooling tray.
And the result…a huge success. The scones are so full of good things, they are not too sweet with just enough of a crunch of peanuts and swirls of chocolate to make them a great alternative to richer cakes.

More Scone Recipes
Why not link up your chocolate recipe to We Should Cocoa?