Pineapple Upside Down Cake
I first heard about
The Clandestine Cake Club
on Twitter (@clandestinecake) a couple of
years ago. Lynn Hill founded the CCC in
2010 as a follow up to the successful Secret Tea Room that she was already
running in her Leeds Home. News of the
club spread like wild fire and there are now over 100 affiliated clubs in the
UK and abroad, with more starting every month.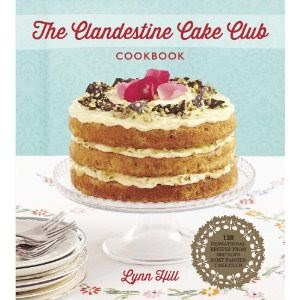 I was excited when I heard about the book especially when I realised
that many of my Twitter friends had recipes included, there is a list of the
online presence of the contributors at the back of the book, a source of even more great recipes. I was even more delighted to be offered a
copy of the book to review. It's a nice
big hardback book, which sits open nicely when you are baking (always
important). So what's in The Clandestine
Cake Club Cookbook? Here is a little
taster:
Classic Cakes
This chapter is devoted to classic British and American cakes many with
a little twist, including: Scrumptious Sticky Toffee Cake, Curious Victoria
Sponge, Pineapple Upside-Down Cake, Strawberry
Swiss Roll and Soured Cream Coffee Cake.
Victorian Cakes
The Victorian Cake chapter contains cakes inspired by the adventurous
bakers of the Victorian era and includes: Caraway Seed Cake, Battenberg Cake,
Violet Posy Cake, Raspberry 'Cakewell' and that most Victorian of all cake
names 'Empire Cake'!
Fruity Cakes
The Fruity Cakes are a delightful mix of fruit in the cake, on the cake
and in the decoration and includes: Plum and Cardamom Cake, Magic Bean Cake
(intriguing huh?), Spicy Pear Cake, Apricot Cake and the stunning Cardamom,
Rose & Rhubarb Cake.
Global Cakes
There are Clandestine Cake Clubs all over the world and bakers in the
UK are also inspired by world ingredients, this chapter includes: Cayman Mango
Cake, Japanese Green Tea & Orange Cake, Dutch Hazelnut Cake and Tia Maria
& Mascarpone Cake.
Zesty Cakes
A lovely selection of citrus flavours including Lemon Parsnip &
Hazelnut Cake, Pistachio & Lime Cake (as seen on the cover), Grapefruit
Loaf and Blood Orange & Rosemary Cake.
Chocolatey Cakes
Everyone loves a homemade chocolate cake and you will be spoiled for
choice in this chapter which includes Smoked Chilli Chocolate Cake, Dark
Chocolate Marmalade Cake, Chocolate Honeycomb Truffle Cake and the unusual
Chocolate & Marmite Caramel Cake.
Celebration Cakes
A celebration is not a celebration without a cake and these cakes are
worth celebrating, starting with a topical Valentine's Achy Cakey Heart Cake
and including an Easter Spring Roll with Lemon & Honey Syllabub, Father's
Day Spiced Ale Cake and a Hogmanay Dundee Cake doused in whisky, not that is
definitely something to celebrate.
Creative Cakes
The Clandestine Cake Club Bakers are a creative bunch and have come up
with some fun cakes from a Coffee 'Cup' Cake (baked in a cup), a Shirley Temple
Mocktail Cake and an eye popping Giant Lemon Fondant Fancy.
Who is it for?
This is a book for dedicated cake bakers, looking for unusual
combinations and inspiration.
Pros
This is a book packed with 120 cake recipes, all different and all
looking totally delicious in the beautiful photographs.
Cons
None I could find!
Ease of use
The recipes are clearly laid out and many would be suitable for
inexperienced bakers. The Cake Wrecks
chapter at the back of the book gives great tips for saving the day when the
inevitable disaster occurs. There is also a page for icings and frostings and a
comprehensive index to help you find your favourites.
Worth buying? Absolutely,
with so many unique and imaginative recipes this book is really good value for
money.
I made Lynn's Pineapple Upside-Down Cake from the Classic Cakes chapter. It was easy to make although it did take a little longer to cook than the recipe suggests. I think that may have been because I used fresh pineapple rather than tinned and there may have been more juice making the mixture a little thinner.




The Pineapple 'Rubble Bubble' Cake (my husband's childhood name for Upside Down Cake) was excellent, we all loved it and I would definitely make it again.
Published by Quercus Books
Publication Date: 14th February 2013
RRP £20
Popular Online retailer pre-order £12.80
I was provided with a copy of The Clandestine Cake Club Cookbook by the publishers for review, I was not paid for this review and my opinions are my own.