Superfood is a much over-used term and one that I don't often subscribe to however, there certainly are some foods which have more antioxidants, vitamins, and antibacterial properties than others. Manuka Honey is a case in point, so when Rowse Honey asked me to create a Superfood Breakfast using their Manuka Honey, I was more than happy to do so.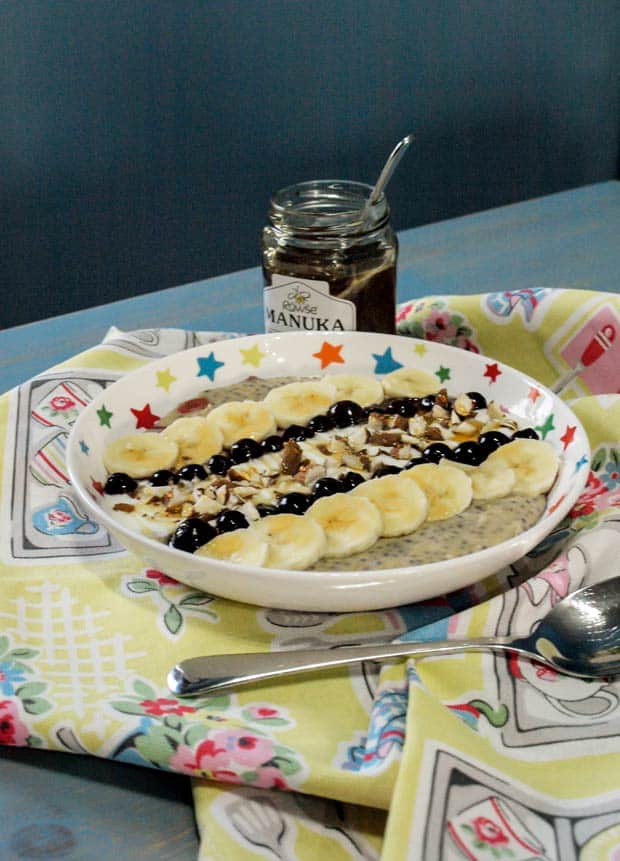 The mornings are getting decidedly chilly now that we are heading towards the end of October, so I wanted to create a warm breakfast packed with ingredients that fill you up as well as providing lots of essential vitamins and minerals.  What I've created is a super-charged porridge, its a cross between overnight oats, porridge, and a smoothie bowl!  I hope I've managed to capture the best of all of these breakfast styles in one bowl of delicious warming porridge.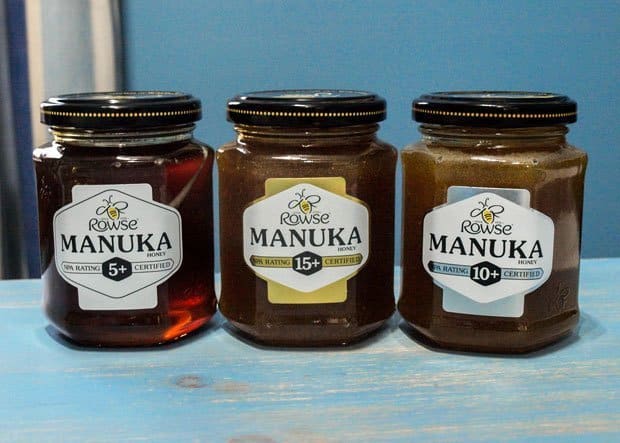 While all honey has a level of antibacterial activity, Manuka Honey has an additional, different type of antibacterial action known as Non-Peroxide Activity (NPA). This antibacterial action is dictated by Methylglyoxal (MGO) and is less affected by heat, light, acidity, moisture, and oxygen, meaning its antibacterial properties are more robust than traditional honey. Manuka is now widely recognised and bought for its perceived health benefits, derived from its antibacterial properties, and is believed to have immune boosting properties.
Rowse NPA Manuka Honey is guaranteed 100% pure and authentic. Only honey farmed in New Zealand from bees feeding on the nectar of the Manuka tree can be considered authentic Manuka honey.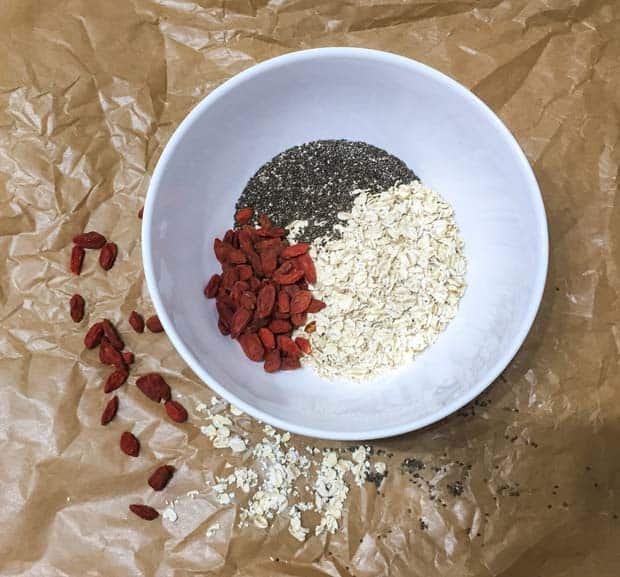 Many of the ingredients I have used will be familiar to everyone, oats, blueberries, almonds, and bananas, however, there are a few other items in this breakfast which are well worth finding out about and including in your diet.
Here is a little more about the health-giving properties of some more of the ingredients: 
Oats are well known for their health benefits, reducing cholesterol and assisting with the control of blood pressure. Oats contain beta glucan a starch that helps stimulate the immune system and help you to feel fuller for longer.
Chia Seeds are high in fibre, calcium and omega 3.  They can absorb an enormous amount of liquid and like oats can make you feel fuller for longer.
Goji Berries are little dried pink berries which grow on a shrub which originates from the mountainous regions of China and Tibet.  Goji berries are also a great source of antioxidants, carotenoids such as beta-carotene.  They also contain over 18 amino acids, 21 trace minerals and substantial quantities of vitamins B1, B2, B6, C, and E.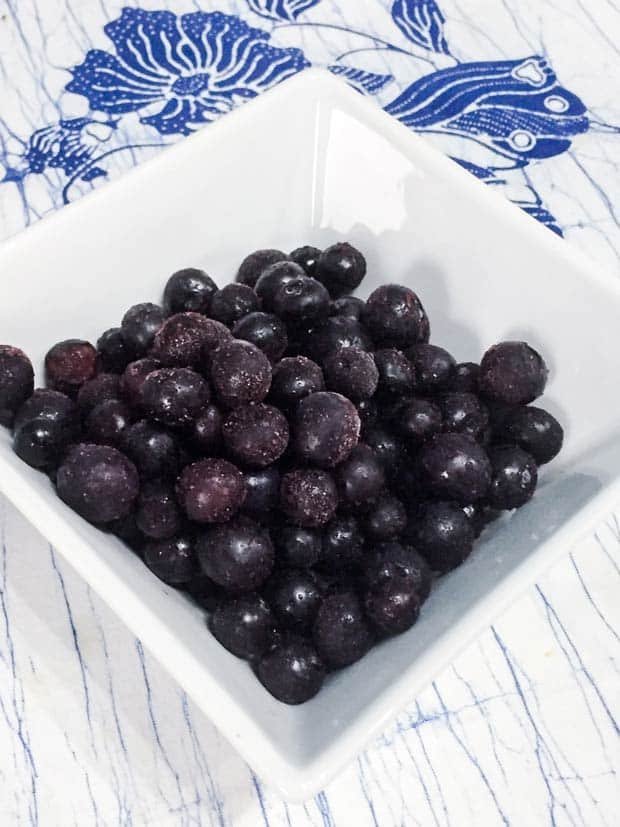 Blueberries are one of the best-known superfoods, they are full of antioxidants.  They also have a huge store of proanthocyanidins which protect against cell degeneration and are full of fibre and vitamin C.  You can use either fresh or frozen for this recipe, I used frozen blueberries because I find that they are better value.
Almonds are a good source of vitamin E, important for a strong immune system and skin health.  It's also a good source of plant-based protein, copper, manganese, and magnesium to combat stress and promote relaxation
Bananas are a great source of potassium, fibre vitamin C and B6  all of which support heart health.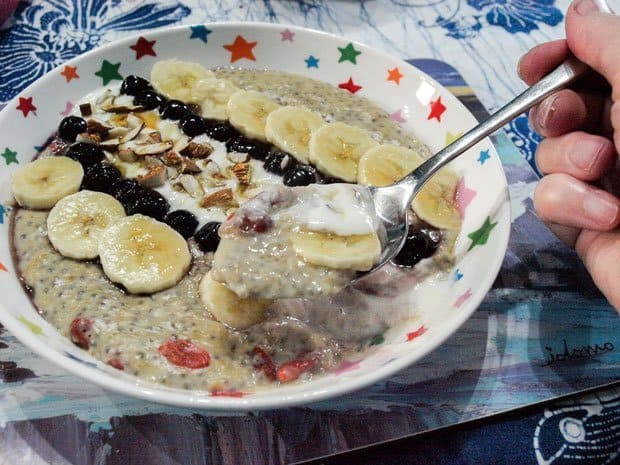 Making the Superfood Porridge with Manuka Honey and Blueberry Compote is very simple, but you do have to start the night before for best results.  We often eat porridge and found the overnight soaking made it beautifully creamy, the chia seeds add texture and the goji berries add a little sharpness.  The toppings were great and not too sweet, just enough Manuka Honey sweetness.  A warming and filling bowl of deliciousness to start the day.  You can enjoy this too and you will find the recipe below:
Superfood Porridge with Manuka Honey and Blueberry Compote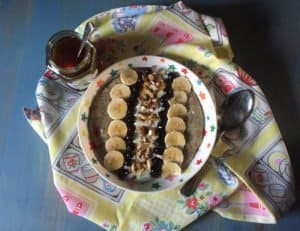 Superfood Porridge with Manuka Honey and Blueberry Compote
A warming bowl of porridge with added fruit, nuts and seeds, boosted by antibacterial Manuka Honey.
Ingredients
For the porridge
60

g

rolled oats

2

tbsp

chia seeds

25

g

goji berries

500

ml

milk

dairy or plant
For the blueberry compote
150

g

fresh or frozen blueberries

1

tbsp

water

1

tsp

Rowse Manuka Honey
To serve
2

tsp

Rowse Manuka Honey

2

tbsp

Greek yogurt

15

g

chopped almonds

1

banana

sliced

or any other toppings of your choice
Instructions
Mix the oats, chia seeds and goji berries with the milk in a bowl, cover and leave for at least an hour or overnight in the fridge.

Make the blueberry compote by warming the blueberries with a tablespoon of water over a gentle heat.

Leave to cool, then add Rowse Manuka Honey to taste.

When ready to make the porridge, empty the soaked oats, chia seeds and goji berries into a medium saucepan and heat gently until the porridge thickens and bubbles, about 5-8 minutes. If the consistency is too thick, then add a little milk and cook for a further minute.

Pour the porridge into two bowls.

Make a line up the centre of the bowl with Greek yogurt.

Place blueberries either side of the yogurt.

Slice the banana and add slices of banana beside the blueberries

Sprinkle chopped almonds over the yogurt.

Drizzle a teaspoonful of Manuka Honey over the fruits and nuts
Notes
This porridge is easy to adapt to the seasons and to your own favourite fruits and nuts.
If you plan to lay out the fruit and nuts like this, it's worth warming the bowls before hand to ensure your porridge stays warm while you make your choices.
Nutrition
Calories:
503
kcal
Carbohydrates:
72
g
Protein:
18
g
Fat:
17
g
Saturated Fat:
5
g
Cholesterol:
25
mg
Sodium:
118
mg
Potassium:
830
mg
Fiber:
11
g
Sugar:
37
g
Vitamin A:
485
IU
Vitamin C:
12.4
mg
Calcium:
410
mg
Iron:
2.8
mg
Don't Miss My Latest Recipes
CLICK TO SUBSCRIBE NOW to join my newsletter list & receive a FREE 'How To Adapt Recipes For Your Slow Cooker' printable!
Share by Email
More Oat Recipes from Farmersgirl Kitchen
Chocolate Oat and Banana Muffins
HOW DO YOU KNOW IF YOUR HONEY IS AUTHENTIC MANUKA HONEY?
Current guidelines on testing and labelling do not adequately define what constitutes authentic Manuka Honey. This makes it possible for some brands to claim that inauthentic products are real Manuka Honey, even if they don't have enough methylglyoxal (MGO) – the active component in Manuka Honey that dictates its NPA rating. As such, some Manuka Honeys carry labels which promise an 'active' ingredient. However, Rowse believes that Manuka Honey should have a minimum NPA rating of 5+ to be considered real Manuka Honey and the Rowse Campaign for Real Manuka calls for more stringent testing and labelling.
To ensure all Rowse Manuka Honey is 100% authentic, it's tested twice; once at source in New Zealand and again on arrival in the UK. This ensures that the NPA level stated on the label is matched by the level in the jar. By testing it twice Rowse ensures that customers are getting the real deal every time. Rowse is committed to ensuring customers get value for money and to protect the authenticity of this much loved product
For more delicious Rowse Manuka Honey recipes why not try…
Breakfast Pinwheel Wraps from Fab Food 4 All
Maca Oatmeal with Manuka Honey Seed Shards from Veggie Desserts
Manuka Honey Glazed Plums with Overnight Oats from Thinly Spread
This is a commissioned post for Rowse Honey and all opinions are my own.