Quick and Easy Sausage Recipes are just what you need when time is short and you have a hungry family to feed, there are so many different ways you can serve them. so here are three ideas to help you get started.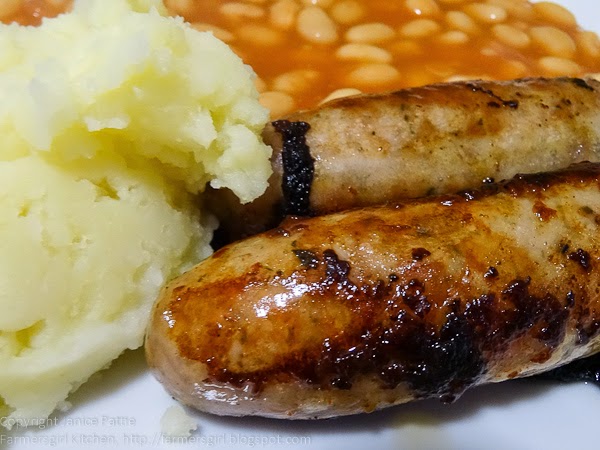 The Black Farmer Premium Pork Sausages with Mashed Potato and Baked Beans
Sausages often get a bad press. There are many excellent quality sausages with a high meat content which are really tasty and every bit as good as other cuts of meat. Sausages are not only good value but they are also extremely versatile.I always buy premium sausages and was delighted when The Black Farmer invited me to review their products, as I had already heard a lot of good things about these sausages. This pack of 10 sausages arrived along with a pack of The Black Farmer's Daughter's Premium Chipolatas. They are in the freezer at the moment, awaiting their destiny!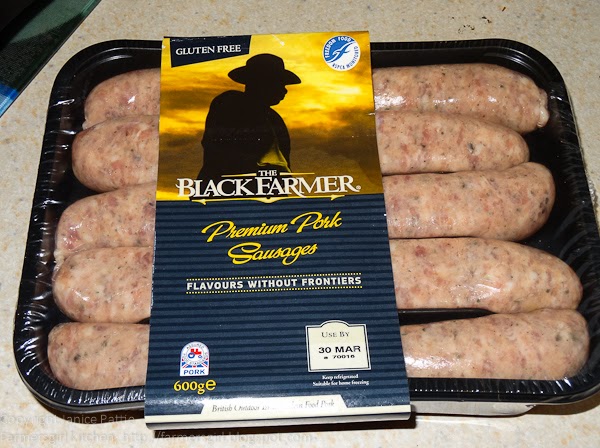 The Black Farmer Premium Pork Sausages
Premium Pork Sausages
Gold winner of the Great Taste Awards, and a FreeFrom Food Award winner.
With 90% meat from prime cuts of pork, these gluten-free sausages are full flavoured and meaty. They are made using British Freedom Food outdoor bred pork.
The seasoning really brings out the flavour of the meat.
This is a great all rounder for all the family and for any occasion.
It cooks well in the frying pan, grill or oven and makes a robust ingredient for casseroles as well as a perfect breakfast or tea time treat.
Ingredients Pork 90%, Soya Bean Flour, Salt, Dextrose, Spiced, Herbs, Stabiliser: E451(i), Preservative: E221, Antioxidants: E300, E330, Spice Extracts.
Allergen advice Contains Soya and Sulphites
10 sausages is a great number if you have a family to feed, but as there were just the two of us, I managed to make this pack of sausages into three different meals.
Quick and Easy Sausages and Mash
Friday night after a week at work is not a time when I want to be faffing around cooking something fancy especially with the building work ongoing, so the sausages were slowly pan fried and served with mashed potato (the frozen Fluffy Mashed Potato, I featured in "On my Renovation Kitchen Table") and some baked beans. The sausages were delicious, meaty and moist with a true pork flavour. I cooked all the sausages, we ate four and the remaining six were cooled and put in a box in the fridge.
Quick and Easy Sausages Sandwich with Coleslaw
On Saturday I served the cold sausages sliced longways in a roll with lettuce and coleslaw (sorry not photo of that) I actually love cold sausages more than hot ones, so really enjoyed that.
Quick and Easy Sausages with Spaghetti and Red Pepper Pesto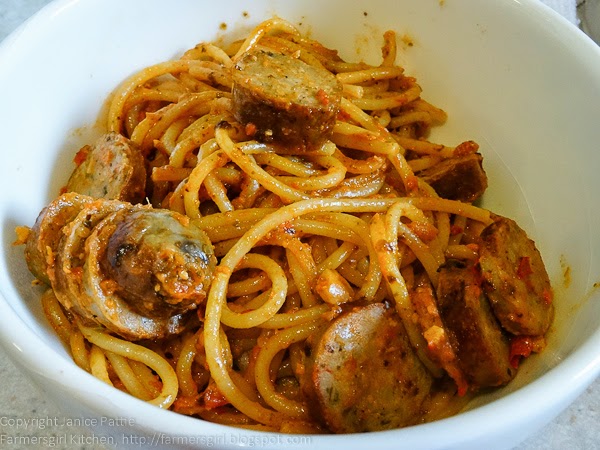 Spaghetti with Sausages and Red Pepper Pesto
On Sunday we were working hard moving furniture, including our larder unit which still had some food in it that I hadn't had access to for a while, including a packet of lovely Garofallo spaghetti. And there was my third sausage recipe, a very quick and easy supper of cooked spaghetti, with sliced sausages and a couple of tablespoons of Red Pepper Pesto from a jar.
You can find out more about
The Black Farmer
, the awards they have won and their range of products including gluten free products on the
website
or
Facebook
page.
I received the sausages from The Black Farmer, I was not paid for this post and all opinions are my own.