The Random Recipe challenge at Belleau Kitchen challenges you to dip into your cookery book collection and randomly pick a recipe on a particular theme. This is what Dom says "the rules are simple… take all your dessert, chocolate, cake, sweet or pudding based cook books, place them in a pile and randomly select one book… from this book, flip it open to a random page and bake that exact recipe.."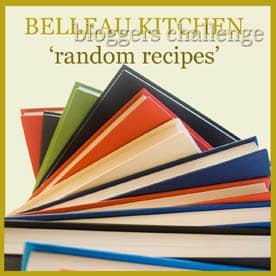 I have a lot of cookery books, so I picked out 12 that contain dessert recipes and piled them up, then I did a random number generator and it came out with number 9. Number 9 was Seasonal Cookery by Claire Macdonald of Macdonald.
Claire Macdonald is probably one of the best dessert recipe writers I know, her Chocolate Pavlova is beyond belief and her Bramble Mousse is divine. But this had to be random.
The difficulty with this book is that the desserts are not all at the end of the book as it is organised by month! So it took me a few random openings to find a dessert. It turned out to be in July and was a simple 'Strawberries with Lemon Syllabub'.
It is the start of strawberry season so ideal for this recipe which was absolutely delicious, the sweetened cream with lemon juice and rind as well as a little wine was the perfect complement to the strawberries. I can thoroughly recommend it!

Lemon Syllabub with Strawberries
Serves 6
8ox (250g) fresh strawberries
1/2 pint (300ml) double cream
juice and grated rind of 2 lemons
1 sherry glass of white wine
2oz (50g) caster sugar
Slice the strawberries and divide between 6 glasses. Whip the cream, gradually adding the lemon juice, rind, white wine and sugar. When the cream mixture is thick, spoon over the sliced strawberries in the glasses, and stir the strawberries up through the lemon syllabub. Chill several hours before serving.
We had this over two evenings and the syllabub was definitely better on the second night when the lemon flavour had really merged with the cream, so I would recommend a long chilling time.
.