Belleau Kitchen
is currently being dismantled and rebuild to new standards of fabulousness, in the mean time cooking is pretty basic there, so Dom has gone back to basics taking us back to the original classic challenge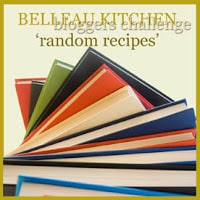 … line up ALL your cookbooks

… give them a shuffle

… close your eyes and pick one book randomly

… close your eyes again and open the book at a random page

… cook that exact dish

… DO NOT CHEAT (you're only cheating yourself etc.. blah blah blah)

I have too many cookbooks to 'shuffle' but chose a random number and counted along the shelves until I came to…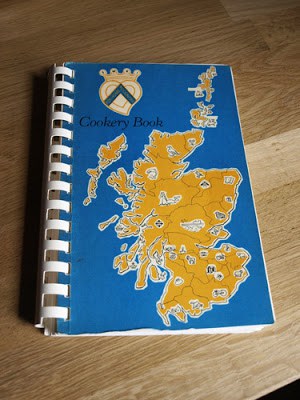 The Scottish Women's Rural Institutes Cookery Book (Eighth Edition). For those of you who don't know, the S.W.R.I or the Rural, as it is commonly known, is a sort of equivalent of the Women's Institute in England. It started in 1917 to provide social, educational and recreational opportunities for those who live and work in the country or are interesed in country life. Food and Crafts feature heavily in their 'manifesto'.
This book belongs to my MIL, but when I moved to the farm I joined the Rural and continued as a member until I went back to work full time. It was a great way of meeting people and making friends.
Anyway, back to the challenge…this is not my favourite cookbook, no pictures for a start. Also some of the recipes are a tad old fashioned. But that's the nature of the challenge, so I opened it up in trepidation, hoping I wasn't going to be confronted with Tripe & Onions or Beetroot Wine (I've been leafing through to see what might have been!) but the Random Recipe fairy was kind to me and I got this: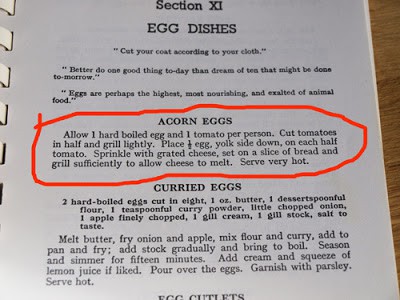 As I'm on holiday at home this week, I decided this would make a nice lunch for me today. There are a couple of things to note about this recipe, if you want your Acorn Eggs to look like acorns you really have to have a LARGE tomato and a SMALL egg, not the other way around!!!!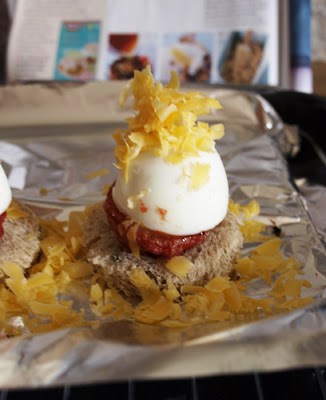 I cut my slice of bread into rounds with a pastry cutter, but you don't have to, it just looked prettier. The other thing is that the cheese doesn't stay on the egg very well. I do wonder if it might be better to toast the cheese on the bread, then put on the tomato and egg with a little sprinkling of cheese just to cover the top of the egg.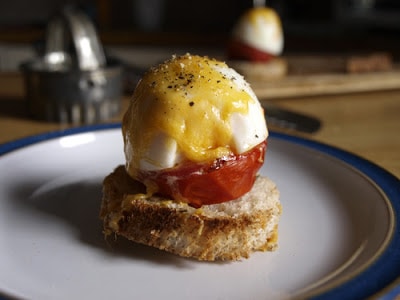 Here it is, the finished Acorn Egg, see what I mean about the tomato/egg ratio? There are, of course two, the other one is lurking at the back of the picture, but when I put them both on the plate to take a photo, they looked a bit like a well endowed lady sunbathing – hee hee hee!
It tasted fine, like egg and tomato on toast with a bit of melted cheese on it, I'm not sure I could be bothered faffing about making it look like an acorn again though!
Acorn Eggs

Allow 1 hardboiled egg and 1 tomato per person. Cut tomatoes in half and grill lightly. Place 1/2 egg, yok side down, on each half tomoato. Sprinkle with grated cheese, set on a slice of bread and grill sufficiently to allow cheese to melt. Serve very hot.