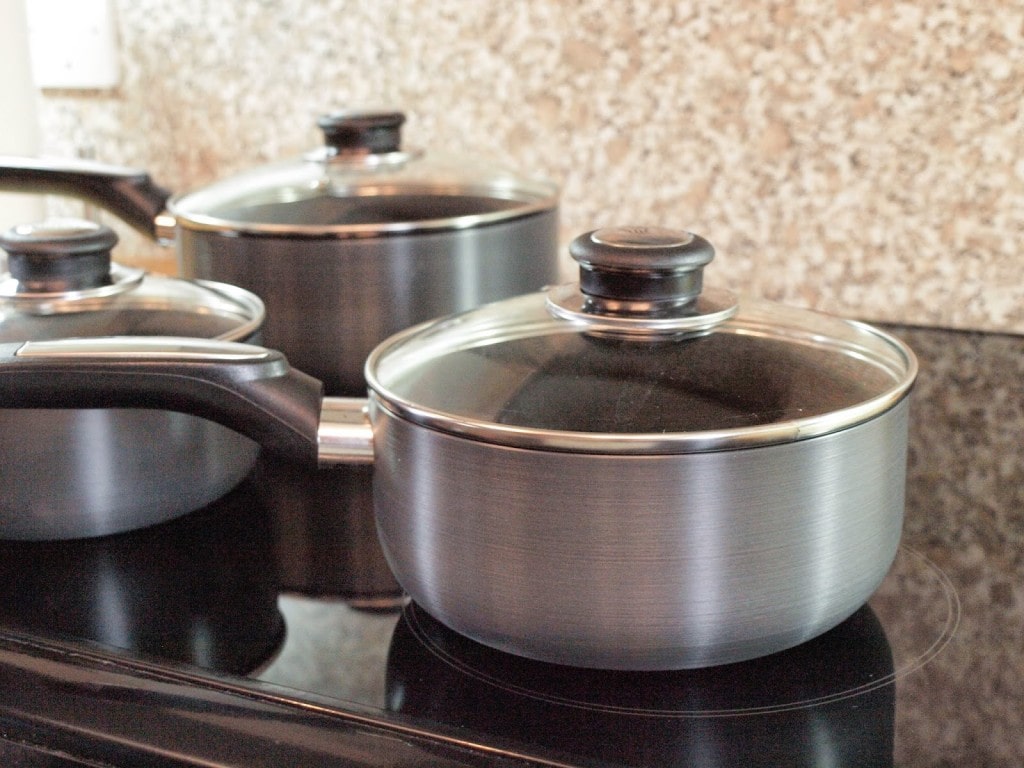 'Get out from that kitchen and rattle those pots and pans' – so says Bill Hayley in Shake, Rattle and Roll although how you are supposed to "roll my breakfast cos I'm a hungry man" if you get out from that kitchen, I have no idea. Maybe he was planning on taking whoever was in the kitchen OUT for breakfast. What do you think? No, I didn't think so either!
I won't be rattling these lovely new Viners Hard Anodised pots and pans at all, Hard anodised cookware is twice as hard as stainless steel making it extremely durable, non-stick with a long lifespan and scratch resistance. I will be admiring the sleek lines and brushed steel finish of my pans, peeping through the clear lid to see how my recipes are progressing and shouting hurrah because those lids have a little hole in them for the steam to escape. My last pans didn't and I had to balance them on the handles causing water to condense on the inside and drip onto the hob.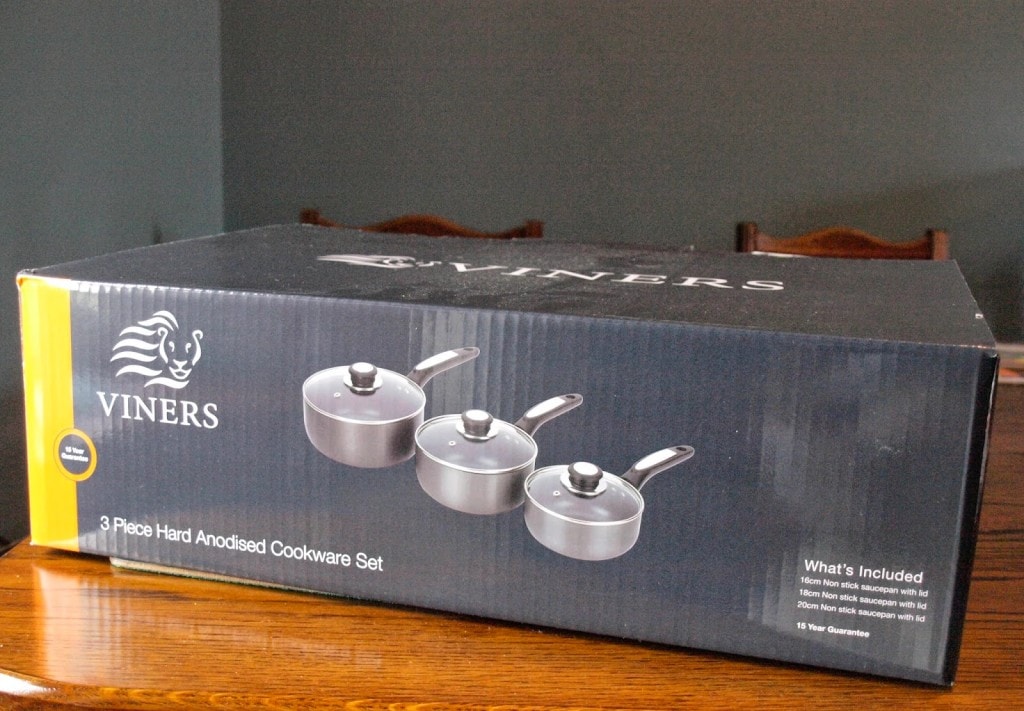 The lovely pans come from Viners, who I knew for their quality cutlery sets, but look a little closer and you will find that Viners Cook and Dine manufacture and distribute a wide range of cookware and tableware.
Viners was once the biggest cutlery manufacturer in England and
traces its roots back to Sheffield – the home to stainless steel – where
in 1906 Willie and Emile Viener set the company up. The company
specialized in electroplated silver products and used its expertise to
expand into a variety of categories including tea sets, trays, fine
cutlery and kitchen knives. Later on they used their manufacturing
expertise to develop ranges of stainless steel products.
Viners is not alone in the family, its sister brands include Mermaid
and George Wilkinson bakeware which also boast a long and rich British
heritage. Today, they have three factories in the U.K. with a tradition of
over 180 years of manufacturing and employ nearly 300 people in
order to bring a fine range of quality housewares to market and our set
of trusted brands has grown to include largest manufacturer of glassware
to the U.S. retail market – Anchor Hocking.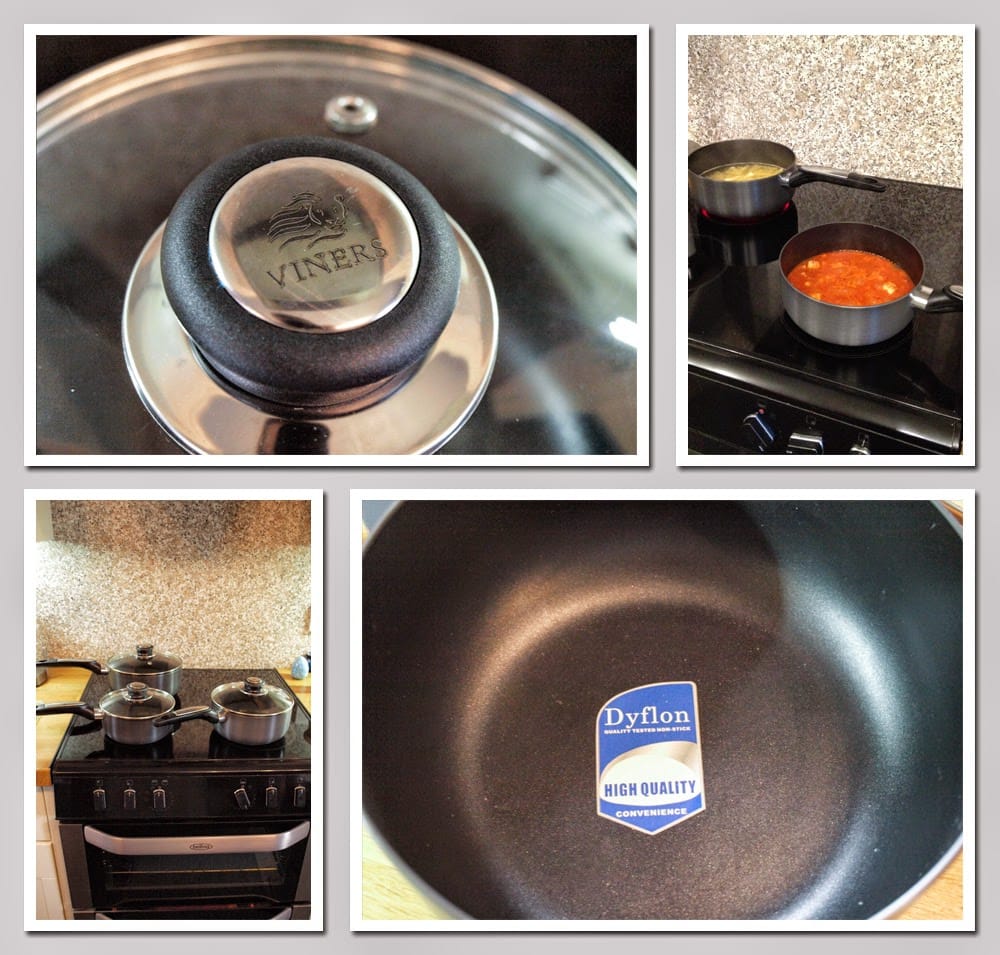 This set consists of:
16cm Sauce Pan and Lid Dimensions; 160mm x 75mm Capacity: 1.5L
18cm Sauce Pan and Lid Dimensions; 180mm x 85mm Capacity: 2L
20cm Sauce Pan and Lid Dimensions; 200mm x 95mm Capacity: 3L
Made from hard anodised aluminium with stainless steel handles and black silicon grips for easy handling and suitable for ceramic, gas, halogen and radiant hobs

They also come with a 15 Year Viners Guarantee
The other great thing about Viners is that they have some really good deals. I've been signed up to their newsletter for some time and there are always lots of offers and deals on their products. The High Street price for the Viners Hard Anodised 3 piece non-stick pan set is £100 but there is a deal of 55% off bringing them down to £45 (at time of publishing) which makes them really affordable.
You can follow Viners on Facebook and Twitter too for news of their products and offers.
I was supplied with the non-stick pan set by Viners, I was not paid for this post and all opinions are my own.