Have you been eating a healthy diet since all of the festive feasting? Valentine's Day is a bit of a challenge when you are trying to maintain that healthy lifestyle but I've used the Raw Brownie Truffles recipe from Superfoods 24/7 by Jessica Nadel and turned them into healthy Valentine Raw Brownie truffles. Let me tell you they taste fabulous, no feeling of being deprived at all and, I found that you don't get a craving to eat too many, perfect!
I'm a big fan of Jessica Nadel, author of the brilliant blog Cupcakes and Kale. You may remember that I reviewed her book Greens 24/7, at the time I felt it would be a book that would work better in spring and summer, however I've gone back to the book several times and each time I find something else I want to make.
So on to the new book, Superfoods 24/7 aims to bring supercharged fruits, vegetables, seeds and more to every meal. There are 100 vegan-friendly recipes that are chock full of over 40 delicious and powerful superfoods.
What are Superfoods? Whole plant based foods, nutrient dense and rich in micronutrients. E.g. almonds, chia seeds adult beans, edamame, oats, quinoa, garlic, turmeric, goji, cacao, avocado, citrus fruits, coconut, carrot, Kale, sweet potato. There are also lists of other ingredients and instructions on basic skills, such as how to make almond milk.
Recipes that stood out for me: Walnut Cacao Smoothie, Fluffy Banana Chia pancakes, Caprese Stuffed Grilled avocado, Apple Beetroot, Broccoli Slaw, Lentil Hummus, Sweet Potato and Coconut Fries, Sundried Tomato and Coconut Quinoa burgers, Chilli-rubbed Sweet Potato Tostadas, Raw Brownie Truffles (recipe below), No bake Quinoa Cereal Bars and Lemon Chia Poppyseed loaf.
Who is it for? Anyone who wants some ideas of healthy recipes, with particular relevance to vegan eating although not exclusively.
Pros & Cons? A good range of recipes, well laid out with nice clear pictures, there is also a lot of information about the nutrients in various superfoods. I'm not sure I believe in Superfoods, there seem to be so many of them that, pretty much, any fruit or vegetable, herb or spice is pretty special.
The Verdict: an excellent resource to have on your bookshelf, I'm sure I will enjoy making many more of the recipes.
Superfoods 24/7 by Jessica Nadel, published by Apple Press, RRP £14.99
Cutting out the Raw Brownie Truffles is easy and you can use all sorts of different shapes for different occasions.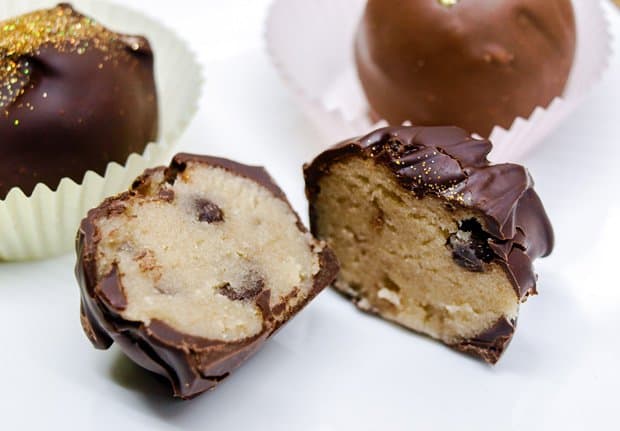 The second healthy cook book is Whole Food Energy by Elise Museles and is described as a fuss-free guide to preparing 200 energising snacks treats and drinks. From replenishing smoothies to energy bards, raw cookies and electolyte-packed drinks using 100% unprocessed natural ingredients.
Elise Museles is a Nutrition and health coach, her blog Kale and Chocolate is new to me, but I'll be checking it out after reading this book.
Recipes that stood out for me: Red Velvet Smoothie, Healing Turmeric Latte, Zesty Lemon Chia Pudding, Banana Chocolate Chip Baked Oat Cups, Chai Spiced Carrot Muffins, Falafel Crackers, Roasted Red Pepper Hummus, Mexican Cashew Cream Cheese, Blackberry Vanilla Chia Jam, Orange Cranberry Spice Breakfast Bars, Spiced Cherry Pie Bars, Gingerbread Energy Bites, Frozen Banana Sandwich with Almond Butter and Cacao Nibs.
Who is it for? This is the perfect book for people who need healthy snacks and drinks for sports, travelling or just for fun. If you want to wean yourself or your family off high sugar and fat processed snacks, there are so many delicious and nutritious snacks in this book, you are sure to find something that pleases.
Pros & Cons: In addition to the recipes there is a wealth of nutritional information in Whole Food Energy and I really liked the way it was laid out, easy to read and clearly indexed. On the Cons side, there are fewer photographs than recipes, but as the recipes are grouped in categories, there is always at least one photo per category.
The Verdict: So many ideas and one of the things I really liked about this book is that many of the recipes provide a base for your own creativity, as I am notorious for not following recipes to the letter, that appeals to me. But don't worry if you follow recipes to the letter, they are all there for you.
Wholefood Energy by Elise Museles, published by Apple Press, RRP £14.99

Something a little different now, Broth by Vicki Edgson and Heather Thomas. is an innovative book that explains what makes broth so healthy and nutritious and how you can harness its essential goodness in your everyday diet. The delicious recipes can be used by people who are following the Paleo diet as well as the 5:2 Diet (especially on fasting days). All the broths, soups and stews featured are easy to prepare and do not require any specialist skills, making them accessible and user-friendly for even the most inexperienced cook.
Recipes that stood out for me: All of the essential broth recipes are clearly explained with a 'Now Try This' section with ideas for using the broth, other recipes I liked included Thai red beef curry soup, Laxsoppa (Swedish Fish Soup), Pumpkin and Butterbean soup with tarka, Asian green hotpot with rice noodles, Dhal with griddled sweet potato, Spelt with Wild Mushrooms, Beetroot and Goats Cheese Risotto.
Who is it for? The authors claim that even the most inexperienced cook can make these recipes and they are certainly clear enough for that, but it is going to be an ambitious inexperienced cook who would tackle a Shellfish Broth with mixed crustacean shells or Pheasant and ceps risotto. In saying that, there are lots of simple recipes too. I used some duck bones to made a broth, then added some vegetables and made it into a Chinese-style soup, it was really good and a nice light alternative to my usual 'stick to your ribs' soups.

Pros & Cons: This book has the most beautiful photographs taken by Lisa Linder, they draw you in and make the recipes come alive. It's not just about the broth, that's just the starting point for the soups, stews and risottos. Making broth will take some time, although once made you can store it in the fridge. I also love all the little extra tips and substitutes and those 'try this' options, another chance to make the recipe your own.
The Verdict: This is a book to drool over as you browse the recipes from the comfort of your armchair, it's also a book that will drive you into the kitchen to get the stock pot going as soon as possible.
Broth by Vicki Edgson and Heather Thomas, Photography by Lisa Linder, published by Jacqui Small, RRP £20.00


Raw Brownie Truffles
These truffles have a deep rich flavour and they literally melt in the mouth.
Ingredients
100

g

walnuts

180

g

medjool dates

50

g

cacao powder

1/4

tsp

sea salt
Optional Garnishes
1

tbsp

cacao

1

tbsp

caco nibs

1

tbsp

crushed pistachios mixed with 1 tsp matcha powder
Instructions
Line a plate with baking paper and set aside

Pulse the walnuts in a food processor until they've broken down to a fine crumb (but before they turn to walnut butter). Add the dates, cacao powder and salt, and process until well combined. You may need to stop and scrape down the sides of the bowl.

The dough should be soft and sticky enough to easily form a ball when rolled between your hands. If not, your dates may have been too dry, so add 1 tsp of water at a time until the dough is soft enough.

Scoop out a tablespoon of dough and roll it into a ball, then set it onto the plate. Repeat until all the dough is used up, then roll in a garnish of your choice,

if desired, and place the balled in the freezer for 20 minutes, Remove from the freezer and serve; for a softer, fudgier truffle, leave to warm up for 5 minutes before serving. transfer any leftovers to an airtight container and keep in the fridge or freezer for up to two weeks.
Notes
To make the Raw Brownie Truffle HeartsLine a baking tin with baking parchment, press the truffle mixture into the tray to a depth of around 1/2 cm, place in the freezer for an hour, then using a small heart shaped cutter, cut out the hearts and dust with cacao powder, placing each in a petit four case. You may need to return the truffle mix to the freezer if it gets too sticky and do this in stages.
Nutrition
Calories:
138
kcal
Carbohydrates:
18
g
Protein:
3
g
Fat:
8
g
Saturated Fat:
1
g
Sodium:
59
mg
Potassium:
253
mg
Fiber:
3
g
Sugar:
12
g
Vitamin A:
25
IU
Vitamin C:
0.2
mg
Calcium:
28
mg
Iron:
1.2
mg
Don't Miss My Latest Recipes
CLICK TO SUBSCRIBE NOW to join my newsletter list & receive a FREE 'How To Adapt Recipes For Your Slow Cooker' printable!