I've created a Rhubarb and Ginger Smoothie Bowl using raw rhubarb, preserved ginger and cashew nuts as the main ingredients. It is not too sweet so makes a delicious breakfast, it's not too tart either so you can serve it as a fresh and fruity dessert.
Advertisement: This post contains affiliate links for more information please see my PRIVACY POLICY
Froothie Power Blenders
I made the smoothie bowl with the Optimum G2.3 Platinum Series Induction Blender. You can use the Optimum G2.3 Platinum Series Blender for soups, smoothies, sauce, nut milk, power balls, smoothies, cocktails and much more.
I'm a Froothie Ambassador and if you use my ambassador link to order your blender, you get free delivery in the UK as well as a super-powerful blender.
New Froothie Evolve
As of November 2019, the latest blender from Froothie is the Froothie Evolve. read my REVIEW of this versatile multifunction blender. It is voice-activated, has its own app and can make smooth or chunky soup, steam vegetables, and rice. It can also and clean itself.
SPECIAL OFFER
Buy through my Ambassador Link and you also get an additional 2 years warranty, which brings the warranty to 7 years.
To get this discount please add the following text in the comment box when you order:
AMBASSADOR (3116) SPECIAL 2 EXTRA WARRANTY YEARS
Perfect Rhubarb Colour
A little word about my magic Rhubarb and Ginger Smoothie Bowl colour boost. I think about recipes at the strangest of times, often mulling over ingredients and ideas just before I go to sleep.
I already had the idea of making a Rhubarb and Ginger Smoothie Bowl but was concerned about how I was going to make it look attractive. Rhubarb has lovely rich pinky-red coloured stems.
However, sometimes the green colour of the inside of the stem overpowers the red and you end up with something in a not very tempting khaki colour!
Beetroot Powder
I was lying in bed reluctantly considering using a drop of red food colouring when I remembered the little pot of Steenbergs Organic Beetroot Powder that I had in my store cupboard.
The beetroot powder is absolutely the perfect pinky-red to complement the rhubarb, doesn't add any detectable beetroot flavour. It completely disappears into the smoothie bowl mixture leaving only its glorious colour.
The Rhubarb and Ginger Smoothie Bowl makes a delicious dessert . Serve in small glasses and topped with the toasted almonds and sesame seeds and a couple of pieces of roasted rhubarb.
More Smoothie Bowl Recipes
Chocolate Cherry Smoothie Bowl – Farmersgirl Kitchen
Nettle Powder and a Green Smoothie Bowl – Tin & Thyme
Red Berry and Coconut Smoothie Bowl – Tin & Thyme
Tropical Smoothie Bowl – Fab Food 4 All
Mango, Pineapple and Coconut Tropical Smoothie Bowl – Foodie Quine
Blueberry, Peach and Apple Smoothie Bowl – Simply Food
Green Tea Matcha Smoothie Bowl – Recipes from a Pantry by Bintu
and the delightfully named Green Thickie – Fuss Free Flavours
PIN FOR LATER
Are we connected?
Stay in touch with everything that's going on at Farmersgirl Kitchen.
Facebook Pinterest Instagram Twitter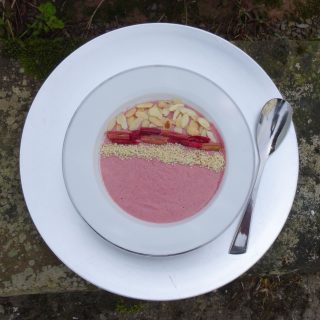 Rhubarb and Ginger Smoothie Bowl
Raw rhubarb and preserved ginger combine with cashew nuts to create a delicious smoothie bowl that can be served for breakfast or as dessert.
Ingredients
250

g

rhubarb

finely chopped

2

pieces

ginger preserved in syrup

finely chopped

2

tbsp

ginger syrup

100

g

cashew nuts

1

large banana

cut into chunks and frozen

2

tbsp

dairy or non-dairy yogurt

100

ml

dairy or non-dairy milk

2

tsp

organic beetroot powder

2

tsp

chia seeds
Toppings
50

g

toasted flaked almonds

25

g

toasted sesame seeds

3

slim stalks of rhubarb

roasted with 1 tbsp of caster sugar
Instructions
Place the chopped rhubarb and ginger in a bowl with the ginger syrup and leave overnight.

Place the cashew nuts in a bowl and cover with water, leave overnight, rinse before using.

Add all the ingredients and pulse until they start to break down, pushing down with a spatula if necessary, continue to blend until thick and smooth.

Pour the smoothie into two bowls or 4 glasses, leave to thicken for about 10-15 minutes.
Top with toasted almonds, sesame seeds and roasted rhubarb..
Notes
To toast the almonds and sesame seeds: heat a frying pan (no oil) to a medium-high heat and put the nuts or seeds into the pan, stir occasionally and watch carefully until they take on a little tinge of brown. To roast the rhubarb: heat the oven to 170C, chop the rhubarb into even sized pieces and place on a baking tray in a single layer. Sprinkle with the sugar and bake in the oven for 10-15 minutes until they still hold their shape, but are soft enough for a knife to be inserted easily. Leave to cool on the tray.
Don't Miss My Latest Recipes
CLICK TO SUBSCRIBE NOW to join my newsletter list & receive a FREE 'How To Adapt Recipes For Your Slow Cooker' printable!
Disclosure: Froothie UK sent me the Optimum G2.3 Platinum Series Blender to use and review at home. I have not been paid for this post and was not required to give the G2.3 Blender a positive write-up. All opinions are my own. Affiliate links included in this post.