Rhubarb and Ginger Smoothie Bowl is a refreshing and healthy breakfast using raw rhubarb, preserved ginger, and cashew nuts. Serve it for breakfast for a great start to the day.
Advertisement: This post contains affiliate links for more information please see my PRIVACY POLICY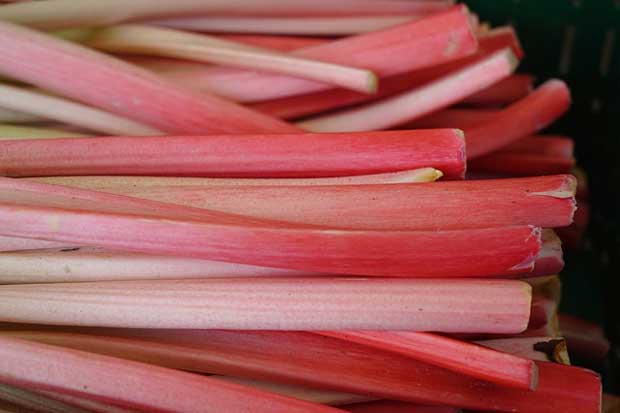 What is Rhubarb?
Rhubarb is a hardy perennial plant with pink, red or pale green stems that are most often used in desserts like crumbles and pies. It has a tart flavour and is too sharp to eat raw, but combined with sugar and other ingredients it has a delicious tangy taste. 
When is Rhubarb in season?
The best rhubarb is available in Sprng and this rhubarb grows is forced, this means it grows in the dark.
Forced rhubarb has pale pink stems and is tender and sweet.
Rhubarb continues to grow throughout the summer but as the season progresses the stems become tougher.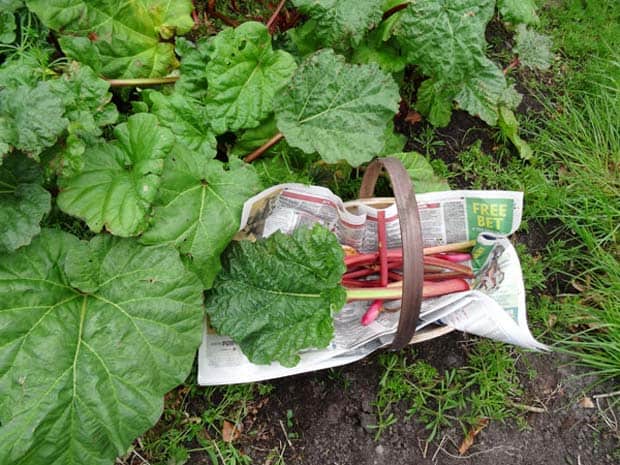 How do you grow rhubarb?
Rhubarb plants grow from a crown.  This is a thick rhizome that you plant just below the surface of the soil.
Rhubarb plants like lots of moisture and you need to mulch the plant to keep it from getting too dry.
We have a rhubarb crown growing in our back garden. It has been there for at least fifty years and has provided me with rhubarb every year for the last 35 years.
Rhubarb is not a demanding plant, it's very easy to grow, particularly in the cool damp climate of Scotland.  it just needs a bit of feeding in the autumn and it will reward you with the crisp sharp stems of rhubarb all summer.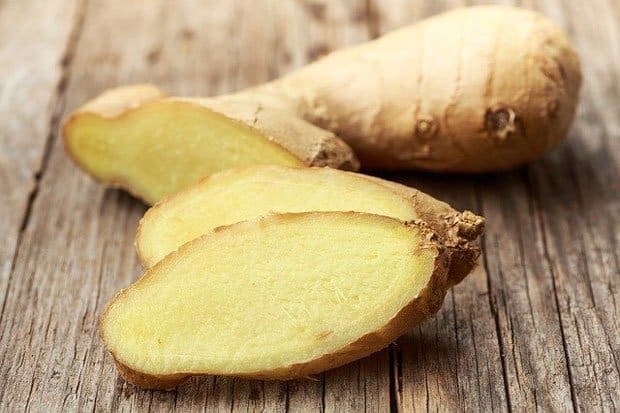 What is Ginger?
Ginger is probably my favourite spice of all time.  I use it in quite a few of my recipes like Rhubarb and Ginger Jam and Slow Cooker Ginger Figs, it's the perfect partner for rhubarb.
Froothie Power Blenders
I made the smoothie bowl with the Optimum G2.3 Platinum Series Induction Blender. You can use the Optimum G2.3 Platinum Series Blender for soups, smoothies, sauce, nut milk, power balls, smoothies, cocktails and much more.
I'm a Froothie Ambassador and if you use my ambassador link to order your blender, you get free delivery in the UK as well as a super-powerful blender.
New Froothie Evolve
As of November 2019, the latest blender from Froothie is the Froothie Evolve. read my REVIEW of this versatile multifunction blender. It is voice-activated, has its own app and can make smooth or chunky soup, steam vegetables, and rice. It can also and clean itself.
SPECIAL OFFER
Buy through my Ambassador Link and you also get an additional 2 years warranty, which brings the warranty to 7 years.
To get this discount please add the following text in the comment box when you order:
AMBASSADOR (3116) SPECIAL 2 EXTRA WARRANTY YEARS  

How do you get the perfect rhubarb colour?
A little word about my magic Rhubarb and Ginger Smoothie Bowl colour boost.  I think about recipes at the strangest of times, often mulling over ingredients and ideas just before I go to sleep.  
I already had the idea of making a Rhubarb and Ginger Smoothie Bowl but was concerned about how I was going to make it look attractive. Rhubarb has lovely rich pinky-red coloured stems.
However, sometimes the green colour of the inside of the stem overpowers the red and you end up with something in a not very tempting khaki colour!
How to get the Perfect Pink Rhubarb Smoothie
Make a smoothie with rhubarb and it is likely to come out a rather sludgy green colour. I don't find this very appetising so I have come up with a healthy way to get that perfect appetising pink colour.
I use Beetroot powder, it has an intense pink colour and does not taste strongly of beetroot. You really will never know that there is any beetroot powder in your smoothie.

The Rhubarb and Ginger Smoothie Bowl makes a delicious dessert . Serve in small glasses and topped with the toasted almonds and sesame seeds and a couple of pieces of roasted rhubarb.
More Smoothie Recipes from Farmersgirl Kitchen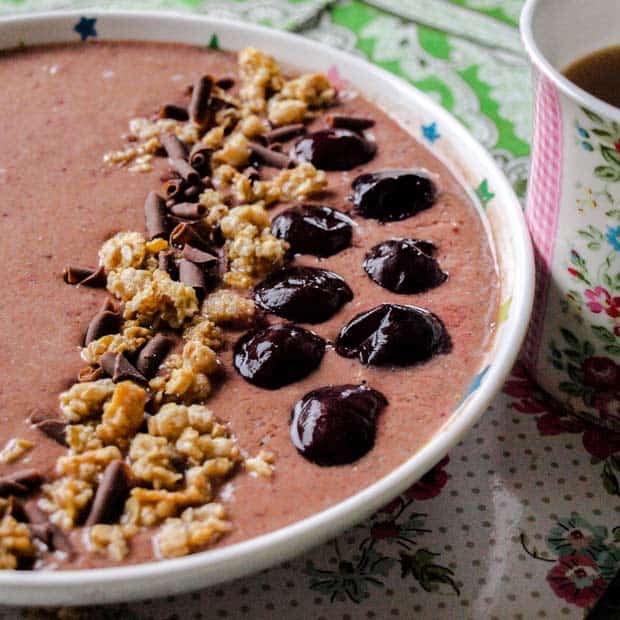 Chocolate Cherry Smoothie Bowl is a smooth and creamy bowl of chocolate deliciousness that tastes like dessert but is full of natural ingredients and completely suitable for breakfast. 

The Cool Britannia Power Smoothie is a thick and fruity blended smoothie start your day, or power up your workout with this great combination. . 
More Smoothie Bowl Recipes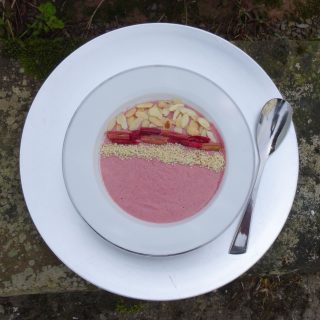 Rhubarb and Ginger Smoothie Bowl
Raw rhubarb and preserved ginger combine with cashew nuts to create a delicious smoothie bowl that can be served for breakfast or as dessert.
Ingredients
250

g

rhubarb

finely chopped

2

pieces

ginger preserved in syrup

finely chopped

2

tbsp

ginger syrup

100

g

cashew nuts

1

large banana

cut into chunks and frozen

2

tbsp

dairy or non-dairy yogurt

100

ml

dairy or non-dairy milk

2

tsp

organic beetroot powder

2

tsp

chia seeds
Toppings
50

g

toasted flaked almonds

25

g

toasted sesame seeds

3

slim stalks of rhubarb

roasted with 1 tbsp of caster sugar
Instructions
Place the chopped rhubarb and ginger in a bowl with the ginger syrup and leave overnight.

Place the cashew nuts in a bowl and cover with water, leave overnight, rinse before using.

Add all the ingredients and pulse until they start to break down, pushing down with a spatula if necessary, continue to blend until thick and smooth.

Pour the smoothie into two bowls or 4 glasses, leave to thicken for about 10-15 minutes.
Top with toasted almonds, sesame seeds and roasted rhubarb..
Notes
To toast the almonds and sesame seeds: heat a frying pan (no oil) to a medium-high heat and put the nuts or seeds into the pan, stir occasionally and watch carefully until they take on a little tinge of brown.To roast the rhubarb: heat the oven to 170C, chop the rhubarb into even sized pieces and place on a baking tray in a single layer. Sprinkle with the sugar and bake in the oven for 10-15 minutes until they still hold their shape, but are soft enough for a knife to be inserted easily. Leave to cool on the tray.
Don't Miss My Latest Recipes
CLICK TO SUBSCRIBE NOW to join my newsletter list & receive a FREE 'How To Adapt Recipes For Your Slow Cooker' printable!
Share by Email