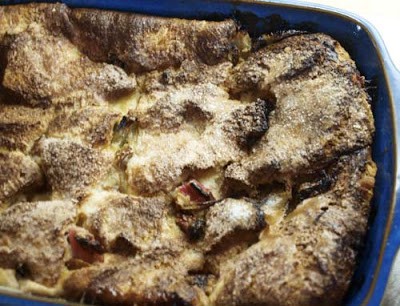 I'm still a little obsessed by Rachel Allen's 'Home Cooking' and checked to see what she had done with rhubarb. If you have been following my blog you will know that at this time of year I have an excess of rhubarb and I'm always looking for ways to use it.
Anyway, back to Rachel and her Home Cooking, I liked the sound of this Rhubarb and Ginger Bread and Butter Pudding. It is almost summer, but there is still a cool wind blowing and some frost in the morning, so a nice warm pud is most welcome.
Rhubarb & ginger bread and butter pudding
450g (1lb) rhubarb, cut into 1 cm (1/2in) slices
2tsp finely grated root ginger
150g (5oz) caster sugar
50g (2oz) butter, softened
12 slices of white bread, crusts removed
350ml (12fl oz) single cream
350ml (12fl oz) milk
2 tsp finely grated root ginger
4 eggs
pinch of salt
2 tbsp granulated sugar
Icing sugar for dusting
25cm/10in square oven proof dish or similar-sized dish
1. Scatter the rhubarb in a bowl and sprinkle with the grated ginger and half the caster sugar. Toss together and then leave to sit for about 30 minutes to soften a little.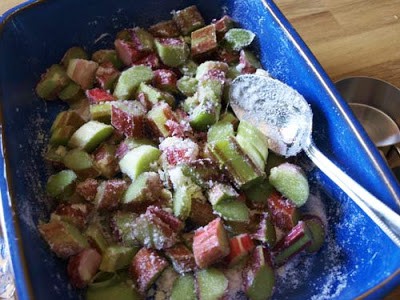 2. Preheat the oven to 180C/350F. Gas mark 4. Butter the bread and arrange four slices, buttered side down, in the ovenproof dish. Scatter over half of the prepared rhubarb and top with four more slices of bread, again buttered side down. Repeat with the remaining rhubarb mixture and bread.

3. Place the cream, milk and grated ginger in a saucepan and bring just to the boil. While this is coming to the boil, whisk the eggs, salt and remaining caster sugar in a bowl. Continuing to whisk, pour the hot liquid into the egg mixture until well mixed. Slowly pour this custard over the bread and leave to soak for 10 minutes. Sprinkle the granulated sugar over the top.

4. Rachel says to place the dish into a deep-sided baking tray and create a bain-marie with boiling water coming half way up the sides of the dish. I didn't do this, I don't like soggy mushy bread and butter pudding, I like crispy topped, crunchy pud. So I dispensed with the bain-marie and just put the pudding on the shelf in the oven and baked for 45-50 minutes until it felt just set in the centre.
Remove from the oven and serve warm with a light dusting of icing sugar (I didn't bother) and I served mine with custard, but Rachel recommends lightly whipped cream.