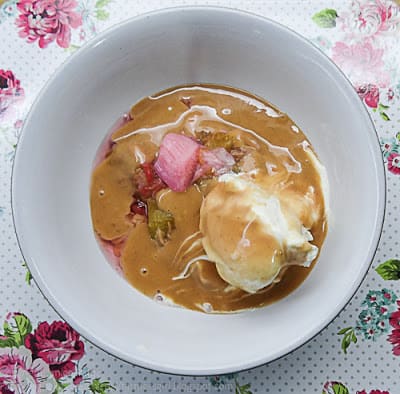 This dish is simple but devastatingly good. Stew some rhubarb with sugar and water until tender, then remove the rhubarb to a dish, reduce the syrup and add muscovado sugar, cream and vanilla.
Nigel describes it as a 'sweet sour sauce for rhubarb' in the kitchen diaries II, a sauce for rhubarb that has the same comforting vanilla flavours as custard without making custard, I served my rhubarb with Madagascar Vanilla Ice-cream. Being a bit of a rhubarb obsessive at the moment, this certainly hit the spot.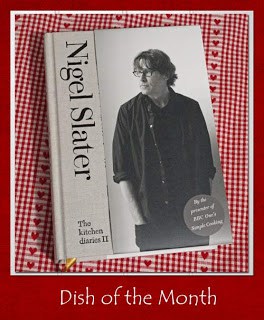 If you would like to take part, then please:
Make a Dish of the Month from ANY recipe by Nigel Slater
Link to Farmersgirl Kitchen or A Little Bit of Heaven on a Plate
 Use the Dish of the Month logo in your post
If you use twitter, tweet your post with @serialcrafter or
@Heavenona_plate and #DishoftheMonth and we will re-tweet it to our
followers.
Rules:
If you own The kitchen diaries II please do not publish the recipes on your blog without permission, they are copyright.
If you are using recipes from the BBC Food website, please link to
the recipe on BBC Food rather than publishing the recipe.  Likewise
recipes on the Guardian Lifestyle website.
One entry per blog.
Recipes must be added to the linky by the 28th of each month.
document.write('