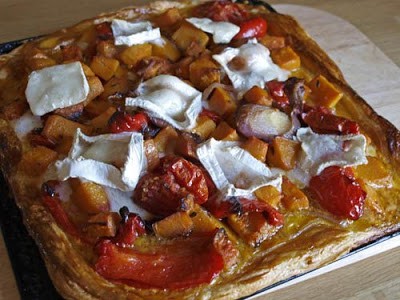 Remember the fabulous hamper I received from Capricorn Goats Cheese?
As well as making the Chicken stuffed with figs, goats cheese and honey, I used some of the roasted vegetables that I served with the chicken to make a lovely vegetable tart.
Easy Roasted Vegetable Tart
1 pack Jus-Rol Puff Pastry
Roasted vegetables (butternut squash, red peppers, tomatoes and red onion roasted in olive oil at 200C for 30 – 40 minutes until soft and caramelised)
1 x 100g drum of Capricorn Goats Cheese, sliced
1 egg, beaten
Preheat the oven to 200C.
Roll the pastry out to fill a 30cm x 30cm baking tray, use the tip of a sharp knive to score the pastry about 2.5cm from the edge, all the way round. Don't cut right through just score the top of the pastry dough. Brush the edge of the tart with beaten egg.
Cover the pastry dough with the roasted vegetables and then distribute the goats cheese slices evening across the tart.
Bake in the oven for 30-40 minutes until the pastry is puffed up golden. Serve with a mixed salad.

This is such an easy dish to make and the combination of the juicy roasted vegetables, soft creamy cheese and crisp, crunchy pastry is ideal for a simple lunch or supper.
Disclaimer: This is a sponsored post. I was not required to write a positive review and any opinion expressed is my own.